One of the best things about planning your wedding is all the glorious events leading up to it! Engagement parties, showers, bridal luncheons, bachelorette parties – there's a seemingly endless array of events that can be hosted by you or a loved one in your honor. How great is that?!
A must-include event on your list is your bridal shower. Whether it's coed or just for the girls, adding a theme makes it all the more fun. We've pulled together four unique and fun themes you just may want to plan for!
Pajama Party Bridal Shower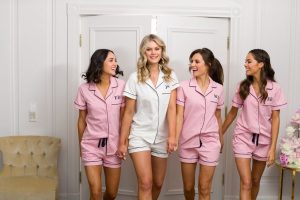 April boasts Wear Your PJ's to Work Day – and though you may be back in the office with a boss less than enthusiastic about this idea, it doesn't mean you can't embrace this bridal shower party idea!
A Pajama Party themed bridal shower is the perfect choice for brides who love to brunch. 
Host this style bridal shower on a Sunday to cap off a great weekend.
There are endless cute invitation ideas when planning a bridal pajama party. Deliver a bag of slippers along with your invitation or have the details etched on a custom champagne flute. 
We love the idea of your guests being able to roll out of a bed on a lazy Sunday morning and head to the party. But that doesn't mean your decor needs to be low-key. Even if you're hosting at home, up the ante by renting additional beautiful pillows and lounge furniture for the event. Balloon backdrops, from companies such as Fabulous Balloon Events, are essential for great photo-ops.
A Pajama Party bridal shower brunch ultimately means a mimosa bar! You'll want to keep plenty of bubbles like Cava or Prosecco on hand, along with mixers and fresh fruit toppers. 
This theme works well for catering grazing tables. Mix breakfast-style foods such as donut towers and muffins alongside charcuterie and savory foods. Keep the food easy to grab and fit on a small plate so your guests can mingle and eat at their own leisure. 
This may also be a great time to debut your coordinated pajama separates to your bridal party as a thank you gift. Coordinating pajama sets or matching are a great bridesmaid gift. There's no reason to wait until the wedding weekend to show off these thoughtful bridesmaid gifts.
Petting Zoo Bridal Shower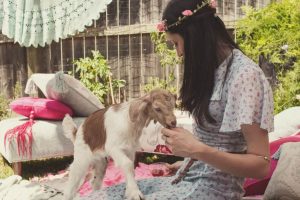 For the ultimate animal lover bride, a petting zoo bridal shower is pure perfection!
Having animals at your wedding reception is hugely popular. Whether that's your own pet or a borrowed four-footed friend, animals always bring a smile to your guests face. If you're unsure if animals at your wedding fits your theme, you can fully embrace the idea for a petting zoo bridal shower.
This theme is perfect for an afternoon luncheon. There are numerous outdoor wedding venues and ranches with spaces to accommodate your bridal shower guests, including those with hooves! Certain companies can bring a complete petting zoo to you with baby goats, bunnies and lambs.
For photo opportunities, you'll want to consider animals who specialize in interacting with guests for photos. Animals such as alpacas and mini horses can be trained to stand still for the camera. Not every hen in the hen house can say the same!
If you're hosting at a home instead, create your own farm look by renting long wooden tables decked with delicate floral arrangements. Lace and peonies look farm-house sweet, or sunflowers and burlap fully embrace the farmstead aesthetic.
This theme is great for farm to table style catering. A seated luncheon with multiple freshly prepared courses is the way to go. Display fresh baked breads and jams throughout the table and start with an of the season salad. You can easily go fully vegetarian for this menu, focusing on seasonal vegetables and grains.
Just be sure you have plenty of hand-washing stations with antibacterial gels and lotions nearby. Play up the theme with an elegant basin and water, complete with lush towels and an attendant. 
Tuscan Sun Bridal Shower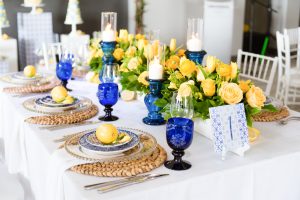 Paris-themed bridal showers have been done hundreds of different ways, from old-school Marie Antoinette to Eiffel-towers everywhere. 
We'll never not love Paris, but we're ready to embrace another favorite destination: Italy!
An Italian-themed bridal shower is a great option for foodie and wine-loving brides. Make the theme extra-special by focusing on a region of Italy. We love Tuscany as the region is rich with color, food, wines and images of relaxing in the sunshine.
If you love an interactive bridal shower, but don't want all the silly games, this is a great theme to do a wine pairing. Choose a venue or restaurant known for their wine list or pairing dinners and have their sommelier walk you through 
Of course, a nearby winery is the ultimate location for this bridal shower theme. Though you'll be tasting their wines and not Italian wines, their experts can still focus on showcasing grapes from the region that are used in their wines. 
You'll have endless opportunities for catering selections. Antipasto to rich pastas to risottos – the focus on this theme should be all in the food. If you are focused on pairings, you'll want a seated meal such a luncheon or dinner so each course can be tasted along with the wine. However, if you prefer the environment to be more relaxed, set up long tables and have your catering served family style or opt for stations.
For decor, you also have options. Tuscany evokes images of bursting lemons and Italian countryside blue crockery, so a lemon and blue palette is ideal. Embrace natural elements and give your tables plenty of greenery, whole fruits and floral details.
Library of Love Bridal Shower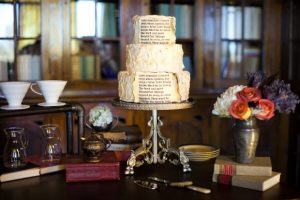 Bookish brides – this one's for you! 
A literary bridal shower is a truly unique bridal shower idea, with loads of cute options to play up the theme.
For starters, nothing will beat a bookmark invitation in this case. You can add a charity twist by having guests bring loved and gently-used books for a book donation drive. 
Since libraries are inherently masculine in style, with dark wood paneling and copper-toned light fixtures, this is a great theme for a co-ed shower. Perfect for two professors or writers intending to wed!
The ideal location for this theme is, of course, an old library itself. Though some grand historical libraries do host events, they can be tough to find. Instead, look for a venue that evokes the same atmosphere. Try classic clubs or old mansions.
With this theme, the presentation is where it's at for your catering. Think wooden cabinets and card catalogs, vintage typewriters and stacks of hard-bound classic books. A breakfast bridal shower would be great for this theme, as nothing goes better with books than coffee! 
For a twist on the theme, think more novel than library. If you want the bridal shower decor to be lighter and less stuffy, theme the party around romance novels or happily ever after fairy tales.
You can also choose to focus the literary bridal shower theme around a favorite novel, taking your cues for decor and dining straight from the pages of a certain beloved book.