August signals the end of summer, and the end of summer bridal events.
We have your recap all the best open houses in August and the wedding professionals you need to know. Missed an August event but ready to head out in the next couple months? Check out our Events Page for upcoming happenings!
The Bridal Connection – Morilee Trunk Sale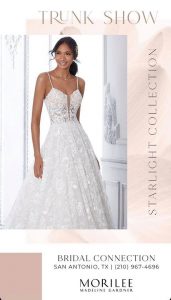 You can only find Morilee in San Antonio at the Bridal Connection, and the best way to see exclusive gowns not currently in the store is at a trunk show!
Brides flocked to the Bridal Connection at Stone Oak to check out the gowns from the Fall 2021 Morilee Collection. Attendants were on hand to assist the brides and their wedding party to see the latest styles and try on the gowns.
The Bridal Connection carries dresses from size 0 to size 32 in their beautiful boutique, and their staff is unparalleled in service. 
If you missed the trunk show but want to be in the know for the next one, or any of the great Bridal Connection events, follow them on social media to stay in touch.
Power Sounds Event Entertainment & Rex Formal Wear Make Open House Appearances!
An open house is the best way to check out your favorite wedding professionals. 
Wedding venues are typically the primary hosts for open house events. The vendors that participate are often hand-picked by the wedding venue to give you variety and quality. If you're interested in the venue for your wedding, it's a great opportunity to meet some of their preferred vendors – all while sipping cocktails and eating appetizers!
Power Sounds Event Entertainment was selected to participate in The Club at Garden Ridge's Sip & See event on August 10th. As always, they impressed the crowd by creating the perfect soundtrack to the day and ensured everyone was having a good time. Couples got to talk with their team about Power Sounds impressive service and selection.
Rex Formal Wear  was recently featured at the Sendera Springs Open House. Always a favorite of both brides and grooms, they had a small sampling onsite of their fantastic tuxedo options. Visit their website to check out their latest, modern suits to outfit your groom.
Attending an open house is best with a little planning. Read our blog on how to get the most out of your open house visits. 
Want to learn more about upcoming events? Check out our events page to hear about September's featured events.