When we don't know something, we love going to the expert to ask.  Raul Medina of Raul's Photography & Videography shares some of his favorite tips to get the best portraits.
Are you considering taking bridal portraits but still aren't sure? Are you interested in getting the inside scoop on some of the most popular locations to take them in San Antonio? If so, you are in the right place! We recently got to chat with Raul from Raul's Photography & Videography and he provided us with some incredible insight into why you should take bridal portraits and gave us some awesome tips on getting the best portrait that we had to share with you.
Raul has worked with hundreds of brides over the 18 years he's been in business and he has found that there are two main reasons you should take bridal portraits.
It's like having a dress rehearsal for your wedding day. How does it feel to actually move around in your dress? Will you need any alterations? How long will it take to do your hair & makeup? Will it look the same way you imagined it? These are all questions that can be answered during your bridal portrait session.
Typically, you will move around to a couple of different locations and have several different poses while taking bridal portraits. In many cases, you will find out something about the way your dress fits that you didn't realize before so you can have alterations made for your big day. This also serves as your trial run for your hair & makeup to see if you want to make any changes in that area.
Pro Tip: Remember to schedule your portrait session far enough before your wedding to ensure your seamstress has time to make the alterations & your photographer has time to get your beautiful bridal portrait to you so it can be displayed at your wedding.
It's a keepsake for your parents. How many times do you get all dressed up & have professional pictures taken of just you? These are normally the pictures that your parents will want to hang up on their walls. Moms, especially love them. So, do something nice for your parents since they've done so much for you.
Now that you're going to take bridal portraits, where should you go? Here are six fantastic locations in San Antonio that Raul suggests, including some of the details you need to know & some tips to get the most amazing photos.
San Antonio Botanical Garden – Throughout the year, you will find phenomenal backdrops for your portraits here. From the internationally renowned glass structures of the Lucile Halsell Conservatory to the tropical rainforest within them, from the Kumamoto En Japanese Garden to the brand new Greehey Lawn, you will find unique spaces around every corner. It will cost $15 per person, so if budget is a factor, go with a small group instead of taking your entire entourage. Also, the Botanical Garden closes at either 5:00 p.m. or 7:00 p.m. depending on the time of year (check hours here) so Raul has found that going here first & then heading to The Pearl to finish up since they are so close to each other is a splendid combination.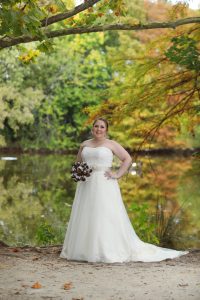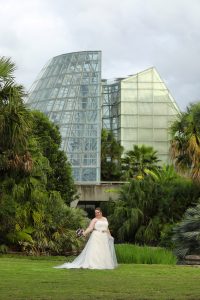 The Pearl – Want to know a bonus about taking photos at The Pearl? It's free! Want to know another bonus? It gives you both an urban, industrial feel in the main areas but also has the feel of nature with trees & waterfalls when you go down to the river portion. The tricky part with The Pearl is that it's busy all the time so it's best to go early-mid week so there aren't quite so many people around.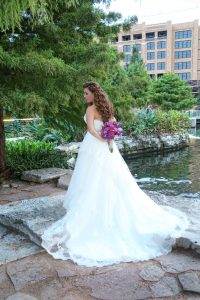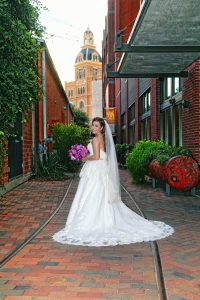 San Antonio Missions National Historical Park – If you've Googled "bridal portraits in San Antonio" you've definitely seen pictures of the multiple missions that comprise the San Antonio Missions. These locations are all about architecture & history. Gorgeous doorways, arches galore & tons of stone textures make breathtaking backdrops for your photos. You will need to secure a permit which will typically be $100 as long as you go from 9 a.m. to 5 p.m.; however, if you want to go from 5 p.m. to 7 p.m. you can add that time for an additional $72. Raul suggested adding the extra time & scheduling your portrait session from early November to early March so you can take advantage of the "golden hour" and get the perfect shot. What's the golden hour? It's the time shortly after sunrise or before sunset when sunlight is ideal for making jaw-dropping pictures.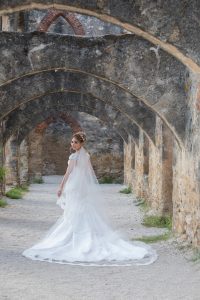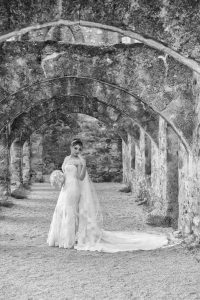 McNay Art Museum – Another classic spot for bridal portraits in San Antonio! It's only $30 to take your photos on the grounds and there are a ton of beautiful areas outside but if you're looking for something a little different, you should book an indoor session for $125 an hour so you have access to the indoor atrium which is gorgeous & not photographed as often as some of the outdoor areas.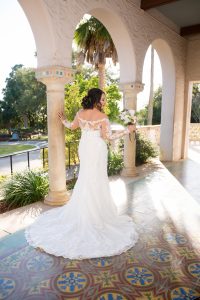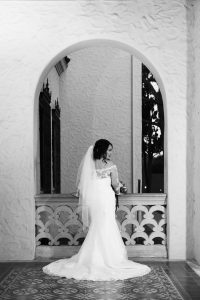 Japanese Tea Garden – With the pavilion, the waterfall, the bridges, the greenery & the flowers, this nature-loving location provides a variety of impressive options. Plus, it's only $20 per party so you can bring your entire bride tribe if you want to.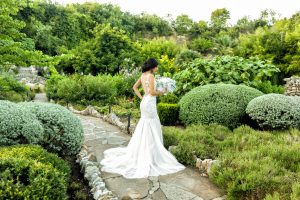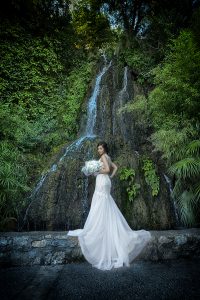 Eilan Hotel and Spa – Here you will also find many options but instead of a garden, you will find an Italian feel with a grand staircase, elegant fountains, and striking gazebo with clean lines & splashes of color everywhere. It's also nice because you can go whenever you want and it's free!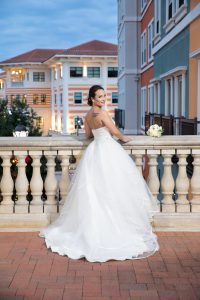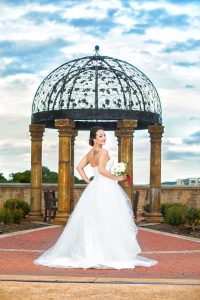 A little more about Raul's Photography & Videography:
Raul has an architectural background that allows him to 'see invisible lines' that others don't see so he can build a frame around you allowing you to shine. He loves using color while editing & processing. Raul & his gorgeous wife Lidia, who also helps with the business, recently celebrated their 14th anniversary & have one lovely daughter. To find out more about Raul's Photography & Videography visit his website.