Wedding trends for 2021 and 2022 are all about drama, drama, drama. Bold colors. Dramatic decor. Big entertainment.
Beauty trends are following right along.
If you're a bride heading down the aisle this fall, it's time to finalize your beauty look. The final details on hair and makeup will be the crowning touch of your total wedding style.
We've gathered up the coolest beauty trends for weddings this fall for you to incorporate in your ultimate wedding look. Use the trends for your wedding day, or any of the parties and showers leading up to the ultimate event.
Burgundy Lips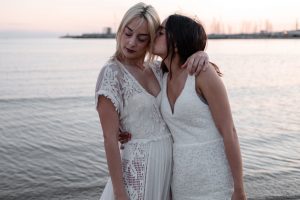 Bold and vibrant lipstick is coming in hot this fall. Bright reds, deep browns and vivid pinks. Everyone is wanting to show their smiles and lips off again, especially brides.
Embrace the look through a bold and sophisticated burgundy. This rich color featured on your lips takes center stage in your beauty look. Keep the rest of your makeup fresh and simple to not overwhelm with your makeup. You'll only need a light touch with these lips on display.
This particular shade is especially elegant for evening wedding receptions. Think deep, sumptuous linen colors and textures and bold floral bouquets.
Smokey Eyeshadow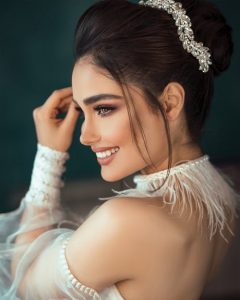 If you love playing up your eyes more than your lips, consider a smokey eye. This beauty trend is back and is being worn down wedding aisles as much as the runways.
A deep, smokey eye is for the bride that is ready to embrace the drama trend. She commands attention and is happy to accept it.
Traditional smokey eyes use shimmery black and grey tones to achieve the look. Based on your eye color, you can also play with shades of purple, deep blues and mossy greens.
Smokey eyes are best paired with clean, nude lips and dewy skin.
Dark Eyeliner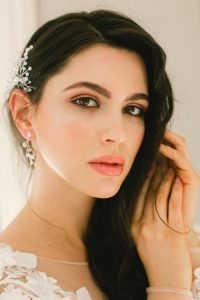 A full-on smokey eye may be too much for your bridal look. If you still want to bring attention to your eyes, embrace the dark liner trend.
Kittens eyes are the most popular option with the dark liner trend. Think somewhere between a full cat eye and the standard sweep of black. The look is darling and quaint and fits a bride that is the same.
Dark eyeliner can also be focused on making your eyes pop. Instead of a dramatic sweep around the lashes, rim the inside of your eyes. With this option, give your eyeshadow coral and pinkish hues.
Shiny, Lustrous Hair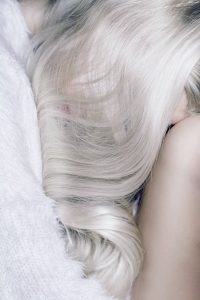 Texture and beach waves may have ruled summer wedding beauty, but ultra-shiny hair is here for the fall.
This look takes your everyday shine to the maximum level. Get with your beauty stylist to discuss treatments in the weeks prior to your wedding to start boosting up the gloss factor. 
Wear your brilliant shine with long, loose curls that tumble down your back. Alternately, sweep your glossy hair into a gleaming, tight bun for ultimate sophistication.
Red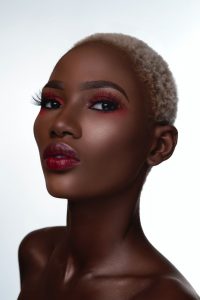 Red is having a moment in beauty these days and should be your new go-to for your bridal beauty this fall.
Shades of red look beautiful brushed softly on your lips, cheeks or eyelids. Work with your makeup artist to determine the right shade for your skin tone and desired look. You have 
To really embrace the red, add red highlights to your hair. Embedded tones of cherry coke in your brunette hair or strawberry red highlights for blondes. If you choose to incorporate this of-the-moment shade in your hair prior to the wedding day, be sure you work with a professional stylist in plenty of time for color corrections prior to your wedding day.