We recently spoke with Alexandria Gold-Haws about her and her husbands unique wedding venue in the Texas Hill Country – Elm Pass Woods.
Elm Pass Woods is best known for creating Wedding Festivals for their unique and adventurous couples. This creative take on a wedding reception means plenty of fun, laughs, and memorable moments.
Read more to hear about what makes Elm Pass Woods, and its owners, so special.
What services do you provide?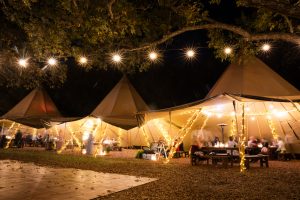 We are an all-inclusive wedding venue that specializes in outdoor Wedding Festivals under Scandinavian giant-hat tipis in the heart of the Texas Hill Country.
What inspired you to start this company?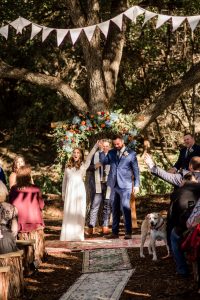 My husband Mike and I planned our own Wedfest on the property here from scratch. After creating something truly one-of-a-kind, we decided to open up our home to other couples and help them do the same…but with a lot less stress!
What sets your company apart from similar ones in the same field?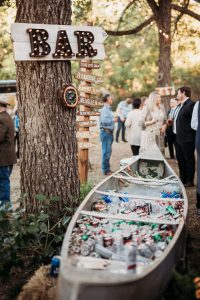 Because our property is so unique in the states (Wedfests are huge in the UK and Australia!), we tend to attract the non-traditional couples.
Our Wedding Festivals are less rigid and more free flowing in terms of the actual day. There is so much for guests to do here other than dance or sit down and drink. Between the yard games, fire pits, and photo spots, you don't have to stress about your guests being entertained. This mean you can actually relax and enjoy the reception!
Plus we offer the Ridge Hike – a hike up to the bluff perfect for sunset photos with unbeatable views. More importantly, it gives you some alone time as a couple before you go down and join the festival below. I told you we attract the adventurous types!
What is your best planning advice or tip for couples?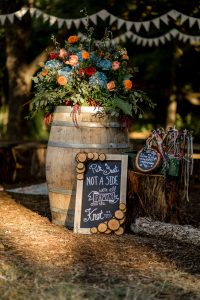 This is your day. If your family and friends start doing more than offering their opinion ONCE and/or not deferring to you, there should be no guilt about politely reminding them that the point is to celebrate YOUR love and style…no matter who is paying.
Are you married? Do you have children? Tell us about your family.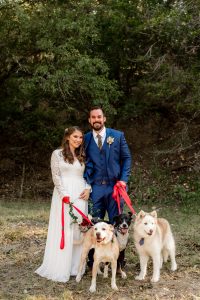 We run this venue as a husband and wife duo (Mike & Alex!). We just welcomed our newest festival employee Baby Theo this summer.  He has fit right in with our three doggos – Riley, Dexter, and Sam.
We also wouldn't be able to do what we do without the help of our parents, who work weddings and babysit while we make magic happen for our couples! It's a family business here at Elm Pass Woods.
Visit the Elm Pass Woods website to learn more.