First step in wedding planning, just after selecting your wedding date, is booking your Austin wedding reception venue. From the traditional to the unique, Austin and the Hill Country area have great wedding venues for couples to select from.
One we are particularly in love with is One Eleven East, an eclectic Austin wedding venue located just north of town. We sat down with Kaitlyn Taylor, Venue Director with One Eleven East and talked wedding trends, planning tips and a hopeful pandemic wedding stories from hosting one of their many wedding receptions.
What services do you provide?
One Eleven East is a wedding and events venue located just 20 minutes northeast of Austin in Hutto, Texas. It is an adaptive reuse and modernization of the historic building at 111 East Street, which was built in 1893. While preserving the original architectural details, the property has been fully restored and thoughtfully designed to host intimate weddings and other private events, providing both a downtown atmosphere – with its industrial loft design – as well as a quaint setting in historic downtown Hutto, away from the bustling crowds of Austin. We offer wedding, private event, convention / meeting, and photo / video shoot rentals in the space. Our event rentals are inclusive of our modern farm tables, bistro chairs, a full lounge set, and other beautiful furniture pieces to elevate the design of our clients events. One Eleven East is one of the few wedding venues in the Austin-area to host beautiful indoor ceremonies and receptions year-round. All of our venue rentals give clients access to the entire space, including the main open area, skylight room, 2 loft suites – each with a private bath, prep kitchen, and outdoor courtyard. Clients are drawn to the architectural elements that make this venue so unique as well as the timeless setting that is the perfect canvas to truly make their events their own.
What is your best planning advice or tip for couples?
Our best piece of advice for couples planning their special day is to always always always keep in mind what your wedding is really about – the two of you! Focus on your celebration of love first and foremost; everything else is just icing on the wedding cake. Of course we understand that everyone wants to have the *perfect* wedding day and we totally love a picture perfect wedding, but the best weddings and the happiest couples are the ones where the focus remains on just celebrating your marriage. Trust your vendor team, take the setbacks (or unsolicited advice) in stride, realize that a missed detail is not the end of the world, and take time to remember why you're going through all this planning anyways – you're marrying the love of your life and that's all that matters!
Why do you love this company and your job?
I *love* being a part of the One Eleven East team because each of us truly cares for our clients. Our team is committed to exceptional client services and we truly enjoy being able to help plan your special day and celebrate with you. Our couples are our first priority in everything that we do. Whether its making updates to the space, providing advice or recommendations, or just being accessible throughout the planning process and the wedding day to answer questions, we are always thinking of what's best for you and your wedding day! Being a small business and a small team means that we can give each of our couples the personal attention and communication necessary for a successful and enjoyable planning process. Our team loves connecting with our couples and can't wait to celebrate each of their special days!
What is one favorite client story and why?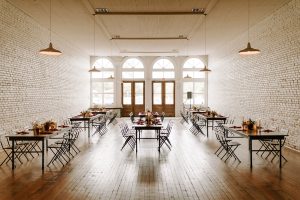 One of my favorite client stories is of one of our 2021 couples whose focus was always on marrying their best friend, and none of the craziness that life threw at them mattered! As if planning a wedding isn't stressful enough, the Covid-19 pandemic made it even more difficult for couples around the world. On top of that, this couple's wedding was scheduled for February 2021 on the weekend when Texas was hit by a once in a lifetime snow storm. Knowing that there was no way their wedding could continue as planned, the couple postponed the event that week, but decided to have an intimate ceremony in our space on the day that their wedding was supposed to be (an important date in their relationship). It was just the two of them, their officiant, their planner, and their photographer. Their day was so beautiful and it reminded us why we're in this business above all else – to celebrate the love between two people and their commitment to each other!
What is your favorite wedding trend right now and why?
I don't know if this counts as a trend, but my favorite thing is when couples include their pets in one way or another on their wedding day! I've seen dogs as flower girls and ring bearers, pets featured on the cake or desserts, and personalized drink menus named after pets (even one named after a pet lizard!). I'm a dog mom and I'm obsessed with my fur baby, so I always love when our couples include their pets on their special day!
See more about the One Eleven East Wedding Venue.