Marco and Aimee Garcia own and operate Olympus Photo Booth – a fun and creative San Antonio photo booth experience. We recently sat down with them to learn more about their company, and learned a little along the way about them as well. Read more to hear their story.

Are you married? Do you have children?
Our company is owned and operated by my loving, beautiful wife and myself. We started dating in high school and got married after college, and now we have 2 kids who never run out of energy!
What services do you provide?
We offer photo booth rental services in San Antonio for a variety of events such as weddings, celebrations, corporate events and more. Our services comes with many add-ons such as physical props, prints, and photo backdrops in order to provide a unique experience to you and your guests!
What sets your company apart from similar ones in the same field?
Planning a big day event can be very overwhelming, especially with so many different options for everything. Our Diamond Package is all inclusive, so it comes with all our available add-ons. It's disappointing when you fall in love with a service or product only to find out you will be paying almost double because every add-on was an extra fee (been there). Our sleek and modern photo booth speaks for itself when it comes to getting "the look". Our photo booths have an integrated DSLR camera to provide the best images for your grand event. Our photo booths give your guests a unique, fun, and different experience from an iPad in a box booth.
What is your best planning advice or tip for couples?
As a couple we understand what it's like planning for the big day! We tend to incline more towards what we individually want rather than what our partner wants (it's natural). Make sure to always think of your significant other, and incorporate the things he/she enjoy as well. Another tip is to make planning fun and exciting. Remember this when you are *sighing* at the thought of HAVING to go to the cake tasting at 5:30pm. I guarantee your wedding day will be perfect. From our experience, the best vendors provide a level of service that if something went wrong, you and your guests will not know about it. This is mainly because of the group of people that work behind the scenes to make your big day memorable. Enjoy the planning as much as you are planning to enjoy your big day!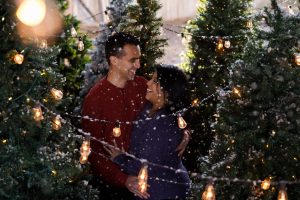 What is your favorite wedding trend right now and why?
We enjoy seeing and being part of the unfolding and creative new trends. Couples that have been incorporating bold colors in their wedding details is head turning. From the flowers, to the cake and even a bold colored Tux, bold colors sure seem to make a statement. It is fun to see many couples daring to stay away from the traditional wedding colors.
Be sure to visit the Olympus Photo Booth website!