Boudoir photography takes a special kind of photographer. Not only to they need to be an expert in their craft, they need to be able to build a trusting, fun environment for their clients.
Amanda is a genuine, fun-loving photographer that is hard not to build an instant connection with. Brides love her product, her service and her infectious smile. We recently spoke to Amanda about the origins of her business and a learned a little more about her as well.
What services do you provide?
I always like to say I provide a boudoir photography experience over a service. Having boudoir photos taken can be more of a private experience compared to other photography fields.
What inspired you to start this company?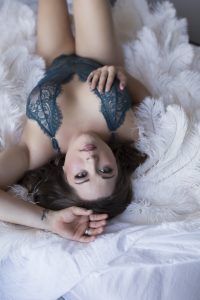 I get asked this question a lot actually!
I have done it all when it comes to the world of photography! Weddings, family, children, newborns, seniors, headshots, literally everything but real estate! My mom passed away in 2017 and I realized that life is short and we can't keep living each day in a miserable job or life. Her and I had many conversations and she told me do what makes you happy. Do something that excites you everyday.
After she passed, I thought a lot about what she said and realized I was in an unhappy place. I was had major depression because I missed her and I was in an 8-5 Monday – Friday job that didn't appreciate me. I sat down with my husband and said this isn't working. I'm not happy and photography is my happy place!
At the time I was doing family and children photography which I loved! But after a while there was still something missing. I couldn't figure it out. I loved my clients and loved that I was able to watch all these cute little babies and kids grow up but there was still something that I needed that I wasn't getting. We had just moved into our new home and I was laying in bed one morning and something just clicked. I had done boudoir photography before and I loved it but I had to stop because my mom was sick and I became her caregiver.
I texted a really good friend of mine and said," Hey! I have a kinda crazy idea would you be up for it? I want to do a boudoir session in our new home and see how it goes." She's always up for an adventure and said YES! I knew that if I was going to do this right there had to be certain things that were included in a session. First and foremost – hair and makeup! I wanted clients to come in, sit down and get pampered, relax and get amazing photos done.
We laughed so much thorough the session, tried new things and new poses and when it was all said and done I felt this fire that I had never experienced before. After she left I cried. Not because I was sad but because I felt happy again. I thought ok… I'm excited and we had fun so that's why I'm happy. Surly this won't happen every time.
I immediately started editing photos and sent her a few "sneak peeks" She called me and said that she cried when I sent them! I told her OMG I cried too!!! Then we both cried together lol. She told me that she was having a really rough time and going through a lot. She had gained some weight and had been having breakouts off and on. She wasn't feeling herself and this session reminded her that she's amazing, powerful and beautiful but because she was so stressed and going through so much she forgot how to care for herself. She said she NEEDED that session. It was somewhat like therapy in a way. I knew in that moment this is what I am supposed to be doing! This is what was missing!
I am a libra so I love to help people and listen to them and make them feel better. Boudoir is so much more than half naked or nude photos. It's an experience that can't be explained. I tell people all the time I don't know how to explain it because its a feeling and the only way to fully understand is to book a session see for yourself!
What sets your company apart from similar ones in the same field?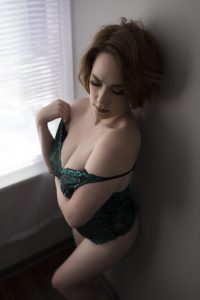 Honestly, me lol. I am not a big company with other photographers that work underneath me. I am the one and only person you will ever deal with. (Well, until I need an assistant!) But I am the one who talks to you about a session, I am the one who take your photos and edits them. I am the one who meets back up with you and goes through all your images at your viewing session and the way I make clients feel from beginning to end. It's an experience and my job it to make sure you have the best experience ever with me!
Are you married? Do you have children? Tell us about your family.
Let me introduce myself! My name is Amanda and I am the owner and operator of Whiskey & Lace Boudoir! My husband and I have been married for eight years and together for 13. We have two beautiful daughters and two fur babies! We have recently relocated to the San Antonio area back in May 2021. We love it here so far and can't wait to make this place our home!
What is your best planning advice or tip for couples?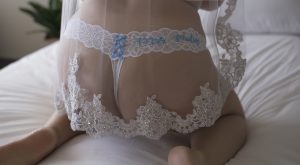 My best wedding planning advice for couples is to ask any and all questions to all potential vendors!
In my opinion there's no such things as too many questions or a dumb questions. You wedding day is one of the most important and special days of your life so if that means you ask 1000 questions then so be it. You always want to make sure you make a connection with you vendors as well. I feel like that is also a big deal when planning a wedding. You want everyone around you to be just as happy as you are and want your day to be the best ever! Having a vendor that you don't vibe with is the worst.
When it comes to photography and videography make sure you ask them to send you or show you a wide variety of their work. Especially for indoor ceremonies and receptions with low or dark lighting. Make sure you are fully aware of that photographers style and editing style so you know what your final product will look like. Nothing is worse than expecting bright and airy but you get dark and moody or vise versa!