Just because we're busy with the holidays does not mean the wedding planning stops for couples! November brought wedding events from sales to open houses, and as always we were there to cover all the details.
Read more about November's wedding events and check out our Events page to hear about not-to-miss upcoming events in the future.
The Exclusive Cake Shop
Black Friday Sale
11/26/21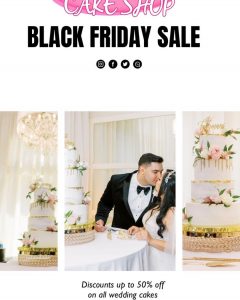 Each year on November 26th, The Exclusive Cake Shop hosts their annual Black Friday Wedding Cake Sales from 10am – 6pm.
Couples booking that day receive a whopping 50% off their wedding cake! This event only happens once a year and appointments were fully booked as expected.
The Exclusive Cake Shop creates and delivers delicious and beautiful wedding cakes to the San Antonio area for all types of weddings and events. Learn more about The Exclusive Cake Shop and stay in touch with them to find out about future cake sales!
Eagle Dancer Ranch Wedding Venue
Festive Open House
11/28/21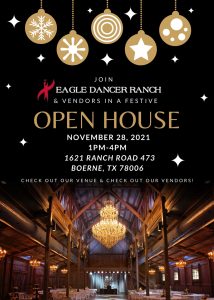 On November 28th, Eagle Dancer Ranch Wedding Venue hosted a blowout Open House event with a host of wedding professionals and even a visit from Santa Clause!
The beautiful San Antonio wedding venue worked alongside Black Nor White Events wedding consultants to showcase the space complete with decor, photo booths and drinks and catering.
Learn more about Eagle Dancer Ranch Wedding Venue and follow them on social media to stay tuned for the next Open House.