Your honeymoon is a time to take a deep breath, re-center yourself as a couple and get away for a romantic time. In short – the honeymoon is an essential part of wedding planning you don't want to skip out on.
With couples enduring more than their fair share of wedding stress this last year, and many still planning for the future, brides and grooms are looking for honeymoon options that won't require constant rescheduling and restriction changes. The solution? A stateside honeymoon. There are many beautiful and unique locations across the continental US that are a short flight or drive away. We recommend working with a travel agent to further reduce the stress of planning your honeymoon.
We've rounded up some of our favorite stateside locations to get you started.
Charleston, South Carolina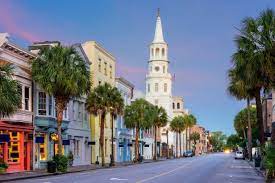 Ask any well-traveled couple one of their favorite stateside spots and you'll hear Charleston over and over again. The city is filled with charm, history and romance. If you love the idea of a historic home turned quaint B&B, strolls along the waterfront, and leisurely shopping as you wind through historic streets, this will be the honeymoon destination for you.
Charleston is steeped in history that can be explored in a variety of experiences. Haunted tours, historic home explorations, and ample museums give you plenty of options to discover the area's history. But what you may not know is that Charleston sports a lively and urban restaurant and bar scene. From romantic little nooks serving traditional Southern fare, to modern taprooms, the options are endless.
Multiple nearby waterfronts and beaches mean you still can enjoy the sand and surf for a day or two. Whatever your choice of activities, be sure to end at least one day with a horse-drawn carriage ride.
Camden, Maine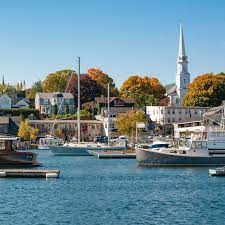 A rugged coastline, a laid-back vibe and seaside quaintness makes Camden, Maine an exceptional romantic getaway spot.
For the ultimate Camden experience, stay at one of the area's seaside inns. From there, you can spend the day visiting the winding streets of downtown Camden that give you ample shopping spots to pick up locally-made goods as well as antiques. Spend another day touring area lighthouses or take sailing tour across the water. When you're ready for some down time, head to one of the waterfront cafes or restaurants. If you're an outdoor-loving couple, take time to enjoy this scenic area. Go hiking on the Mount Battie trail, take in the views at Mount Megunticook or kayak at Maiden Cliff lake.
Be sure your adventure includes a trip to one of Camden's great seafood restaurants and you'll have plenty to talk about upon your return!
Missoula, Montana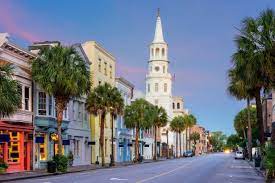 If picturesque mountains, clear streams and the most scenic hikes you can imagine is what you enjoy as a couple, Missoula is for you. The town embraces both wildness and small-town charm, with a healthy dose of artist community flair.
You'll want to stay at one of the town's luxury Bed and Breakfasts, where you'll take in views of the mountains when you wake up. Head to the porch for a coffee-infused snuggle and take in the fresh air before you begin your day.
Plunked in the middle of a mountain ravine, you'll enjoy easy access to skiing, hiking, fishing, and biking during the day. For dinner, snag a table at Red Bird where you'll enjoy a locally and sustainably-sourced meal. In the evening, head to one of the local brew pubs or take in a local musician's new set.
Malibu, California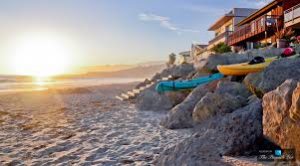 Let's hear it for the city lovers. If you were imagining jet-setting to a swank European city, Malibu might be the right choice for your honeymoon.
Packed with luxury spas and high-end resorts, Malibu offers the best of beach life and city life. You get undeniably great dining and nightlife, while still being able to escape away to a private sunset cruise. From celebrity home tours to surf lessons, this place has something for every couple. And with easy day trips to Santa Monica or Los Angeles, you'll never run out of entertainment and activities.
St. Simons Island, Georgia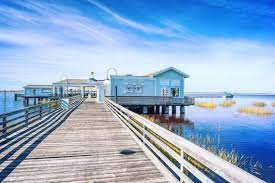 You don't need to head to a remote island to enjoy the sun, surf and beauty of the ocean. Get all the remote island feels right here stateside at St. Simons Island, Georgia. Nestled off the Georgia coast, St. Simons is home to long stretches of beach dotted with private cottages as well as luxe hotels and resorts. Enjoy the exclusiveness with long walks on the beach, romantic stargazing, and renting bikes to explore the natural trails to discover the perfect picnic spot.
With nearby golfing, shopping, and dining this location is perfect for couples seeking a beach getaway with nearby luxuries.
Santa Fe, New Mexico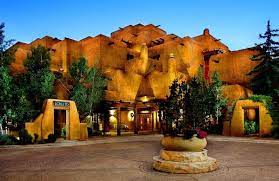 Desert landscapes, thriving art scenes and fantastic hotels and resorts make this city a top choice to consider when planning your stateside honeymoon.
Santa Fe gives you a great mix of relaxation and activities. The city and surrounding areas feature an excellent choice of romantic resorts, hotels and inns. Whether you're looking for the intimate or the grand in overnight accommodations, Santa Fe has you covered. Be sure to visit one of the New Mexico styled spas or hot springs in the area for a relaxing post-wedding experience.
The city offers many ways to enjoy your honeymoon days. Head to the historic Canyon Road street to view local art and purchase a honeymoon memento from a local painter. Learn to cook like a local with a couples cooking class. Head out to see the local chapels and churches, take a horseback ride at Bishop's Lodge, or head to Santa Fe National Forest. Whatever your choice of activities, the area's unique scenery and culture will certainly make an excellent romantic honeymoon.
Whatever your travel style, there is a destination for you. Be sure to contact your local travel specialist to make planning that trip all the easier.