The Summer Solstice is coming up June 21st – but summer weddings are already here! Summer weddings mean summer style and we've pulled together the best summer wedding beauty trends for 2022!
It's all about beating the heat and looking fresh and wedding ready.
Summer Beauty Trend #1: Ponytails
On hot summer days, we recommend Texas brides sweep their hair back into a stylish ponytail. Ponytails can be chic, romantic or fun depending if you wear them high, mid or low. 
High ponytails are youthful, fun and flirty. The look is perfect for a casual wedding in the garden or in the country.
With the right hair pieces, ponytails can be uber-glamorous. Crystals and pearls decorating a low ponytail is for the elegant summer bride. Or give your ponytail a romantic vibe by adding floral pins, or even fresh flowers.
Summer Beauty Trend #2: Pink Lips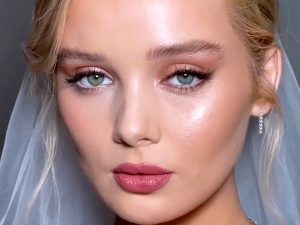 From pale pink to bold and bright, pink lips are in for summer wedding beauty trends.
Pink is perfect for summer brides. Go for an all-natural nude glow everywhere else and make a statement with rosy pink-toned lips. 
Alternatively, you can glam it up with pink shimmers on your cheeks and eyes as well. Work with a makeup specialist to achieve the perfect look for you.
Pink lips are timeless and will pair with any wedding gown style, from casual to sophisticated.
Summer Beauty Trend #3: Flower Headpieces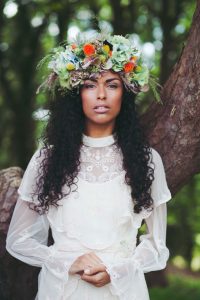 Turn heads at your wedding this summer with a beautiful floral headpiece.
We've been talking for a while that dramatic headpieces are very trendy for wedding beauty. For summer, we're all about taking this look and making it floral.
You can always go with a simple wreath of flowers in your wedding colors. That summer wedding beauty look is romantic and never goes out of style.
But we love the new, dramatic floral headpieces that have been coming down the runways and the wedding aisles.
Think of these more like wedding crowns made for a queen, rather than a simple floral wreath. Mirror your flower headpiece with smaller versions for your bridesmaids and junior brides.
These flower headpieces can get heavy, so opt for a smaller headpiece to wear after the wedding ceremony.
Summer Beauty Trend #4: Glowing Skin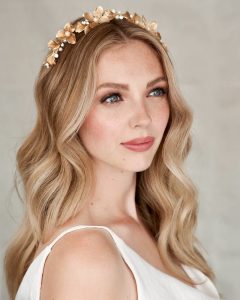 Nothing says 'beautiful bride' like a healthy bride, and glowing skin is your ticket.
By glowing, we mean skin deep health that can also be played up with the right shimmer and makeup tricks.
Summer is the perfect time of year for brides to embrace the natural and focus on simple beauty. Forget heavy makeup that will weigh down your features.
Go for delicate, natural makeup tones that play up your features. To make this look perfect, focus on perfecting your skincare routine several months prior to your wedding day.
Enhance that natural glow with delicate champagne pink shimmer on your cheekbones, nose and just under your eyebrows. Then glow right down the aisle!