The winter issue of the Texas Wedding Guide has hit the stands, and we're showing off the latest in weddings. From trends and tips to really cool wedding ideas, we're covering the can't miss wedding features. Need some ideas? 
TREND WATCH: Unity Candles Re-imagined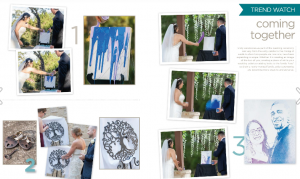 Unity Candles have long since been a popular wedding ceremony feature to show the joining of two people now becoming one. Then, we had the sand ceremony to show the union of two. Now – the ideas are endless. From a joint piece of art created during the ceremony to love locks on a tree, couples and their planners are creating endless ways to celebrate their union. Flip open your Texas Wedding Guide to see more!
TREND WATCH: Handkerchiefs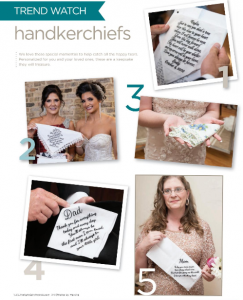 A vintage-style handkerchief brings a bit of old-school beauty to your wedding day. Whether created as a custom gift for your parents or bridal party, or serving as your "something blue," custom handkerchiefs are making an appearance.
TREND WATCH: Guest Book Alternatives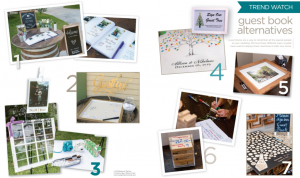 Guest books are still a great wedding memento. What has changed is what "guest book" means in weddings today. Photo books, Jenga blocks, guest trees and more can reflect your style and unique wedding vision for your guest book. Check out the spread in the magazine and then get with your wedding consultant on some unique ideas!
TREND WATCH: Cake Toppers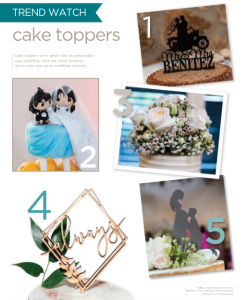 From the funny to the elegant, cake toppers come in many forms. You can pick up a note from the floral decor with an expressive floral topper, have a custom cake topper created or select something simple and expressive. Your bakery is a great idea resource.
TOP TIP: Kids Activity Center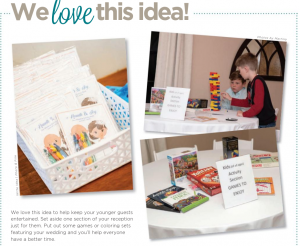 Though the adults may be plenty entertained by the dance floor and the bar, the littlest guests need their own entertainment. Kids activity centers that problem by offering coloring books, play sets or simple games.
IDEA GALLERY: Amazing Cakes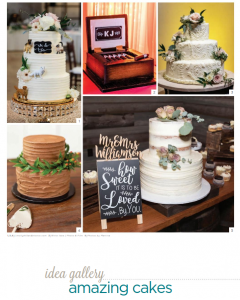 Wedding cakes can range from breathtakingly beautiful to charmingly rustic to downright fun. The magazine is full of beautiful imagery, but this page is the one that makes us hungry!
REAL WEDDINGS: His & Hers Attire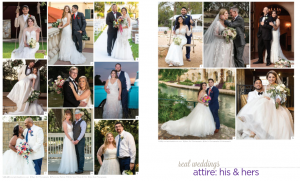 Your wedding day is a great time to show off you and your fiance's personal style, and we have the inspiration you need in our two page spread featuring the best of menswear and bridal gowns.
REAL WEDDINGS: Different Views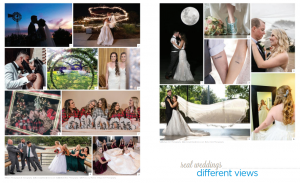 As the best  photographers know, there's more than one way to capture a couple on their wedding day. You won't want to miss our two page spread showing off great photos from unique angles to inspire you!
TREND WATCH: Bridal Hair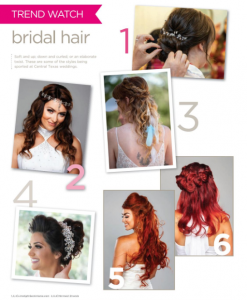 Planning your wedding day beauty is one of the fun tasks in the midst of all your wedding preparations. Today's wedding hair trends are long, loose and wavy. You don't want to miss this great page of inspiration!
IDEA GALLERY: Flowers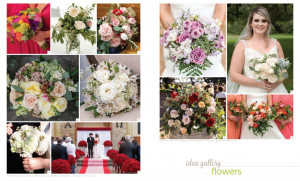 We could gaze through glossy floral photos all day. So this seasons magazine issue is full of just that. Be sure to check out the two page spread in the Texas Wedding Guide .
TREND WATCH: Signs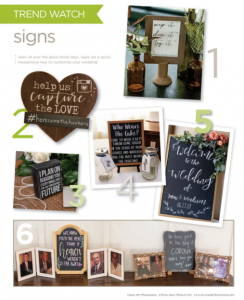 Wedding signage plays an important roll in keeping the proper flow of your wedding. Signage lets guests know they're in the right location, how to engage with your unique sign in book, and where to sit. Also? They can be super cute! We've pulled together some unique and fun signage photos to get you going.