As the buzz of your wedding proposal begins to dim, reality sets in: you have a wedding to plan!
We have your wedding planning first steps you need to take to begin the planning process. Though it may seem overwhelming, knowing those first few To Do items can be a big help. So read on to find out the very first thing you need to do when planning your wedding. (Hint: It's not what you think!)

1. Savor the Moment
The first step when starting your wedding planning? Enjoy!
Alexandria Patterson, top Austin wedding planner and owner of Prosecco Weddings and Events tells couples, "Enjoy your engagement and create your wedding vision! Savor all the new "firsts" you'll get to experience together as you start your new future together."
The road to the wedding day can at times be long. But remember, it is also full of special moments for you as a couple.
2. Start a Pinterest Board
You may have already begun envisioning your wedding day style, even before your engagement.
Gathering those images on a central public Pinterest board will help you communicate your vision to your wedding planner and other wedding professionals. Showcase your vision to area florists, wedding consults, bakeries and more.
An experienced wedding consultant such as NRG Events & Wedding Planning will help you bring your vision to life from the screen to the final day. Owned by wedding planner Nina Rebekah Graham, the consultants at NRG Events & Wedding Planning focus on getting to know you personally. This way, they can take your Pinterest board and make it a reality.
If you're new to Pinterest, now is the time to start. Don't be intimidated by the sheer volume of images, the platform is easy to get the hang of and worth spending time browsing to get ready for your first vendor hire – the wedding consultant.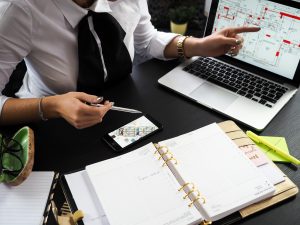 3. Hire a Wedding Consultant
Some couples make the mistake thinking that a wedding consultant is a waste of crucial budget funds. But a good planner is worth their weight in gold.
First, they save you time that you likely don't have to spare. Also, they can save you money. With the relationships they have with vendors, and a general knowledge of all areas of wedding creation, they'll know where to cut and where to invest so your ultimate vision comes together within your budget.
If hiring a wedding consultant up front isn't in your plans, a "day of" coordinator should be. When you hire a "day of" wedding coordinator, you truly get more than one day. They'll meet with you in advance to ensure they understand your overall plan, make recommendations for your timeline, and gather the list of vendors and their arrival times.
Central Texas Planner is one example of a wedding consultant that offers "day of" coordination, in addition to their full service packages. They are also one of the few wedding planners that offer a la carte service so you can create a planning package that is fully customizable.
4. Create a Budget
This may seem like a no brainer, but too many newly engaged couples are hesitant to really begin putting pen to paper and scratching out a preliminary budget. And that makes sense. You don't know what wedding vendors charge, or how much to allocate in your budget to each area.
According to Camille Wolf with CW Events in Austin, creating a budget is one an important first step to do at least 12 months prior to your wedding.
Start with a general overall round number. You can plug that number into a wedding budget calculator to get an idea on average spending per category to get started.
In order to complete your budget, you'll need to also know how many guests you'll be inviting. It may seem early to start thinking about a guest list, but it's an important first step. Check out our post on How to Create Your Guest List here.
Still, it's ultimately up to you as a couple to decide what is most important on your wedding day. Separately make a list of priorities and then share the list with your partner to see where you both need to negotiate.
Maybe you're foodies and it's all about the catering. Perhaps it's the perfect decor to get that ultimate "look" you envision. Whatever you "must haves" are, keep them top of mind while you begin hiring vendors.
As Alexandria from Prosecco Weddings & Events advises, "While it's important to set a budget, it's even more important to understand it. Know where you want your money to go and what vendors are the most important to your vision."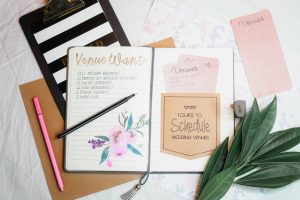 5. Find a Wedding Venue
Once your budget is created, Camille with CW Events in Austin suggests your next step should be finding a venue.
Your wedding venue will be your first major purchase in your wedding planning. You may choose a wedding venue that provides their own catering, or a venue that has outside catering. Check out our blog post on wedding catering to understand the difference.
To help make a decision on a wedding venue, try attending an Open House. A wedding venue open house is fun and they often include light bites, featured cocktails or a selection of wine. In addition, it's an easy way to capture ideas and meet multiple wedding vendors in one location.
During an Open House the host venue pulls out all the stops to create a beautiful and inspirational setting. You'll get a much better idea of how the venue will look for a wedding as opposed to visiting the venue on an off day without decor.
Also, wedding venues will also invite partner wedding vendors to participate in the Open House.
Remember, the wedding vendors that participate in a venue's Open House most likely work at that location often. Photographers will know the best spots to shoot, the florist will know exactly the venue's policies on where they can hang floral installations. This ease of familiarity will trickle down to you – making your planning easier and simpler.
Sometimes, couples will book their wedding venue prior to hiring a wedding planner. That works too! Experienced wedding consultants such as CW Events in Austin can work either way. Flexibility makes CW Events a great choice for a wedding consultant. Whether you hire them before or after booking your venue, they'll create a stress-free planning experience for you.
You may even find your planner at an open house event.
Also, remember to download our Texas Weddings app and login/register on our website to use all the planning tools we offer!