Michael T Davis is the proud owner of Michael T Davis Photography, a well-regarded Austin photography studio specializing in weddings. Michael is a family man, and his love for family and new beginnings is apparent in his skilled photography.
This week, we spoke with Michael about his family, what makes his company unique and planning tips for couples.

What services do you provide?
Michael T Davis is a storyteller and wedding photographer that works with couples on not only documenting their wedding day but preserving them through prints and albums. My goal is for my couples to have lasting memories and not just Facebook ones.

What sets your company apart from similar ones in the same field?
As a black photographer, I'm very particular about making sure that skin tones are correct. Regardless of anyone's editing style, I believe that when you look at your images in your album then you should see yourself and not some filter. I take pride in my work and as a result, many interracial couples and couples of color decide to work with me because they can just that their images will reflect exactly who they are and what they look like.
What is your best planning advice or tip for couples?
I share lots of tips on tiktok so be sure to follow me @mtdphotography. However, the best advice that I give couples on tiktok and my own couples is to plan your own wedding. Often times in the wedding planning process everyone will share their unsolicited opinions. Most are easy to ignore, however, some might be a little more challenging ie. opinions from your parents and very close loved ones. I see many times that dealing with the constant struggle of doing what you want at the expense of displeasing others is challenging. However, I want to remind you as I do all of my clients that this is your wedding. The only two opinions that matter are of you and your partner. When you look through your wedding album in 10yrs, do you want to regret not listening to your gut and doing things your way, because I don't want that for you. So my tip of the day is to plan your wedding and no one else's.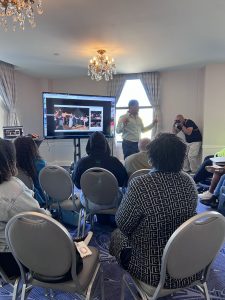 Are you married? Do you have children? Tell us about your family.
I married my wife in 2010 and we have 3 beautiful children, 1 girl and 2 boys. Our daughter was born in 2008 and was a flower girl at our wedding. I remember I walked down the aisle, she came to me and said "Daddy, mommy looks so pretty." I just lost it and cried all the way down the aisle. My boys were born in 2012 and 2016, respectively. They are best friends and do almost everything together. It's so nostalgic watching them grow up because they remind me of me and my brother. Altogether, we are a family of 5 and have a dog named Scooby (shelter dog) and a kitten name Tuxedo (received from a litter).
What other cities or locations have you worked weddings in?
I started my wedding business in Philadelphia in 2011. Since then, my work has taken me all along the east coast. I've photographed couples as far north as Massachusetts, as south as Orlando, as northwest as Michigan, and as southwest as Texas. Not only am I a photographer, but I also coach other photographers and speak at National Conferences about photography and weddings.
Learn more about Michael T Davis Photography and book a consult today!