There's no doubt about it, Texans are proud of their home State. And couples in Texas, or those returning there for their wedding, love to show off what makes the Lone Star State special. 
No matter if you're hosting your wedding at an elegant downtown ballroom or at a ranch in the Hill Country, there are so many different ways you can add a little, or a lot, of Texas into your wedding. And the experts at The County Line gave us their Texas tips.
Hire a Professional Country Line Dancer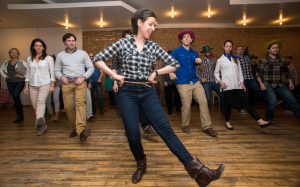 You don't have to love to two-step as a couple to bring in a professional country line dancer for your wedding reception. 
Adding excitement and uniqueness to your wedding reception is easy when you incorporate group activities. The right professional line dancer can easily gather an enthusiastic crowd and teach them a few essential steps.
Those who already love to line dance will enjoy showing off their skills, and newbies to the activity will laugh along while they try to get the steps right.
Having a country line dancer doesn't mean you have to play country music all night. Add the activity after the main dances, and maybe another song or two. They'll warm up the crowd and get people moving for more dancing opportunities to come.
Make Your Wedding Amenities Texas Proud
If you're looking for just a little bit of Texas, think about your wedding favors and welcome bags.
Wedding amenities are often an afterthought for weddings. It can be challenging to find an item that is affordable to provide to each person, and unique enough to truly be appreciated.
Send your guests home with a little bit of Texas by using County Line's signature Rib Rub or County Line Chili Mix for your wedding favor. The spice packets can easily be decorated to fit beautifully on a rustic or elegant table.
Wedding Welcome Bags are just that – a small bag given to out of town guests when they arrive. The bags may be custom tote bags, or simply colorful paper bags. 
Welcome Bags include an itinerary of the wedding weekend and information about area restaurants and attractions. They also include goodies! Featuring local treats and eats means guests receive an item they've never had before, adding to the excitement. 
For an infusion of Texas, add items such as County Line's Legendary BBQ Sauce, County Line Rib Rub, or County Line Chili Mix. Most Welcome Bags are dropped prior to your guests arrival at their accommodations, but if you are hosting a welcome event for arrivals, you can also hand them out at the party.
Greet Them With Texas Hospitality
Speaking of a welcome event, there's no better way to greet your arrivals with a Texas-inspired welcome party.
These types of events give you an opportunity to greet each of your out of town guests, hand out Welcome Bags and treat them with some drinks and appetizers or desserts.
Remember, with this event there is no need to provide full dinner catering. You can still impress your guests and make them feel appreciated while paring down options. Professionals like County Line Restaurant makes it easy. They'll help you create a couple of Texas-inspired cocktails paired with some light bites. 
For extra fun, County Line can set up a Custom BBQ Sauce Station for your guests. In this event, guests pick their base sauce, then additional ingredients all mixed up by an attendant. After the final taste test, the custom sauce is bottled with each guest taking home their own!
If planning an event on an additional night seems too overwhelming, add the welcome event concept to the end of the rehearsal dinner. After your rehearsal dinner, transform the event space and host a post-rehearsal dinner cocktail reception. You'll already be onsite, making the transition easy and the time enjoyable.
Bring on the Wildlife
Texas is known for its wild creatures. From the fast and elusive Jackrabbit to enormous Longhorns and Buffalos. 
While a Buffalo may not be in the cards for your wedding, there are plenty of ways to incorporate Texas wildlife into your wedding.
Armadillo races are iconic in Texas. The hilarious creatures are surprisingly fast, though they may not always know what direction to run. This is a great activity during cocktail hour for a rustic or Texas-themed wedding.
Burros make a fun addition to Texas weddings and wedding related events. They can arrive with sacks of little Corinitas for guests to grab for a very interactive bar experience!
In addition, if you're looking for more photo ops than entertainment, bring in a Longhorn or Alpacas for your event. Nothing says Texas quite like a Longhorn photo, and animals such as Alpacas can easily be dressed for the occasion.
Any of these ideas can work during a lively wedding reception, during the rehearsal dinner, shower or post-wedding events. Remember, always work with qualified handlers to ensure the animals at your wedding.
Host a Texas-Style Rehearsal Dinner…or Post-Wedding Event
Nothing says "Welcome to Texas!" like a Texas-style rehearsal dinner. And nothing says Texas-style like BBQ. Head to a location that specializes in BBQ and the Texas experience to make your planning easier. 
San Antonio
County Line has two great locations in San Antonio. 
If you're looking for downtown San Antonio vibes, the County Line River Walk location may be just the place. The location features views of the River Walk and downtown San Antonio, with options to host your dinner on a river barge. 
The County Line I-10 location seems like a remote ranch oasis, not far from Fiesta Texas. The location features a large porch and beautiful surrounding grounds. You can host your dinner indoors or out, and both areas are fully decorated with a true Texas feel.
Austin
If you're looking for a great Austin location, you're in luck. There are two completely unique County Line locations in Austin.
For Hill Country vibes in the city, The County Line on the Hill location is just the place. The location features decks and green space that overlooks the beautiful Texas Hill Country. 
The County Line on the Lake location is set on Bull Creek just off Lake Austin. Plus, the location has ample green space dotted with oak trees, as well as indoor/outdoor venue space.
Looking for a more intimate wedding ceremony and dinner, but still want to entertain a larger group after? Host a post-wedding cocktail reception.
Let your reception be experiential and relaxed with live music, food stations, lawn games and Texas-themed desserts and cocktails. In addition, you can not only book your venue and catering with County Line, but they have the vendors and the know-how to bring together your Texas themed event.
Check out The County Line in action here!