With all the work that goes into planning the perfect wedding day, you want to make sure you and your fiance are actually able to enjoy it! We have six tips from Memory Lane Ranch and Lodge on how to reduce your stress the day of your wedding that are virtually guaranteed to turn down the Stress Meter.
Choose Your Vendors Carefully
Planning a low-stress wedding day starts at the beginning with choosing the right wedding professionals.
Wedding professionals are service providers, and ones you'll spend a lot more time with than the guy that cleans your gutters. You'll need to find the right balance between budget, package offerings and trust. Look through reviews on multiple wedding websites and spend plenty of time asking questions when you meet. 
If you do find a wedding professional with surprisingly low rates, you likely found a dud not a deal. There may be industry standards they don't adhere to, or essentials in their packages left out.
Consider All-Inclusive
An all-inclusive wedding package means you'll get much of your wedding essentials all in one place. 
Do all-inclusive weddings exist? They do at Memory Lane Ranch and Lodge. Wedding coordinators, onsite catering, overnight lodging in addition to floral services, DJ services, and upgraded linens. In addition to the onsite wedding vendors, Memory Lane partners with a variety of wedding professionals to complete your wedding picture.
Hire a Day of Wedding Planner
We always recommend hiring a wedding planner as the first step in planning your wedding. Though it may seem like an added and unnecessary expense, a wedding planner can not only save you time, but also money. They'll help you choose the right vendors that meet your needs and your budget, and help you avoid costly mistakes.
Still, there are couples that choose not to hire a wedding planner. Your wedding may be intimate and simple, or you may love handling all the details yourself. Whatever the reason, you'll still want a "day of" wedding planner at the helm for your actual wedding day. 
A day of wedding planner will assist with all the little details that surface throughout the day. They'll also keep your timing on track and keep touch with your vendors. Remember, a day of wedding planner is never just one day. They'll meet with you prior to go over all the details and agenda for the day. Often they are coordinating the processional and recessional so they'll be there for your rehearsal. Good day of wedding planners will do post-wedding tasks such as return the cake stand.
Memory Lane adds to the ease by offering day-of wedding coordinators onsite. The service and quality of these coordinators is showcased through their wedding reviews. Couples love that their coordinators assist in pulling together the final details and taking care of so many details onsite the day of the wedding.
Schedule Downtime
When you're planning your wedding day timeline, don't forget to schedule some downtime.
Your morning will be naturally busy with hair and makeup, but ease into it. Have a full, relaxing breakfast even if you don't feel much like eating. Your body will thank you and you'll likely not get much more food in you until dinnertime. Consider eating breakfast alone, or with one or two family members or friends with a chill vibe.
Add downtime between your ceremony and reception as well. We recommend stepping away just after the ceremony to connect with your new spouse. Have the waitstaff bring you a bite of the cocktail hour food and drinks for you both. If the schedule is too tight, consider having a moment away just after your first dance. Connect, share a kiss and breathe.
Stay Where You Play
Choosing a wedding venue that has onsite guest accommodations is more than just a way to extend the wedding fun over the weekend. It's always an easy way to make your wedding day less stressful. 
Wedding venues such as Memory Lane Ranch and Lodge add additional convenience by offering overnight accommodations. There is room not only for you, but for out of town family or your wedding party. They have a five bedroom lodge and two private suites to accommodate you and your crew. Amenities like a private pool and hot tub means ultimate relaxation, not to mention the incredible view.
Having your wedding party onsite means you get to plan fun activities and have help with any last-minute details.
It will also give you a chance to continue the wedding celebration as long as you like after the reception officially closes. Party with your nearest and dearest with everyone staying onsite.
Most couples no longer leave on their wedding night for their honeymoon. Staying overnight at the venue means when you're done, you'll be able to retire quickly and without fuss. You will likely still plan a fantastic last look of your departure, you just won't have as far to go to the bedroom.
Get Ample Space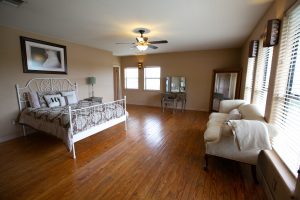 Even if you choose not to stay overnight, you'll want to make sure you have plenty of space to get ready. Choose a wedding venue with fabulous bride and groom suites.
Of course you'll want space with a good vibe and relaxing atmosphere. However, there are additional details to consider to make your wedding day more relaxing. Consider natural lighting for doing makeup, lots of outlets, hanging space and nearby restroom options. 
Memory Lane has two spaces for you and your fiance to get pampered and prepared. 
The spacious bridal suite features salon chairs, a comfy couch, two full bathrooms and a dining table just begging to be littered with mimosas and charcuterie. You'll love the relaxing views, airy natural light, and the very attentive staff members onsite.
Your groom and groomsmen can kick back in their own spacious suite as well. They'll stay relaxed and upbeat playing the foosball table or grabbing a beer from the mini fridge. There's plenty of glassware for drinks and a TV in case an important game is on.
Wherever your wedding is held, make sure to talk through with your onsite contact your play-by-play for the day or weekend. A great venue will have great staff to work with that'll help you ease into your wedding day. 
Learn more about Memory Lane Ranch & Lodge and how they can make your wedding weekend relaxing and fun.