What's one key ingredient in a great wedding reception? Food, glorious food!
No one wants to serve (or eat!) a la Rubber Chicken at their wedding. You want food that has both style and substance. Something that can be unique and fun, but palatable for the masses.
It's a tall order. And considering that catering will no doubt be one of the big ticket items in your wedding budget, it's something you want to get right.
So let's talk catering choices, challenges and how to get the most from your tasting!
On-premise vs Off-premise Catering for your Wedding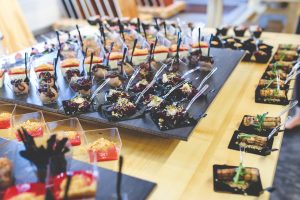 On-premise catering simply means the venue you choose has their own catering. This could be a hotel or country club that has their own catering department, a venue owned by a catering company, or a venue that has an exclusive contract with an independent caterer.
You'll be booking an off-premise caterer if you choose a venue that does not offer catering in house, or if you host your wedding at a home. This would be caters such as H-E-B Deli and True Texas BBQ. and Pacific Smokehouse.
Many catering companies may own several venues they cater exclusively at, in addition to offering off-premise catering at other venues, such as Spice of Life Catering, Catering by Norris and Heavenly Gourmet.
Knowing the terminology and differences between the two can help you make a decision on the right choice for your wedding.
What Comes First – the Venue or the Caterer?
When planning their wedding ceremony and reception, most couples will start with looking at wedding venues.
Your wedding venue sets the tone and style for your wedding reception. So it's a natural starting point for most couples. The larger concern at first is to find the right wedding venue, with the right capacity and the right wedding date.
Still, don't wait too long to book your caterer. Begin researching caterers on the Preferred Caterers List for the venues you are most impressed with to ensure there are a few catering professionals you're interested in working with. Established caterers such as Alfred's Catering and Blanca's Cakes and Catering will be on many preferred venue lists.
If you do already have a caterer that you've worked with for other family events, reach out to them. Having a previously-established relationship will jump start your planning. However, be sure to ask the right questions. Just because your caterer does a great 30-person dinner in your home, may not mean they can host 300 at a wedding venue in the Hill Country.
Should I Expect to Pay for a Tasting?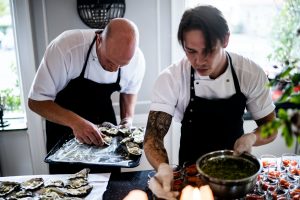 If you're wanting a tasting to try out a caterer prior to signing a contract, then yes – you'll likely be expected to pay a small fee.
Quality caterers such as Everybody Eats Catering and A Gala Event Catering use both quality ingredients and quality staff to create a great experience for you and your wedding guests. And with current increases in food prices, coupled with labor shortages, caterers aren't able to offer complimentary tastings to couples who haven't put down a deposit or signed an agreement.
That being said, don't hesitate to book a caterer prior to a tasting. Just as a florist doesn't create a sample bouquet, you can find an excellent caterer without trying their food. A catering company's reputation, longevity, and solid reviews indicates they are a solid choice.
Also, if you're interested in a caterer such as Green Mesquite BBQ, County Line, and  Sofia's Catering, you can easily taste their options at their restaurant.
If you do want an up front tasting, expect a tasting fee ranging from $50 – $150 per person. However, your caterer will likely put that payment toward your final balance. Be sure to ask in advance if you don't see it in writing.
And Now…The Fun Part!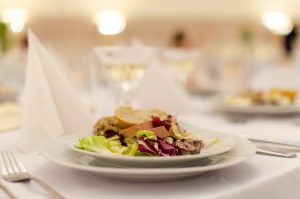 Once you sign with your caterer, the fun begins!
Your tasting will typically be 2 – 3 months in advance to finalize your menu. But your communication with your caterer will be ongoing beforehand.
If you're sticking to a crowd-pleasing three or four course plated meal, your caterer's menu will be packed with variety. Choose a couple salads and entrees for your final tasting, and enjoy talking details and decisions with your spouse and caterer.
More adventurous couples may want something off-menu. Perhaps you have a specific cuisine in mind, or want an out-of-the-box presentation. Caterers love to do custom menus and will be happy to work with you on something creative. Keep in mind that your original quote per person may need to be adjusted up if your ingredients are harder to source or additional labor is needed.
Think Big Picture
You know the adage – we eat with our eyes.
Professional caterers know that the food must look as good as it tastes. And that means a great plate.
When discussing your menu, be sure to make your china, glass, silver options a part of the conversation. Even the simplest meal can be served with flair when done up on a rectangle plate or in a colorful bowl. Basic white can always look right when layered over the right linens and chargers, or paired with special glassware or silverware.
Your caterer can coordinate dining ware rentals, as can your wedding coordinator or rental company. If you are using multiple wedding professionals to create your vision, get them in contact. Seasoned wedding professionals in the area will likely have worked together already many times.
Don't Forget the Drinks!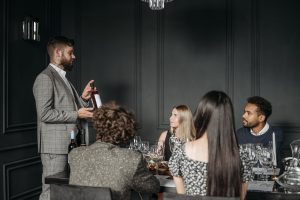 What's an appetizer without the cocktails? Or a meal without wine? If you're incorporating alcohol in your wedding reception, incorporate it in your tasting.
If your caterer is handling the alcohol for your wedding, ask to taste the wines alongside your menu tasting. You'll get a feel for the overall pairing, and be able to make adjustments as needed.
Many couples are still serving signature cocktails as well during the reception, and nothing can be more fun than starting your tasting with a sample for all!
You may be bringing in another vendor to handle your bar. Communicate with that vendor in advance and see if they'd be able to participate in your catering tasting. Or alternatively, see if they can provide a bottle of your chosen wine at a discounted price to take to your tasting and ensure compatibility.
And because nothing goes better with wedding planning than food and wine!