Searching for the perfect photo shoot location for your engagement pictures? Look no further than our extensive guide. From classic San Antonio locations to elegant gardens, we'll help you find the best engagement shoot locations in San Antonio!
Downtown San Antonio Engagement Shoot Locations
Downtown San Antonio is the quintessential location for Puro San Antonio engagement photos.
You'll be able to take a variety of photos in different locations throughout the downtown area. Serene shots along the River Walk, urban-chic photos in front of the Majestic or one of the many historic and beautiful downtown buildings. With the right photographer such as Raul's Photography, you can even get a snapshot right on the beautiful Houston street road.
Mission San Jose
According to Ryan Hamilton with Ryan Hamilton Photography, "The locations that are most commonly overlooked are the ones that require a fee or a permit to photograph. Yes, things tend to cost extra, but more often than not, they're worth every penny. One of my favorite locations is Mission San Jose."
Mission San Jose is a charming, historic location to take your engagement photos. The grounds themselves are lovely. In addition, there are several picturesque places around the mission to get that just-right photo. Wrought iron fences and stone archways give the mission that perfect old-world feel.
Market Square
Nothing says San Antonio quite like Market Square.
At Market Square you'll get both an urban and romantic vibe. A local photographer like Rebecca Jane Photography can expertly take a shot at the gazebo. The gazebo is an ideal photo location as a backdrop.  Or, step inside the gazebo to be surrounded by the columns.
The papel picado and brick walkways set the stage for fun and festive engagement photos. The setting is ideal for couples looking for a San Antonio-style photo.
Outdoor San Antonio Engagement Shoot Locations
Cibolo Nature Center
If you're looking for a natural environment for your engagement photos, Cibolo Nature Center might be your perfect choice.
Riverside oaks and graceful wheat stalks make this location a picturesque outdoor option for your photos. If you're looking for true outdoor grace, this is your spot. Remember, work with an experience outdoor wedding photographer such as Lauren Crumpler Photography for the perfect look.
If a lush garden look is what you're searching for, head over to the Botanical Gardens for your engagement shoot. Soaring trees, elegant fountains and trails of natural flowers make the Botanical Gardens the perfect backdrop for garden-centered couples.
Book your session, and let your love shine through many beautiful spots along the paths and features of this location.
La Bonne Vie Ranch is a special and spectacular photo location for your engagement shoot.
The surrounding land has multiple picture perfect trees, vineyards and fields. Also, the venue has  patios, corrals and a chapel complete with stained glass windows. Each is a unique and charming location for your photos.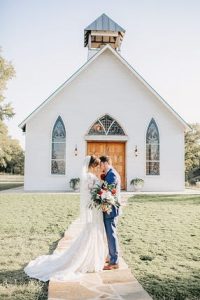 Urban San Antonio Engagement Shoot Locations
Landa Library
San Antonio wedding photographers in the know always recommend Landa Library for engagement shoots.
The library offers many options for classically beautiful photos. There are elegant archways supported by long, romantic columns. In addition, there are charming wooden doors around the library and brick steps that make the perfect spot for seated poses.
Melvin with Pixiewed Photography shoots beautiful engagement photos at Landa Library. He reminds couples, "If you want to do an engagement session at Landa Library, apply for the free permit beforehand to avoid any trouble." You can apply for an engagement shoot permit at Landa Library here.
The Pearl
The picturesque Pearl is a favorite with San Antonio couples for their photo engagement sessions. This location is also a favorite among San Antonio photographers such as Limelight San Antonio Photography & Videography. With brick side-alleys even make the perfect spot and fill up with photographers frequently!
Also, with the River Walk extending to the edges of the Pearl complex, couples are able to get those riverside photo sessions without navigating downtown. This part of the River Walk is tree-lined and full of greenery and, in certain times of the year, local flowers.
Additionally, the buildings within the Pearl range from the historic to urban.
Faust Street Bridge
Faust Street Bridge is a hidden gem that just may be your perfect San Antonio engagement photo location. The bridge has all the romance you want with its beautiful ironwork and vintage signing. Also, the elegant lamp posts and architectural details make this location a beautiful option for engagement photos.
To get the right engagement shot with the right lighting, an experienced photographer such as Mantra Photography is best.
Hays Street Bridge
Hays Street Bridge is a favorite San Antonio engagement photo location for area photographers. In addition, the bridge has a great architectural feel that will bring a metropolitan look to your photo. You get a glimpse of the city in the background, in addition to the surrounding bright, green trees.