Picking out your wedding dress is a naturally fun part of your wedding planning experience. But finding the right dress takes time – and that means planning a wedding dress shopping day!
From searching for the perfect dress, to knowing what bridal shops to visit, to easy tips you may not know, you'll need to know how to plan your wedding dress shopping in advance.
Here's how to get from dreaming to saying yes to the dress no matter your style or budget.

Step One: Set a Budget for your Wedding Dress
Creating a budget for your wedding is an important first step when you begin your wedding planning. Wedding dress shopping is no different.
The average wedding dress cost varies depending on if you're purchasing a ready to wear wedding gown or a designer wedding gown. For example, the average bride spends $1,600 on her wedding dress. But that could range anywhere from a $500 ML Monique Lhuillier line off the rack dress to a $4,000 Vera Wang dress.
Rest assured, you can find beautiful wedding dresses at every price point. The cost of a wedding dress depends on how the dress is manufactured, the type of fabric used, and the label.
Knowing your wedding dress budget in advance will help know where to shop for your wedding gown, and will assist in narrowing down your numerous choices. No need to fall in love with that $7,000 Lazaro gown that you'll only be able to afford by cannibalizing other parts of your wedding budget. Keep in mind, you'll need to include your alterations, undergarments, veil, jewelry, and shoes in your budget.
Many wedding gown shops to cater to a variety of wedding budgets and sizes. For example, Lace & Grace Bridal Boutique in Austin is known for affordable wedding gowns in sizes that range from 2 to 32. They have beautiful higher-end wedding gown selections that over $3,000, but a large inventory with great price points for under $2,000. No matter your budget or size, you'll be treated with professional respect, and excitement, at Lace & Grace.
For San Antonio brides, consider Brides by Elizabeth. Brides by Elizabeth has an excellent selection of affordable wedding gowns for both slim and curvy brides. Their experts can guide you on the right style for your budget and your body. For added convenience, Brides by Elizabeth offers alternations onsite for all of their wedding gowns.
For additional helpful information on budgeting for your wedding dress, check out our Budget Calculator.
Step Two: Gather Wedding Dress Inspiration
After establishing your wedding dress budget comes the fun part – deciding on what wedding gown style is for you.
Whether you grab a stack of bridal magazines to tear out photos or prefer starting a Pinterest board (or both!), the first step is bridal dress inspiration.
When researching wedding dress styles, consider your overall wedding theme and setting. Preferably, you'll have your wedding venue chosen. If not, at least narrow down venue type such as a ranch venue as opposed to a hotel ballroom.
You'll also want to consider if you're having an outdoor wedding ceremony and/or reception. Will you be walking through grass or turf? Do you need your wedding dress to keep you warm or cool? Your venue location will determine a lot of your wedding dress needs.
Next, consider your personal style.
Many brides will feel the most comfortable in the style they traditionally wear. Brides who opt for modern, clean lines in their wardrobe will love sleek, satin wedding dresses or a contemporary two piece wedding dress. If you love puff sleeves and prairie dresses, a boho chic lace gown just may be your perfect choice.
That being said, some brides prefer their wedding dress to be a special departure from their typical look and style. If a dramatic ball gown wedding dress is speaking to you, even if you're normally in jeans and a T-Shirt, go for it.
Start saving up all the wedding dress photos you love and note the designers that catch your eye. If you do find a wedding dress of interest that is outside your budget, save the photo for your wedding dress consultant. She just may be able to find something similar.
The next step is to understand wedding dress terminology to help communicate your interests to your dress consultant.

Step Three: Understand Wedding Dress Terminology
You want to start by understanding the lingo of wedding dress styles. This includes the different wedding gown silhouettes such as mermaid or A-line. It also means understanding gown length options like tea length and ballgown.
In addition to the wedding dress skirt length and style, you'll have options for your bodice and your sleeves length.
It's much easier to tell your wedding dress consultant you like sheath-style wedding dresses with sweetheart necklines than to try and describe your perfect wedding gown in your own words.
Once you understand some of the basic wedding dress style terms, you're ready to book your wedding dress appointment.
Step Four: Make your Wedding Dress Appointment
Now, it's time to start making your wedding dress appointments.
Book your wedding dress appointment early to ensure you get the day and time you prefer. Considering you'll want to order your wedding dress 9 months prior to your wedding, this means your dress appointments need to be set 12 – 10 months prior to your wedding.
Ideally at this point you'll have chosen your wedding venue. This will help you and your wedding dress consultant know things such as indoor and outdoor considerations, weather and venue style.
Appointments are crucial for a solid wedding dress shopping experience. If available, find out who your dress consultant will be prior to arriving. Have a thank you card and a tip ready to go for your appointment. Generally, you'll tip your wedding dress consultant 10% – 20% of your total cost.
For a quieter experience or if you have a large wedding party, consider booking your appointment on a weekday. If you are booking multiple appointments at different wedding dress shops, never book more than 3 appointments in one day.
Keep in mind, most wedding dress appointments last an hour and a half. Wedding dress overwhelm is a thing, don't let it get to you.
Lastly, if you imagine popping champagne when you've found your dress (or while shopping), call ahead. Some bridal shops will have beverage options on hand, while others don't allow certain beverages within the store.

Step Five: Choose Your Wedding Dress Shopping Entourage Wisely
You may be picturing your wedding dress shopping day with your girlfriends and a fun afternoon of Ooh's, Aah's and champagne. And it should be.
But when it comes to planning your wedding day shopping, there is too much of a good thing when it comes to who attends with you. Your wedding party, mother, groom's mother – the list of potential people who come with you to go wedding dress shopping grows easily.
Too many people can mean too many opinions.
If your bridesmaid's number is pushing 10 or more, you may want to cut down the number of people you invite to the shopping day. And really, you don't need their opinions, you need their excitement over your choice. A group of five close friends and your mother may be all you need.
Gently let anyone in your wedding party know in advance you're keeping this part of the planning small. If you want people to feel included, perhaps plan a post-shopping happy hour where you show them pictures of your dress options.
See our article on How To Choose Your Wedding Party for more helpful information.
Step Six: Dress Appropriately for your Wedding Dress Shopping
To ensure your wedding dress shopping experience goes as planned, you'll want to have a few items on hand for your dress appointment.
First, you'll want to bring heels in several different heights. You likely won't already have your wedding shoes selected since you'll purchase them after you purchase your wedding dress. So grab a variety of heels from your closet from kitten heels and above.
Next, you'll want to ensure you bring the correct undergarments. Bring or wear a nude thong, even if you aren't looking for a form-fitting gown. You'll also want to bring a low-cut bra and a strapless bra.
Thinking of getting a fake tan before your wedding dress appointment? We say NO. Even though you may plan on getting a fake tan for your wedding, it's too easy for a fake tan to transfer onto delicate wedding gown fabrics. Be courteous to the shop and go without.
In that same mindset, wear minimal makeup for your wedding dress shopping. You don't want foundation or eyeshadow to smudge on a neckline. Your dress shopping will be best with a fresh face and minimal daytime makeup.

Step Seven: Trust your Wedding Dress Consultant
We recommend having wedding gown photos ready and a decent idea of the wedding dress style you're looking for prior to your dress appointment. Still, keep an open mind. And trust your wedding dress consultant.
Your dress consultant will defer to your style and fit preferences. However, they are also adept at knowing what wedding dresses work on different body shapes and types. There may be a neckline you didn't think you could pull off, or a shade of white you aren't sure about. Listen to the consultant. A dress you may hate on the hanger may end up being your perfect gown.
Some brides are lucky enough to try on their perfect dress on the first try. Others, it takes weeks of multiple appointments. If your first attempts don't go well, keep an open mind and expand your options.
If you're looking for qualified experts to guide you, head to a bridal shop such as The Bridal Connection in San Antonio. For over 25 years they've worked with brides and know what works. The Bridal Connection is known not only for their expertise, but their exclusive San Antonio gown lines such as Randy Fenoli Bridal. As they regularly travel to Chicago and New York for bridal fashion shows, you can trust they offer the latest trends and great selection.
In the end, just know it is your choice. Your opinion is the only one that truly matters.
Step Eight: Order your Wedding Dress
Finally, it's time to order your wedding dress!
As we mentioned, your process of buying a wedding dress starts at least 9 months prior to your wedding date. Remember, it can easily take up to 6 months for your wedding dress to arrive. If you have concerns about if your wedding dress will arrive on time, talk with your wedding dress consultant. They'll be able to inform you which designers are currently experiencing longer ship times than others. And that may impact your final decision.
Lastly, once you have indeed found your perfect wedding dress – stop looking! Don't even look or try on a wedding dress for fun. A second round of looking at wedding dresses will only lead to second guessing yourself.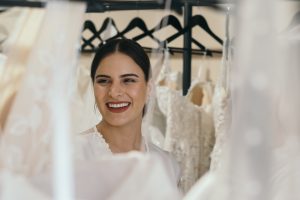 Step Nine: Alterations, Finishing Touches, and Gown Preservation
Once your wedding gown has arrived, you're ready for the final touches. You'll want to have your wedding gown tailored your exact specifications. This may include simply hemming the dress to the right length. However, you may need the waist taken in or sleeves shortened for the perfect fit. In addition, you may want to add on details such as beadwork, lace cuffs or a colorful bow.
After the event, it's time to preserve your wedding gown. The right preservation process ensures your gown remains in pristine condition over time.
For wedding gowns, you need a specialist. Trust an expert such as EcoClean Wedding Dress Preservation in Austin for your needs. They are wedding gown preservation experts that offer several packages that include gown cleaning, preservation and special packaging. Gowns are all cleaned treated by hand through their garment experts.
For San Antonio brides, head to Five Star Wedding Gown Specialist. At Five Star, they can assist you with a variety of your wedding gown needs. To start, Five Star has onsite seamstresses that can help you with achieve the ideal fit for your wedding gown. Once the wedding is complete, they provide Museum Care wedding gown preservation. They are the only company in San Antonio that provides this level of wedding gown preservation and ensures your delicate fabric, beading and details will be perfectly safe.
If you planned your wedding dress shopping experience correctly, you can rest easy that you found the right dress. Find your perfect wedding dress at the best Austin Wedding Dress Shops and San Antonio Wedding Dress Shops.