Photo Booths have moved from wedding trend to a wedding must!
This week we're talking with  Ana & Julio Vizcarrondo owners of Mira Me Magic Fotos to hear the story behind their company, their family and what makes their San Antonio photo booth company truly unique.

What inspired you to start this company?
As military members with over 40 years of service, taking care of people is part of our DNA. We knew whatever we decided to do we wanted to be around people and we wanted to create positive interactions and experiences. Growing up in Puerto Rican and Colombian households, celebrations were a part of life so the event industry seemed like the perfect fit. We knew that we wanted the next chapter of our lives to be focused on family so we chose to create a business that allowed us to do just that. We also compliment each other very well. I am the creative one and Julio is the social butterfly. This combination is the one two punch that sets us apart. Mira Me Magic Fotos is definitely a family run business! Everyone is involved, Julio runs the tech support and I am the brains behind anything design related. Our kids help with set up and even the grandparents make sure equipment is clean and our "Magic Coordinators" are well fed; everyone is part of making the Magic happen. Our goal is to bring that same family feel and fun to your event.

What sets your company apart from similar ones in the same field?
I think WE are what sets us apart. What Ana and I have that no one else has is a company that invests just as much into its equipment as it does into its culture. Anyone wearing the Mira Me Magic Foto logo on their chest is wearing it because they are sold on a idea that customers and clients are partners. We are not in the market to make business transactions, instead we are in the business of making relationships. That's why we go out of our way to ensure you are not only happy but blown away with the service you receive. And yes I know everyone says that but how we do that is by providing a tailored customer experience for every event. If you want to be hands-on and provide a very detailed vison, we will set up meetings either in person or virtually to make sure every detail is just how you want it. If you want to simply have a great time with one of our booths and let us handle the details, we got you. Our team is great at proactively creating the right vison. And last but certainly not least, our Magic Coordinators who operate our booths and interact with your guests will provide a fun booth and an even better experience. That's what we offer, not just the best in booth technology but an amazing experience.

What's the funniest thing you've seen happen at a wedding?
Photo booths are a visual media and at one of our weddings the visual got very spicy very quick. At this particular wedding we were printing photos to give to guests and to place in a photo album. One of the guests decided to leave the bride and groom a little "gift" when they flipped through their album. This wedding was printing three picture photo strips and so this particular guests decided to progressively have less clothes on with each photo. He did not get in to his complete birthday suit but he started with a three piece suit and ended the photo shoot with his shirt half off and his pants in the process of coming off. We even threw money in the air and were able to capture money raining down on him as he assumed a pose that could best be described as NO REGERTS (spelled that way on purpose lol)!!!! Needless to say the bride and groom were pleasantly surprised.
What is your favorite wedding trend right now and why?
Not to sound biased but..PHOTO BOOTHS… and we happen to know a great company you can rent one (or more) from! Tell them Julio and Ana sent you, they love us. LOL!!!!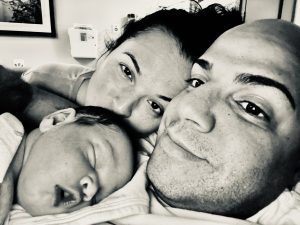 Are you married? Do you have children? Tell us about your family.
Our family's story is one rooted in tragedy but flourished in love. Our family is blended with Julio having three children and I have two. I never thought I would find myself in a blended family because I was happily married to my husband of 16 years. However, in early 2018 while deployed, my husband tragically passed away in the line of duty. While I thought I would be lost forever Julio came into our lives at the perfect time. Today we have a beautiful family full of love to include our brand new grandson! In any tragedy we try to find the positive. One of the positives outcomes was moving to San Antonio, a place we now call home. Shortly after arriving here my family came to visit me. They loved the SA vibe so much that most of them decided to move here as well (so the party keeps going in our house)! My late husband's sacrifice remains with us to this day and is part of everything we do. It is why we place such importance on capturing moments, moments with families, friends and loved ones.
Learn more on the Mira Me Magic Foto website.