When you're looking to treat your wedding guests to a true Austin, TX experience look no further than Green Mesquite Catering.
This Austin gem has been serving up premium BBQ since 1988. Read on to hear about their services, catering menu options and how they can be a great addition to your wedding.

Austin Catering for Large Crowds 
Everything is bigger in Texas and Green Mesquite Catering is no different. Their first catered event was for 500 people for the Austin Chronicle! And followed was Freedom Fest at Zilker Park. 
If you need to feed a large crowd for your engagement party, rehearsal dinner or a casual wedding, call Green Mesquite Catering. They know how to get everyone fed quickly and deliciously.
Thankfully, you can be confident your catering will be taken care of seamlessly. Once you make the decision on your menu, the Green Mesquite Catering team will handle the rest. They'll bring the food, serving ware, servers and clean up after the event. They even pack up all the leftovers for you at the end of the event. There is no wasted food at a Green Mesquite Catering event!
Green Mesquite Catering Menu for Weddings and Events
Choosing the right catering menu for your event is easy with Green Mesquite Catering. Their online menu gives you two, three and four meat options that are priced per plate.
Meat choices include all the Texas favorites. From brisket, sausage, pulled pork and ribs to lighter options such as chicken and turkey. You also have the option of chicken wings and chopped beef.
For every plate you purchase, you'll get two delicious sides for every meal. Choose from rich macaroni & cheese to savory green beans or golden velvet corn. Green Mesquite Catering offers a wide variety of starch and vegetable options to complete your meal.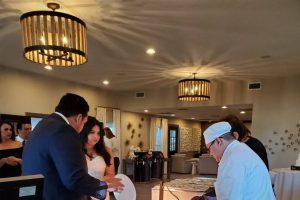 Bar Options with Green Mesquite Catering
As needed, Green Mesquite Catering can also assist you with bar setups and bartenders.
If you are providing your own alcoholic beverages for your event, Green Mesquite Catering offers bartenders and bar setup packages. Bar setups could include mixers, limes, cups, soft drinks and napkins depending on your needs.
For beer and wine events, Green Mesquite Catering can assist in providing a selection of beer and wine for your event in addition to the bartenders and setup.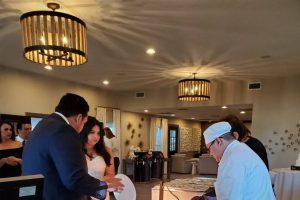 Exceptional Service with Green Mesquite Catering
Green Mesquite Catering is the perfect catering choice for your engagement party, rehearsal dinner or Texas-style wedding. 
In addition to the delicious food, Green Mesquite catering has a unique advantage over other restaurants and catering companies. Their team.
Many of the Green Mesquite employees have been working with the company since their inception in 1988. Happy employees make for great events, and the Green Mesquite team is full of passion and know-how. They know the business and have worked together for years as a unit to execute flawless catered events.
Whether your event is for 25 people or hundreds of guests, you'll feel taken care by the Green Mesquite Catering team. 
Learn more about Green Mesquite Catering and contact them today for more information!