Starting out as a popular Kyle, TX pizza point in 2011, Ilario's Italian Cuisine & Catering has grown to become a full-service Italian restaurant and catering company. Owner Andrew Venezie embraces his Italian heritage through simple dishes with amazing flavors. 
Serving classic Italian dishes that will please a crowd, Ilario's Italian Cuisine & Catering works with couples all over the Austin area to create a memorable and easy catering experience.
Italian Cuisine for Your Wedding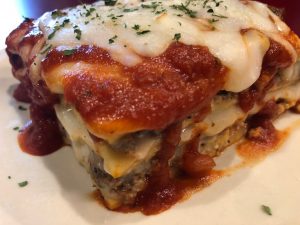 Choosing Italian for your wedding catering is a great choice. Italian food is inherently popular and accessible to all guests.
Popular wedding dishes include their succulent Chicken Marsala, savory Meatballs with Mushroom Gravy and delicious Chicken Piccata. 
For baked options, consider a classic Baked Lasagna or Chicken Florentine Lasagna. Rich and delicious, lasagna is a classic choice that Ilario's Italian Cuisine & Catering is well known for!
With Ilario's Italian Cuisine & Catering, you have options. For a more relaxed atmosphere, choose a convenient buffet service. This allows you and your guests multiple main dishes and sides, effortlessly served by their experienced staff.
For a more formal dining experience, a plated option may be best. Create the perfect plate with their choice of entrees and sides.
Looking for an additional dessert option beyond your wedding cake? Treat guests to Italian wedding favorites such as cannoli and tiramisu. 
If you do need to accommodate dietary needs such as gluten-free and vegan options, Ilario's Italian Cuisine & Catering will be happy to create special meals.
In addition to choosing from the popular Ilario's Italian Cuisine & Catering menu, couples have the opportunity to create a custom wedding menu with the Ilario's Catering Chef.
Perhaps you'd like to adapt a favorite menu item from Ilario's Italian Cuisine & Catering. Work with the team to create the perfect meal that will make your wedding memorable. 
One popular option with couples is the Pasta Your Way station. A fun and interactive choice, Pasta Your Way allows guests choices. Choose your own pasta, sauce, and toppings for a made-to-order meal. Offer additional sides buffet-style for a fully customized experience for your guests.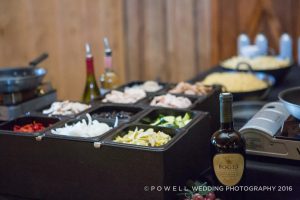 What couples may love best about Ilario's Italian Cuisine & Catering is the value. 
Ilario's has built their restaurant and catering business on word-of-mouth recommendations. They are known in Kyle as a go-to family restaurant for exceptional food and friendly staff.
This extends to their wedding catering business as well, servicing not only Kyle but all Central Texas couples. 
Couples are often surprised by how affordable Ilario's Catering is! They love that they can get a delicious meal with a reliable caterer at a great price. Thankfully, the catering team will work with your budget to create the right meal for you and your guests.
Speak to an experienced team member at Ilario's Italian Cuisine & Catering today to learn all the ways they can make your wedding meal special!