Every Spring hundreds of engaged couples descend upon the loved Hill Country wedding venue, Texas Old Town.
They not only come to see the four stunning Texas Old Town wedding venue sites, they come to attend their epic biannual Wedding Garage Sale.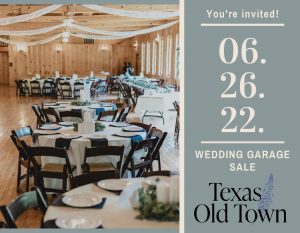 The Wedding Garage Sale is a unique wedding event created by the venue's owner. It allows couples who have already hosted their weddings to sell their gently used wedding items such as signage, centerpieces, decor and more.
"We typically see anywhere between 300 – 500 people come out," says Nash.
This year's event will be hosted on June 26th from 10am – 12pm. You'll want to get there early, as items sell out fast.
"Shoppers start lining up about an hour in advance," advises Nash, "so it's always great to be a little early to get the best selection and deals."
While you're there, be sure to visit the Texas Old Town wedding venues. The halls are typically kept open until 3pm to allow for current couples to show their selected venue to family and friends. Potential couples can also roam the grounds and begin to imagine their wedding day at Texas Old Town.
This Austin area wedding venue is packed with amenities such as outdoor ceremony areas, indoor reception halls, a 16 hour rental time, spacious dressing rooms and all your tables and chairs. The beautiful grounds give you plenty of locations for memorable wedding photos such as quaint little bridges, flowing streams and plenty of trees.
Come out to attend the Garage Sale on June 26th, and stay to take in the ambiance that is Texas Old Town.