As soon as that ring slides on your finger, you're thinking about the wedding day. The big ticket items such as a venue, caterer and decor will immediately come to mind. But what about the essential wedding vendors you may NOT have thought of? We have a list summed up for you of important wedding professionals you may have missed…until you need them.
A Custom Tailor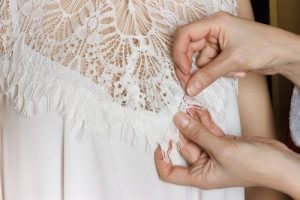 Shopping for your wedding dress and tuxedo attire is often a highlight in planning your wedding. For most, fashion is just downright fun. And it's not only the wedding gowns that get attention these days…the men want to look just as fresh. Not to mention the ladies that also sport a suit.
But when it comes to looking your best on your wedding day, the color choices and fabric are only the start. Ultimately, it's all about the fit. Curve-hugging, hanging generously where needed, sharp shoulders and the perfect blazer length all mean you need one thing…alterations.
Many couples may think of alternations as an after thought. Especially as your bridal gown or tuxedo shop may offer in house alternations. Even when they do – the question becomes do you use their services or seek an individual expert?
You'll need to think through a few considerations. For example, are you shopping local for your wedding dress? As as least some alternations are needed for each gown, you'll need to consider the driving time if you are visiting shops outside your immediate radius to find that perfect wedding dress. In many large bridal shops, you may not have a dedicated seamstress working on your gowns. And in some cases, designers have contracts with shops that guarantee they won't modify the design of the gown, meaning they may refuse some of your proposed changes.
Having a local tailor that is an expert in tailoring wedding gowns, bridesmaids dresses and tuxedos gives you the opportunity to trust one, seasoned professional with your complete wedding fashions. Wedding vendors like Ace Custom Tailors who specialize in wedding wear will have you and your entire wedding party looking fresh and ready for your close up.
A Restroom Trailer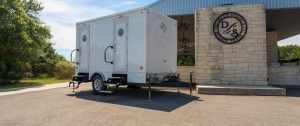 Ok, stick with us on this one.
One of the most popular destinations for weddings in the Austin area is none other than the beautiful and breathtaking Texas Hill Country. These sometimes expansive and elegant and sometimes intimate and rustic venues remain a popular choice for couples looking for wide open spaces or Texas charm.
In many cases the more remote the venue, the more challenging amenities become. And though you may be going for that rustic look, you don't want your guests to feel like they are roughing it. The trick is to pair a natural, beautiful setting with luxurious details. One such company to bring luxury to the simple is J Bar Luxury Restroom Trailers which keeps your guests comfortable and gives you an immaculately clean and sophisticated space.
And the need for a luxury restroom trailer isn't just for remote locations. With restrictions still in place and many couples frustrated with rescheduling events, never knowing when guests will feel safe, many couples are opting back to the previously popular option of backyard weddings. Whether in their family home or a relatives impressive backyard garden, few of these homes are not equipped with adequate space to accommodate even smaller weddings.
This type of wedding vendor may seem like an unneeded expense. But trust us, it's worth the investment. (Ahem – just watch Meet the Fockers if you're still not sold.)
A Videographer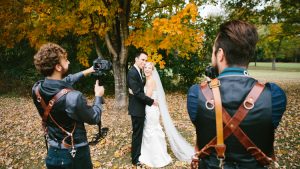 Your first thought may be that you already have this vendor covered, as the photographer you're considering also has a videography package.
However, as videos become more shareable, more central, more important to all those who could not be in person the day of your wedding, hiring a dedicated videographer with a professional history in video production can make a world of difference. And we aren't talking about Uncle Tony with his camcorder these days. High-quality video production has made major inroads into the new necessary wedding "Must Have's." Wedding videographers who have a history in documentary production and film making such as Double Knot Pictures will bring to life your wedding day to relive over and over. From your first dance, to the toasts, to all the moments you may have missed, your final professional-quality wedding film will be treasured for years.
A Realtor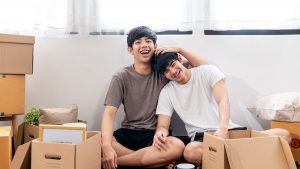 Now I know what you're thinking…how is a realtor party of my wedding vendor lineup? Hear us out. As you know, the wedding reception is only the beginning of planning your future. The wedding ceremony and reception bring together everyone who means something to both of you as a couple, and reflects your interests and personalities.
As much as you might get swept up with the fun (and stress!) of your wedding day, it's your life together after that is truly the momentous event. And that life often includes a home purchase. Whether you're combing two households into one, upgrading to a larger family home, or making that first leap from apartment to first home purchase, you'll want an expert on your side that not only knows realty, but knows newlyweds.
Experts such as The Murphey Team – Keller Williams Realty can guide you through the process, minimizing stress and taking you through the steps to either selling your current residence or upgrading to a new location. Even if home buying is not on the immediate horizon, a consultation with their experts will give you a realistic outlook on when you may be ready.
Clients Featured in This Article:
The Murphey Team – Keller Williams
J Bar Luxury Restroom Trailers