Planning an Austin wedding? Don't miss downloading the only local Austin wedding planning app – the Texas Wedding Guide app!
This free and easy wedding planning tool has all the essentials you need. From finding local Austin wedding vendors to managing your guest list, the app is loaded with features and syncs flawlessly with your TexasWeddings.com Wedding Portal.
We have the run down all the best features you can find on the app!


Customized Wedding Dashboard
Your Austin wedding planning app starts with a beautiful dashboard. The screen can be fully customized depending on what you want to see displayed.
Maybe you want to see a running countdown. Or perhaps you want easy access to your budget. It's all up to you! Upload a cute pic of you and your intended and start editing.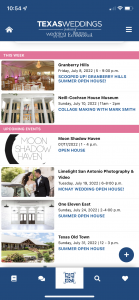 Local Austin Wedding Events
Wedding shows, open houses, bridal brunches…it's all the fun parts of planning your wedding. 
Wedding shows like the Bridal Extravaganza are the ideal way to get a huge head start planning your wedding. With piles of wedding professionals, runway shows, and great incentives like Bridal Bucks, this is the can't miss stop on your wedding planning journey.
Open houses are typically hosted by area venues, often with a select number of other wedding professionals for you to meet. When looking for the right venue, open houses are a relaxing way to check out a location. You'll often get some drinks and light bites, enjoy some music and talk wedding planning with other couples. 
In addition to these Austin wedding events, we also add bonus events just for fun. These are typically ideal date nights for couples, or the perfect girls trip. Pick what you like, add them to your calendar and start having fun.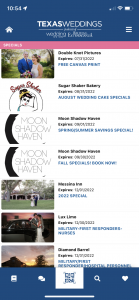 Austin Wedding Deals & Specials
Be in the know each time a new wedding professional promotes a discount, a complimentary added service, or a deal on a last-minute wedding date. 
Keeping an eye on these specials will mean stretching your wedding budget even further. You'll find promotions like a free bridal bouquet with a wedding package, military and first responders discounts, and 10 – 20 percent off package prices. And remember, it's all local Austin wedding vendors ready to work with you.
You can save each of your favorite deals in the app to easily find them later. But don't wait too long – these specials and deals only last so long.

Manage Your Wedding Budget
Planning and managing your wedding budget can be stressful. The process takes time and attention to detail. Simplify that process by using our Budget Calculator along with the app.
In planning your wedding budget, you'll want to start with a general, round number in mind. Once you plug that number into the Budget Calculator, you'll see a breakdown to start as a guide. Start making adjustments as you discuss your plans. 
The app makes it easy to track your spending, see when payments to wedding professionals are due, and lets you know when you've spent more than planned. Keep in mind, the web-based Budget Calculator and the app sync perfectly, whether you're working on a desktop or on the run with your phone.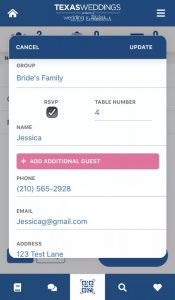 Manage Your Wedding Guest List
Guest List management can be tricky. After going through the process of creating your list, you'll need to track who is attending and possibly what their food preferences are.
Creating a seating chart is an extra step many couples are hesitant to take on, but it has it's benefits. You can ensure your single guests get to mingle at a fun table, and keep parties separated that may cause undue drama. The app includes a seating chart to help tackle this wedding planning chore.
Added bonus? The app even tracks if you sent them a thank you note post-wedding.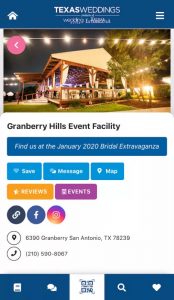 Austin Wedding Vendors & Instant Messaging
Search Austin wedding professionals in the area on the go in just a few clicks. From photographers to venues to florists, you'll be able to view their photos, videos and reviews. 
We make contacting wedding professionals easy. The app has a built-in instant messenger to reach any vendor you're interested in. You'll get quick answers on any questions about availability and average prices.
Once you find the vendors you're interested in, you'll be able to save them under My Vendors. Quickly access their information, store notes and stay in touch. Once you've made your final selections, simply remove the wedding professionals you aren't moving forward with.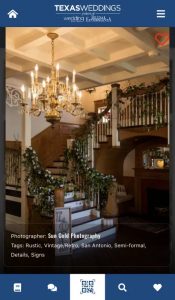 Austin Wedding Inspiration
Move over Pinterest. We have hundreds of wedding inspo photos in our app for you to scroll through and get inspired. With all the photos coming from the Central Texas area, you'll see plenty of potential design options at local venues, and check out even more photos from area photographers.
Once you find your favorites, save them to My Vision Board. You'll be able to refer back to the photos when discussing plans with your wedding professionals. And show them off to family and friends when chatting about your ideal wedding. 
With all these features, you won't want to pass this up. Download the Texas Wedding Guide app today and get planning!