As soon as that ring slides on your finger, you're thinking about the wedding day. The big ticket items such as a venue, caterer and decor will immediately come to mind. But what about the essential wedding vendors you may NOT have thought of? We have a list summed up for you of important wedding professionals you may have missed…until you need them.
A Custom Tailor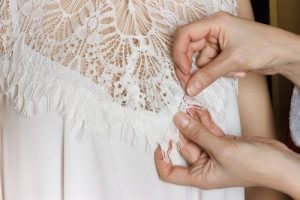 Shopping for your wedding dress and tuxedo attire is often a highlight in planning your wedding. For most, fashion is just downright fun. And it's not only the wedding gowns that get attention these days…the men want to look just as fresh. Not to mention the ladies that also sport a suit.
But when it comes to looking your best on your wedding day, the color choices and fabric are only the start. Ultimately, it's all about the fit. Curve-hugging, hanging generously where needed, sharp shoulders and the perfect blazer length all mean you need one thing…alterations.
Many couples may think of alternations as an after thought. Especially as your bridal gown or tuxedo shop may offer in house alternations. Even when they do – the question becomes do you use their services or seek an individual expert?
You'll need to think through a few considerations. For example, are you shopping local for your wedding dress? As as least some alternations are needed for each gown, you'll need to consider the driving time if you are visiting shops outside your immediate radius to find that perfect wedding dress. In many large bridal shops, you may not have a dedicated seamstress working on your gowns. And in some cases, designers have contracts with shops that guarantee they won't modify the design of the gown, meaning they may refuse some of your proposed changes.
Having a local tailor that is an expert in tailoring wedding gowns, bridesmaids dresses and tuxedos gives you the opportunity to trust one, seasoned professional with your complete wedding fashions. Wedding vendors like Five Star Wedding Gown Specialists who specialize in wedding wear will have you and your entire wedding party looking fresh and ready for your close up. The bonus? Five Star also specializes in cleaning, restoration and preservation of wedding gowns.
A Lighting Company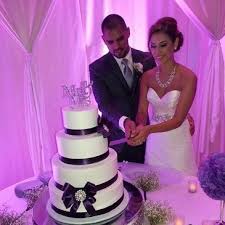 As you scroll through photos on the Gram and Pinterest envisioning your own wedding day, there may be one detail you may be overlooking. The lighting.
Take a closer look at the photos you've collected that inspire you. Most likely, you'll see that evening garden ceremony with just the right light for a romantic, dreamy escape. Or a ballroom reception space that seems to glow from within. Though many factors go into that perfect decor look, lighting plays a strategic part in achieving your wedding day fantasies. Not only will the wedding reception be beautiful the day of, your photographer will thank you for adding to the ambiance that makes his photos pop.
Wedding professionals such as Get Lit can achieve these types of looks for your wedding day. From projecting your monogram, to filling a room with ambient lighting, they can walk you through not only the look, but the all important logistics of electrical needs and capabilities.
A Videographer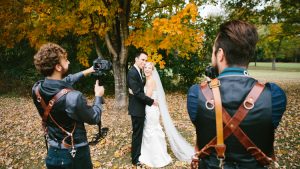 Your first thought may be that you already have this vendor covered, as the photographer you're considering also has a videography package.
However, as videos become more shareable, more central, more important to all those who could not be in person the day of your wedding, hiring a dedicated videographer with a professional history in video production can make a world of difference. And we aren't talking about Uncle Tony with his camcorder these days. High-quality video production has made major inroads into the new necessary wedding "Must Have's." Wedding videographers who have a history in cinematic storytelling making such as Ever After Studio will bring to life your wedding day to relive over and over. From your first dance, to the toasts, to all the moments you may have missed, your final professional-quality wedding film will be treasured for years.
An Invitation Specialist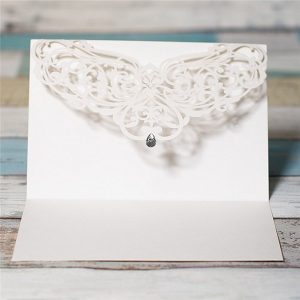 Before you make a run to your local office supply store and drag a pack of invitations off the rack, or attempt your own design in a run-of-the-mill online wedding stationary store…think custom.
Your wedding Save the Date cards and final invitations set the tone for what guests are to expect at your wedding. Using a custom designer means the look and feel of all your paper goods from invitations to menu cards and programs, have the same the look and feel. You'll pass on the stress of using a remote printer when shipping routes get disrupted and get a beautifully designed piece that is a memento in itself.
Wedding stationary vendors like Aly Am Paperie Invitations & Gifts will not only help you create a unique invitation design that reflects your wedding style, but help guide you in proper written etiquette and also gives suggestions for additional personalized items that may be used as reception favors or thank you gifts.
Worried about the price? You'd be surprised. The right paperie will work within your budget choosing the paper, design and details you'll get excited about.
Clients Featured in This Article:
Five Star Wedding Gown Specialists
Aly Am Paperie Invitations & Gifts