Lawn games are making a big appearance in weddings these days! From a few games during cocktail hour to a full-scale competition during the wedding reception. Check out our tips on how to incorporate lawn games into your wedding, and read about a few of our favorites.
The best wedding lawn games are simple, take little experience, and the points are easily calculated. 
They can be hosted as a free for all, or a planned activity. If you love a competition, plan lawn games around dueling wedding parties or siblings from each family. Door prizes for the winners can be fun, but bragging rights are just as nice. 
Lawn Games for Daytime Weddings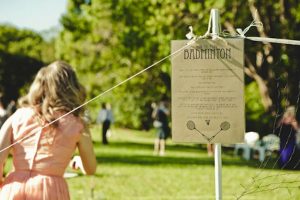 Lawn games are also helpful when hosting a breakfast, luncheon or brunch style wedding reception. 
Dancing is the most common activity in an evening reception, and may still be a part of your daytime wedding. But many guests prefer different diversions for the daytime. Having a variety of lawn games gives your guests something to do without feeling the urge to leave your wedding reception early. Adding lawn games to your daytime wedding keeps your wedding filled with activities and adds life and energy to your daytime wedding reception.
Lawn Games for Evening Weddings
If you do have an evening wedding reception, you can still incorporate lawn games. The perfect time to do so is during the cocktail hour. 
The cocktail hour is the time wedding photographers take the majority of your wedding photos as a couple, family and wedding party. Drinks and snacks are always appreciated during a cocktail hour, but adding a couple lawn games can bring in additional entertainment. 
Either way, make sure the lawn games are intentional. Just throwing out a few outdoor games during the reception when toasts, cake and dancing is going on indoors, means your fun games will not be utilized very much. 
DIY and Lawn Game Customization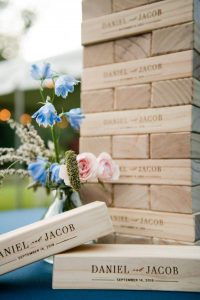 Be cautious if attempting to make your own lawn games. Even with simple games such as giant jenga you need to make sure all the corners are smooth and the blocks are 100% even. You're better off renting the games through a reliable wedding rental company, or purchasing your own. Purchasing a lawn game may be a good idea if you'd like to keep the item past the wedding reception. 
Wedding lawn games can also be customized with your colors, names, wedding date or wedding logo. You may not need your names and wedding date on every item, but if you have one or two items, such as cornhole boards, that you're taking home, consider personalizing them prior.
Even if you don't fully personalize your games, consider having them done in the wedding colors or a neutral white.
Making Lawn Games Classy
Having lawn games at your wedding doesn't exclusively mean your wedding has a festival or circus feel. Lawn games can also give your wedding an aristocratic, elegant Downton vibe when choosing games such as croquet. Add additional elegance by making your wedding a white party and booking a string quartet. 
That being said, here are a few of our favorite lawn games for weddings:
Croquet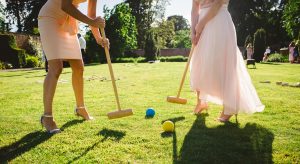 Croquet sets are easy to find which makes them a great wedding lawn game. 
You can always rent a croquet set through a rental company, but it's a fun game year round so purchasing your own croquet set may be a good idea. 
Keep in mind there are a few important How To's when it comes to playing croquet, so have signage nearby on how to play the game. You'll also need ample space to play the game.
Due to the length of time it takes to get through a game, croquet is best for weddings where outdoor lawn games are played during the wedding reception, not just the cocktail hour. 
Also, younger guests may love whacking the ball with a wooden stick far more than sticking to the rules. Consider having a smaller kids course, and a full sized adult course. 
Giant Jenga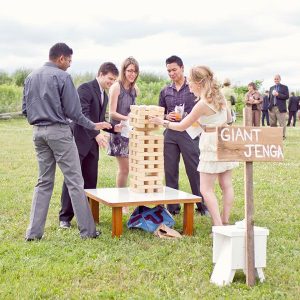 It's hard to say no to a game of Giant Jenga. This game entertains the old and young, all with a guaranteed loud and exciting ending. 
Giant Jenga is also easy to source. As mentioned, we don't recommend making your own unless you have a true carpenter in your family. 
If you are purchasing your own set, Giant Jenga is great to customize. We've seen some couples have guests write messages on the blocks during the cocktail hour, then set the whole game up during the wedding reception.
Cornhole & Horseshoes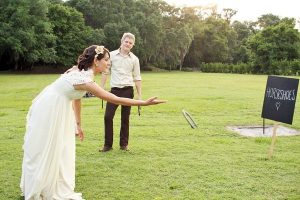 Cornhole is a popular game, not only for weddings but for any outdoor parties. 
The game is incredibly simple and can be picked up by guests who have never played before. Alternatively, you'll likely have some dedicated, competitive cornholers in your group. It's the perfect wedding lawn game to create a grand competition.
Horseshoes is a very similar game to Cornhole. The game's roots go back further, but the theme is the same. If you're hosting a rustic ranch wedding, horseshoes may be a fun addition.
Ring Toss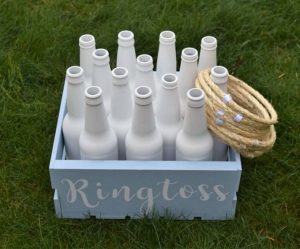 Talk about simplicity!
Ring Toss is the perfect wedding lawn game if you have a variety of ages invited to your wedding. Even your smallest guests can toss a ring. 
This game is easily themed (hello…rings) and incorporated into your wedding. If your lawn games will be featured only during the cocktail hour, an easy game of ring toss fits the bill. 
For additional fun, bring your Ring Toss indoors during the reception. Hang signs on each bottle that include phrases like "Bride and Groom kiss," "dance with a bridesmaid," or "all couples kiss." This entertaining addition to your reception keeps the fun going.
Bocce Ball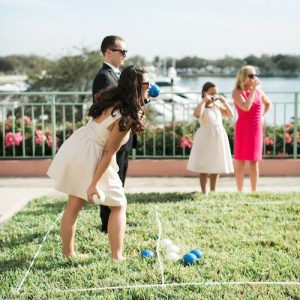 Bocce Ball is another wedding lawn game that is great for the wedding reception. Many people love the game and it's easy to get a fierce competition going.
Like Croquet, this game has a few more rules than a simple Ring Toss. Ensure those rules are listed nearby and keep an extra chalkboard handy for guests to keep track of the score. 
Bocce Ball does need a proper course. So if your outdoor wedding is in an area with thick grass or uneven patches, you'll need to add an additional layer to create the course. Look for an area that is smooth and build on top of that area.