The Bridal Extravaganza is coming January 15th at the Henry B. Gonzalez Convention Center.
There's no other area wedding show that has more ways to save money on your wedding than the Bridal Extravaganza. We've listed all of our money-saving specials and tips on how to maximize your savings. Learn all the ways to save here!
You'll get the best deals by signing contracts with exhibitors the day of the wedding show. Many of them offer specials when you sign a contract and put down a deposit during the show. Add to your chances to save when you participate in our Cash for Contracts program. 
Cash for Contracts gives you a chance to win up to $250 towards that signed contract! 
Once you sign a contract with an exhibitor, take a copy over to the Wedding Guide booth. Your contract will be added to the drawing held after the show concludes. If your contract is drawn and you win, the Wedding Guide will pay your vendor $250 towards your balance. That's as good as money in your pocket. Winners will be contacted by the Wedding Guide staff the week after the show, so be sure to check your voicemail!
Some couples may be nervous signing a contract onsite. Don't be. You'll have plenty of time to talk to wedding professionals of all kinds and vendors such as wedding vendors will also give you an "out" within so many days so you can see the venue in person for final approval.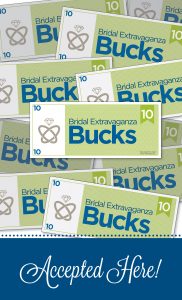 Speaking of cash, how about $500? 
Every couple receives $500 in "Bridal Bucks" to spend at the Bridal Extravaganza. This monopoly-esque cash can be used towards your wedding contracts with many show exhibitors. 
Each wedding vendor accepts a varying amount of total Bridal Bucks towards your contract. You could get $500 off your venue rental, $100 off your wedding cake, or $300 off your photography package. Spend all the cash with one vendor, or divide it up among a few. It's up to you!
And unlike Cash for Contracts, Bridal Bucks are good for up to 30 days after the wedding show.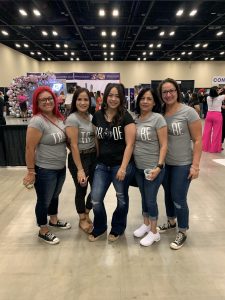 There's no better deal than free, so we have plenty of Grand Prizes at the Bridal Extravaganza as well!
Grand Prizes range from free tuxedo rentals to photography sessions to $500 cash from the Wedding Guide.
Every couple that registers at the door or prior to attending the show is automatically entered as a potential winner for the Grand Prizes. Winners are chosen as the conclusion of the wedding show so if you can't make it to the end, don't sweat it. We'll be contacting you to let you know you've won.
Show Specials & Deals
Show day means deal day! 
There are many Bridal Extravaganza exhibitors who offer additional specials and deals beyond accepting Bridal Bucks. Be sure to look up the list of exhibitors in advance so you can start planning your trip to the show. Save your favorites in the Wedding Guide app so you have the list handy.
For exhibitors you're interested in, start following them on social media as well. They'll often post their show specials and even their booth number so you can find them quickly and easily.
With so many ways to save at the Bridal Extravaganza, don't miss out. Use the code BLOG to get FREE show tickets!