For most couples, choosing your San Antonio wedding venue is the first step in planning your wedding. The venue sets the stage for the mood, scope and feel of your wedding. 
When couples are selecting their wedding venue, certain questions immediately come to mind. Size of the venue, location, ceremony options and catering needs. But don't stop there! 
There are certain details in your wedding venue contract you need to make sure you understand. These details can impact your ease of planning, stress levels and even if your chosen venue can be sold out from underneath you! Read on to learn what you need to know.
Set Up & Tear Down Time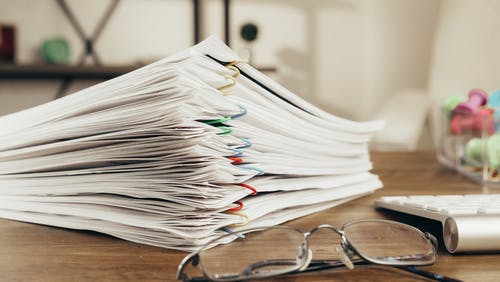 If you think how long your decorator has to set up at the venue doesn't impact you, think again
The overall ease of your wedding planning depends largely on what happens behind the scenes. Large kitchens for caterers, ample set up time for decorators all minimize potential pitfalls on our wedding day.
Set Up time is the official time your wedding planner and professionals can arrive at the venue. This impacts your vendors such as decorators, florists, DJ's and photo booths. The less time they have to set up, the greater the impact.
Ask your San Antonio wedding venue if they allow multiple wedding bookings within one day. For example, if your wedding reception is to be on a Saturday evening, would the event space be sold in the morning for a brunch or luncheon wedding. 
Should this be the case, your wedding professionals may be in a pinch to set up. Even the simplest wedding decorations take time and labor, and that labor may cost you more if your decorator is in a time crunch. Will your reception be set up on time? Yes. However, you may be on the hook for paying for additional hands to get things done on time.
If your wedding venue has multiple event spaces on one set of grounds, multiple events during a day may not be a problem. However, ask the wedding venue if they only have one load-in area for their event spaces. If there is only one, ensure your wedding venue contact will be coordinating with your wedding professionals to maximize set up times. That's a detail you won't want to worry about!
When it comes to set up and tear down times, have reasonable expectations. For example, if your wedding is on a Saturday evening, a Friday set up time may be a stretch. Consider that every wedding venue has only a set number of weekends they can book events. They may need to book a Friday night rehearsal dinner, or a Sunday corporate retreat, around your wedding date.
Tear down of a wedding reception moves much faster than the initial set up. Still, you'll want to know your options. If possible, many decorators will want to pick up larger items the day after your event. Though it may be difficult to get this agreed to by the venue in advance, they'll often be flexible once your event is a few weeks out.
Whatever you decide on with your event contact, be sure to get the agreed to set up and tear down time within the contract itself. Event packages can change. So if you sign an agreement when the venue policy gives you all day to set up, get it in writing. That way, if their event packages change to a four hour window, you're set.
Sign By Date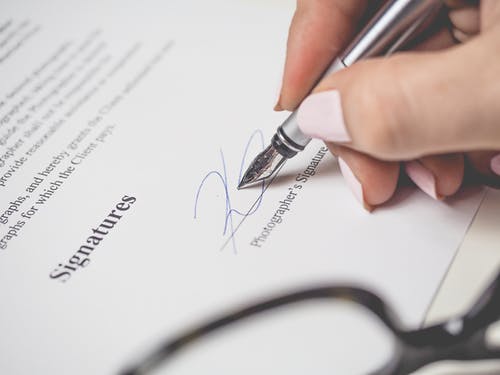 This tiny little date, often placed in either the first or last paragraph of a contract, has huge implications as you plan your wedding.
The Sign By Date is the date that your contract terms are valid until both parties sign the document. This detail may not only appear on your wedding venue contract, but also contracts with your other event professionals. And for good reason.
Think about it. Especially with your wedding venue, your wedding professional has spent time answering questions, taking you on a tour, and negotiating details. Once your contract is created, your wedding date is on hold until you sign your agreement. You may be ready to sign, but at this stage many couples drag their feet. They could spend weeks reconsidering their decision, all while the wedding venue is on hold for them. And in the end, they may back out. Or worse, never respond again.
Wedding venues and other professionals avoid this drawback by adding a Sign By date to their wedding contracts. They'll happily hold onto your date and negotiated terms without a signature…until that date is up. You'll often get a phone call or a reminder that the contract is due. If you're sure this is the wedding venue for you, don't hesitate. There are likely other couples hoping for an opening!
Don't think about the Sign By Date as a negative. Rather, consider how it benefits you. With a Sign By Date on the agreement, you'll know you can take a week to review the contract and get any last minute questions answered, all while your wedding date is secure.
Decor Policy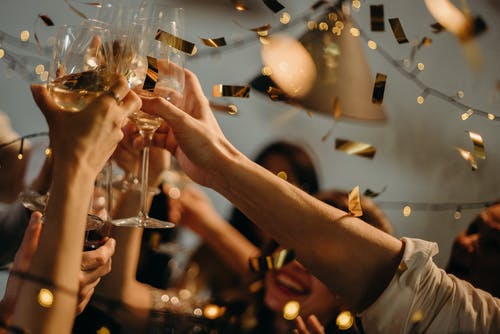 You'll be hard-pressed to find a wedding venue that doesn't have some type of decor policy written within their venue contract.
Most will cover restrictions on items such as confetti, sparklers or ceiling drapes. Be sure the conversation doesn't end there.
Typically you won't have a full wedding decor plan set before you sign your venue contract. Still, ask broad questions. Find out generalities on hanging items, taping things down to the floors or walls, and electrical capacities for your DJ and lighting. 
Some San Antonio wedding venue may also restrict certain wedding favorites such as cloud machines or pyrotechnics. If you have your heart set on any certain visual effect and your venue contact gets the ok, have them put it in the contract. There are so many new technologies when it comes to visual effects, your venue contact may need to hear directly from your vendor source to check safety and compatibility. 
With so many wedding vendors coming in and out of an event space, you'll likely see a requirement on your venue contract regarding a General Liability insurance policy. Don't freak out. This is common practice to protect the venue against damage. If you are coordinating through one decor company, they'll likely be the ones to carry the insurance policy.
The decor policy may also include who is responsible for cleaning up. Get specific on this detail with your venue contact. Clean up responsibilities will vary depending on the type of venue, and what the venue provides itself.
For example, a full service venue like a hotel will set up and tear down any items they provide. However, if you bring in your own linens then find out in advance who would be responsible for gathering and bagging those at the end of the event. 
Alternately, if you choose a venue with little included amenities, know your responsibilities. You'll likely have more moving parts when it comes to all your wedding reception needs. If you don't have a wedding planner, know what coordination your wedding venue contact will do, and what you'll need to get covered.