Wedding food trends for 2022 are as varied as engaged couples everywhere. From new service styles to blasts from the pasts, the latest in wedding food trends is all about celebrating food, each other and the new way we eat.
Read on to hear about the trends that may be making their way to a plate near you!
Global Fusion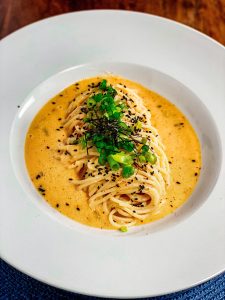 Like many trends of the 90's, global fusion is back. And engaged couples are excited to embrace this trend for their wedding feast.
Popular fusion cuisines include Korean & Spanish fusion, ideal for couples who love small plate servings. Arab-Latin dishes such as lamb-stuffed empanadas and adobo-style pork shawarma are delicious and fun.
Itameshi, Japanese and Italian fusion, is also making it big on the wedding food scene. Think risotto finished with bamboo shoots and shiitake or lasagna made with rice cake.
You can make an entire menu around this new wave of global fusion food, or simply add a twist to your more traditional servings.
Extended Courses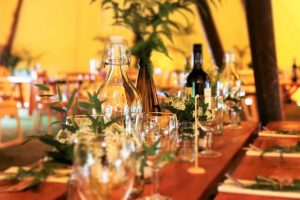 It used to be couples would head to their caterer solely looking for a salad starter and a main entree. Passed appetizers began to be the norm, and then came the rise of the late-night snack. The dessert would, of course, be the wedding cake.
With the rise of smaller, more intimate weddings, couples are looking to extend the dinner hour. Picture a leisurely meal with close friends at a beautifully done table with wine to pair.
There are numerous courses you can add to your wedding meal. Think beyond a dinner salad and start with an appetizer, followed by a soup. Instead of a dual-entree plate, option to serve two different meat courses. A five course dinner will let conversation and food take center stage, but leave you plenty of time for dancing.
Embracing Plants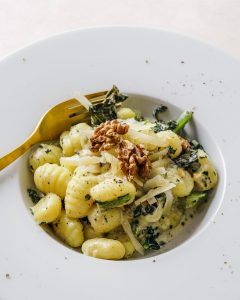 Even if you're not fully vegan or vegetarian, you've probably googled more plant-based recipes this last year than ever before.
Americans everywhere are diving into less meat-itarianism, and that includes your guests. Instead of the vegetarian meals being an afterthought of a large salad, many times they look more delicious and creative than the main meal!
No need to serve a fully vegan meal at your wedding. We recommend incorporating more plant-based options into your passed appetizers, stations or seated courses.
Mocktails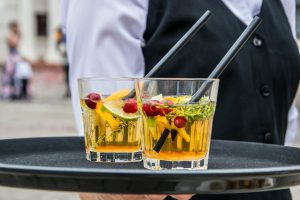 This trend is so popular, we've already dedicated an entire article about mocktails!
Couples are thinking more and more about health-conscious choices, even for large crowds. After record-high beverage consumption during the pandemic (especially here in Texas!), the sober-curious movement is hot.
Even if you're not having a completely booze-free wedding, having a great mocktail makes your wedding memorable for all your guests. Dress up the drink with beautiful glassware and a fetching garnish for a Gram-worthy drink.
Childhood Treats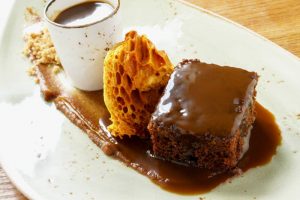 This trend is a great inspiration for late-night snacks or even alternative wedding desserts.
Retro desserts such as sticky toffee pudding, gooey butter cake and cherry bakewell are perfect additions to your wedding cake offerings, or as an addition to a wedding brunch spread.
The throwback trend includes incorporating popular 90's candies such as Pop Rocks and Reese's Pieces.
Our Food, Our Story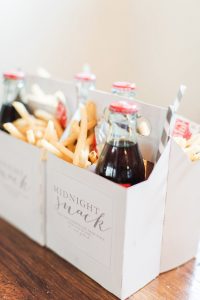 More than a trend, it's a statement.
Food not only connects us, it tells a story of our past. Engaged couples are embracing that idea by incorporating food into their wedding. This could mean incorporating family recipes or dishes into their main servings. Or it could be serving pastries from the cafe they met for dessert, or dishing out burgers to go from their favorite late-night haunt.
If you do bring in a food element important to your personal story, be sure to tell that story through custom food wraps or signage. Your guests love to hear these details about your life.
Mono Portions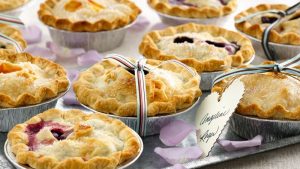 We have the pandemic to thank for this trend.
Mono Portions, or individually portioned food, became a necessity at weddings to keep people safe and comfortable. Wedding caterers got creative with the presentation and now couples are still loving this catering style.
At one time, open stations where guests could pile on their own toppings or make their own creations was popular. Now, guests are treated to items portioned and packaged just for them. Couples love that they can infuse their wedding style into the portions.
You may have mini wooden slabs for each guest with their own slider and small fry. Or a personal seafood bar arranged in individual metal pails. Even desserts are coming with their own per-person packaging.