Kick your bachelorette party up a notch by making it a destination experience!
Certain party destinations spots will first spring to mind. Vegas. Miami. Cancun. But we've got a list of bachelorette party destinations you need to add to your list. Read on to see the locations you didn't think of, and exactly why you need to.
Mount Hood, Oregon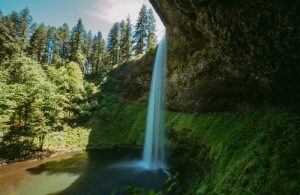 Ok, Oregon might not be the first bachelorette destination that comes to mind, but that's exactly why we're here. Cause a girls trip to Oregon might be just what you need to destress from wedding planning.
Oregon is downright scenic. There are mountain views, crystal clear lakes and beautiful waterfalls.
Enjoy this outdoor beauty by planning a trip to Mt. Hood National Forest. You'll enjoy hiking trails, wading and hanging out near the lake, and countless Gram-worthy views.
There are several waterfalls to see in Oregon, Tamanawas Falls Trailhead being one of the largest and most popular. The hike to the falls is a great one with a nice, slow ascent.
Oregon is a ski lover's paradise. You can stay on at a ski resort for the full experience, or just take a lesson or two in the afternoon.
If you prefer to take your nature in through a window, book your stay at one of Mount Hood's resorts. Enjoy convenient dining onsite and sip cocktails in the hot tub while looking over the mountains.
Whatever your itinerary, add a trip to the Willamette Valley wine region. Known for epic Pinot Noir, Oregon is home to one of the best wine regions in the US. Pinot Noir for sure, but also check out the area's fine Riesling, Syrah and Gewürztraminer. Into beer more? The area is dense with breweries and you can easily book a guided tour.
Portland makes a great day trip from Mount Hood. The city has a chill and unique vibe that can't be matched. The streets are packed with donut shops (it's a thing here), cute boutique shops, and plenty of spots to drop in for a drink. Round out the night with a stop at Darcelle's – they start with a drag show and end with the male strippers. #Winning.
Scottsdale, Arizona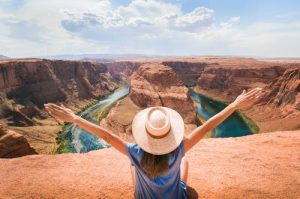 Mountains. Nature. Killer spas. It's all in Scottsdale.
If you're looking to keep your bachelorette destination stateside, Scottsdale is a fabulous option.
There's plenty to do in and around Scottsdale if you're looking to do more than hang out by the pool (which is totally acceptable BTW).
Scottsdale has a great shopping district, Fashion Square. You can pick up local goods as well as visit all the fashion musts. Or head to Scottsdale Quarter for beauty stores, restaurants and people watching in the quad.
Wine tasting is always a great daytime activity and nearby Merkin Vineyards fits the bill. There's plenty of seating, big windows and lots of options.
If you love the outdoors and thrills, take a jeep adventure into the Sonoran Desert. Or head to a nearby ranch for horseback riding. Ready for some epic views? Take a hot air balloon ride with Rainbow Ryders.
Downtown Scottsdale is infinitely walkable and packed with restaurants, bars and clubs. Stay at one of the posh luxury downtown hotels for easy access to nightlife, no Ubers required. And the nightlife in Scottsdale is seriously on point.
For those seeking spa time, pool time and plenty of sun, head to one of Scottsdale's many beautiful nearby resorts.
We love the easy access to get to Scottsdale as well. Many cities have direct flights into Phoenix and the airport is a short drive to Scottsdale.
Palm Springs, California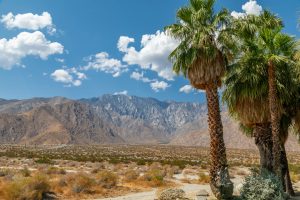 California has many great destinations. San Francisco. Nappa. San Diego. You've probably done a few. For your bachelorette destination, head to Palm Springs.
A bachelorette destination to Palm Springs means putting relaxation and wellness center stage.
You can stay at a hotel or resort that includes a spa, or head to one of the luxurious spas nearby. Colony Palms gives you a garden oasis feel and Whispers has the San Jacinto mountains as your backdrop.
Hit up the El Paseo shopping center to mix up activities during the trip. You can shop and eat with the locals and stock up on resortwear. There's plenty of vintage shops in the area as well to stock up on cool mid-century housewares and new-to-you threads.
The art scene in Palm Springs is on point and worth taking in. The Jorge Mendez Gallery and the Rubine Red Gallery are right next to each other.
You don't want to miss a trip on the Palm Springs Aerial Tramway. This rotating tram car takes you up the cliffs of Chino Canyon with a breathtaking view of the valley below.
As popular as the laid-back vibe is at Palm Springs, you get plenty of rowdy nightlife as well. From the ultra-cool Copa Nightclub to glam cabaret shows at Oscar's, you and the girls can dance and laugh the night away.
The weather is warm year-round making it a sunny getaway at any time of the year. If you're not used to the heat, summer may be a stretch as the heat definitely rises.
Cabo San Lucas, México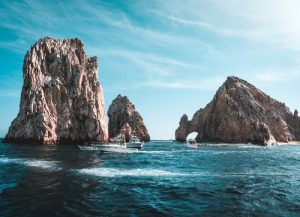 Mexico is convenient, tourist friendly and always the right destination. Bachelorette parties included. Your biggest problem is deciding where in Mexico to go. May we suggest Cabo San Lucas for the ultimate bachelorette weekend.
If you're looking for the perfect bachelorette Grammable moments with matching robes, swimsuit pics and fruity cocktails, this is your destination. Paradise awaits with white sand beaches, sunshine and plenty of activities to please everyone in your party.
You can stay at a nearby hotel or go big with an all-inclusive resort. Hotels will be less expensive. And if you're planning on being out and about most of the time, they are definitely the right choice. Resorts are perfect if you'll be spending your days at the pool or beach, getting snacks and cocktails from a cabana boy.
Cabo knows how to do nightlife. And with a little bit of planning, you can enjoy a new, vibrant scene every evening.
Cabo is famous for poolside parties so include one in your planning. From the Skypool to Nikki Beach, you'll only need a rocking swimsuit and a sexy wrap to complete your look.
Dance clubs in Cabo are plenty and packed with good crowds. Sip margaritas at Cabo Wabo then dance it all off at the Pink Kitty Nightclub.
Of course, the biggest attraction are the beaches themselves. In addition to laying on the beach, you can book a snorkeling trip or a yacht to cruise through the sea. If you're feeling brave, you can dive with the sharks or take diving lessons.
Mykonos, Greece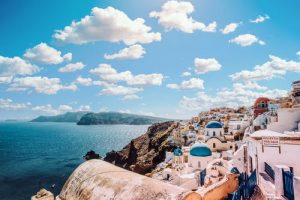 If you're going big, go Greece. For a bachelorette trip that is a pure stunner, make that destination Mykonos.
Beaches in Greece just hit different. Each one showcases cabanas, table service and plenty of bars. The only thing more beautiful than the water may be the people, and since many beaches are clothing-optional, that's a good thing.
We love that the daytime beach life blends seamlessly into the night. Beach parties are abundant in Mykonos whether you're hitting up the Lohan Beach House or the famous Paradise Club. If you're done with the beach for the day, there's plenty of other cool night clubs to hit up.
While there are many of beautiful hotels and resorts on Mykonos, it's also a great destination to book a home rental. Whether you VRBO or AirB&B, you'll find plenty of options for you and your tribe to settle in for the week.
Though it's known as the party, fun island of Greece, there's more to Mykonos than beaches and nightlife.
Don't skip the yacht tour from Mykonos to Aegean. The luxury tour gives you time to swim and snorkel, all with unparalleled service.