Alfred's Catering has been serving up delicious food with impeccable service for years. We sat down with Owner, Alfred Engstrand this week to talk about his company values, planning advice and favorite client story!

What services do you provide?
We are a Full Catering company providing Staffing, Bartenders, Rentals, Food. We create each and every single event menu from scratch with all YOUR wishes.
What made you get into the wedding & events industry? How many years have you been in it?
I am going on 33 years! I love making people HAPPY! , SERVICE, SERVICE, SERVICE is what stands us apart.

What other cities or locations have you worked weddings in?
We are Central Located, YES we do travel to the Coast Line, up to Dallas , around Houston and down South. 'Meals on Wheels' is our nickname. I am blessed that our clients will request our services , when they have other options in their area, to cater their special events.
What is your best planning advice or tip for couples?
BE FLEXIBLE!!! Sh..t happens, weather is the most uncontrollable factor in Texas!!, Guests get over heated, drunk when they arrive to your event. I ALWAYS suggest to send an email before your event, instead of 5pm ceremony start time put 4:51pm, guests will go what???? but they will remember this odd time and be on time for your 5pm ceremony. Today time's guests are not attending ceremonies but for the 'free' food, bar so please do not be discourage when facing the crowd , be grateful who is there.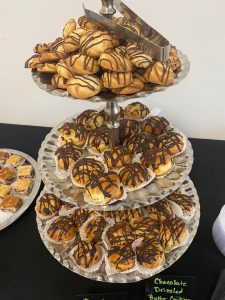 What is one favorite client story and why?
A surprise wedding that the Mother of Bride was upset that the her daughter did not even tell her, but we turn the sad frown and a happy one with drinks, food, dancing and sent her food with flowers too.
Learn more about Alfred's Catering here!