Wife, mother, certified foodie, and wedding photographer Brianna Salinas brings her charm and creativity to her company, Brianna Salinas Photography. She tells us about her inspiration to start her business, planning advice, and more!

Are you married? Do you have children? Tell us about your family.
I am happily married to an incredible person that I have known for over a decade, and married for 6 years now. We started our love story down south in Corpus Christi, TX. After Hurricane Harvey, we moved to San Antonio where I grew up and we both always wanted to live. We are now a family of 4 with 2 beautiful children ages 1 and 4. We love spending time together traveling and exploring the big world around us.
What inspired you to start this company?
My family inspired me to start this company. I worked in the medical field and was pursuing nursing as my full-time career. I worked in the ER and I loved the fast-paced environment. When I got pregnant with my first child I was also accepted into Galen Nursing School. We made to decision that I would be a full-time stay-at-home mom and nursing student. Murphey's Law happened, in the form of COVID. All of that changed so much in our life and I was needed with my family so I had to put nursing school aside, but just for a little bit. In college, I participated in some photoshoots for local photographers in Corpus Christi. I also participated in a modeling show for local shops around Corpus. I had a creative, artistic side that made me curious about what it would feel like to be on the other side of the lens. My husband witnessed me struggling and trying so hard to come to terms with making the transition to a full-time job so different from my previous endeavors. At that moment, he suggested pursuing one of my previous, passionate pursuits. It was then I picked up my camera again. Realizing the talent and drive I had for photography, I decided to turn this full-time hobby into a full-time business. Not only do I have the time I always wanted with my babies and my family, but I get to capture beautiful memories for other families that they can cherish for a lifetime as if they were my own.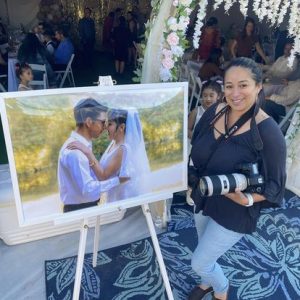 What was your favorite vacation ever?
Out of all of our trips, my favorite one will have to be our honeymoon cruise. We traveled to Jamaica, Cozumel, and The Grand Cayman Islands. We sailed for 7 days on The Royal Caribbean. We got to disconnect because we had no wifi and just enjoyed all the time we had with each other. We swam with dolphins in Jamaica, and wild sting rays in Grand Cayman, and enjoyed an amazing resort in Mexico.
Are you a foodie? What's your go-to dish?
I absolutely love food. My favorite go-to is a good juicy bacon cheeseburger.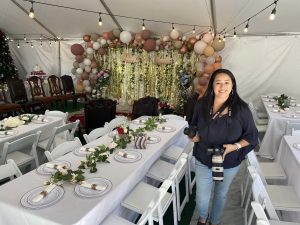 What is your best planning advice or tip for couples?
I strongly believe connecting with your photographer is very important. When you are shopping around, keep in mind your photographer will be with you for your entire wedding process. Having a good connection, and open communication goes a long way to making sure you get the most out of your experience. Since this is a big day for you, making sure your intentions are clear is a key to success.
Learn more about Brianna Salinas Photography.