Owner of Duck Donuts Ben Newell sets his company apart with fresh, made to order donuts, specializing in weddings. Learn more about their services and wedding advice here!

What sets your company apart from similar ones in the same field?
Duck Donuts stands apart from most other Donut shops by everything we serve made fresh and to order the day of the event. We are also one of the few Duck Donuts Franchisees that has been pursing weddings for the past 5 years, giving us a large pool of experience and past events to learn from. We have the ability to fully acclimate to a wedding environment and provide an exceptional product tweaked to the customer's specifications. Not only are we experienced and excited to serve, we also cater to locations up to 2 hours away from the san Antonio area.
What made you get into the wedding & events industry? How many years have you been in it?
I have been married to my Beautiful wife Leonora for almost 28 years. It is a blessing and a challenge that is no small undertaking. After opening our first Duck Donuts 5yrs ago me and my wife Leonora immediately started attempting to enter the Wedding & Events industry. We initially were struck with interest in the community and beauty that the industry commands. Over the years we have been blessed to operate many times and take part in the special day of many. After numerous attempts about 2 years in me and my wife created our own donut walls! Beautiful show pieces that can replace a cake table at an event and catch the eye of anyone. They opened the door for Duck Donuts to quickly become a viable option for wedding catering. We are excited and encouraged more than ever to become the solution wherever we can.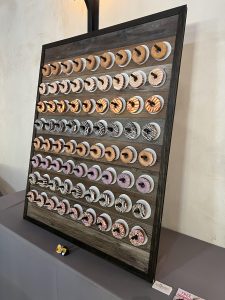 Why do you love this company and your job?
I fell in love with Duck Donuts almost 6 years ago now due to the delicious product we serve. Weather its a late night snack, brunch meet up or corporate meeting, a warm donut can provide a comfort little others can. My job "Professional Taste Tester" is arguably one of the best in the world. I love being able to connect and encourage others through food. For the purpose of weddings it allows me and my team to do our best to WOW our customers. Our goal is complete satisfaction, and our product is the perfect medium to achieve that.
What other cities or locations have you worked weddings in?
We are proud to say that we can operationalize weddings on a large scale, anywhere from 100-800 donuts and up to a 2 hour drive from San Antonio with ease. We have the good fortune of being able to provide our services through our food trailer as well as a product that travels very safely and with little to no downside. Duck Donuts San Antonio has proudly worked in towns and cities such as: Gruene, San Marcos, Seguin, New Braunfels and Fredericksburg.
What is your favorite part of your work week and why?
The best part of my week is the moments I share with customers and my employees in store. We strive to create an environment of support and kindness so being able to connect gives me new life and energy to pursue that goal. The connection that is made possible by being an owner operator is scarcely found in any other industry. I cherish the chance to meet the people our team is serving and share the love that our God in Heaven was able to share with us. Read more about Duck Donuts!