Wedding cakes are beautiful, classic and never go out of style. But if you're looking for something new and unique for your wedding, consider one of these wedding cake alternatives. From new types of cakes to completely different dessert options, we have nine wedding cake alternatives for you to discover.
Cheesecake
Skip the fluffy cake layers and head for rich, satisfying cheesecake.
Cheesecake comes in many forms and flavors. A rich pumpkin or chocolate for the fall, a bright fruity berry for the spring, key lime for a summertime wedding. If you can't decide on just one, offer a variety of cheesecakes on display and have guests choose their own with an attendant to help slice and plate.
Cheesecake works well in minis and small portions, so if you're looking for individual cakes set out on the table, or perhaps a display of smaller desserts, a cheesecake may be your best option. They look beautiful plated in cheesecake rounds with decorative drizzles, or done up in individually served cups.
Bakers that specialize in cheesecakes, like Stregare Baking Company, can give you a variety of ideas on both flavors and display options.
Dessert Bars
If you're a couple who wants it all, forget making a choice and do a full on dessert bar.
The options with dessert bars are as big as you can imagine. You can have traditional wedding cakes alongside cupcakes and mini tartlets.
Your dessert bar can carry out a theme as well. Maybe you match your wedding color scheme with the desserts (some colors are easier than others!), or keep the desserts rustic with apple strudel and cherry pies. Or the theme can be as simple as an all mini dessert bar.
A dessert bar can be international as well. Explore the classic desserts from both of your ancestral heritage, or the history connected to your wedding venue. Work with a local Austin baker such as Sweet Treets to create unique options.
Fruit Tarts
Hosting a summer wedding? A fruit tart wedding cake may be calling your name.
Packed with berries, kiwi, figs and more, fruit tarts are just the right amount of sweet. The shortbread butter crust and vanilla bean mousse filling balance the sugary fruit for a rich and satisfying dessert. Wedding baker Sugar Shaker can give you multiple options to consider.
Small fruit tartlets make impressive individual desserts for weddings. You can set them in towers with different flavors, or place them at each place setting.
Create more of a wedding cake look by stacking tiers of fruit tarts of different flavors and sizes.
Gourmet Doughnuts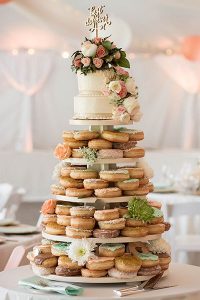 Doughnuts are a fun wedding cake alternative that has been trending in weddings for a few years.
With the rise in popularity of brunch and breakfast weddings, doughnuts make a great wedding dessert. But guests love doughnuts anytime of the day. Serve them in lieu of a wedding cake or add them to your late-night catering offerings.
Avoid the temptation to pick up a box of inexpensive doughnuts and arrange them on your own. The gourmet style doughnuts made by wedding bakers such as Michelle's Patisserie, are designed to last from the first baking to final consumption.
Also, if you're looking for beautifully decorated doughnuts in interesting arrangements, think beyond the doughnut wall for your display and have your gourmet wedding doughnut stacked in tiers, presented in rustic baskets, or set up on a donut "tree."
Pie Heaven
Rustic chic weddings just seem to beg for the use of wedding pies.
Pecan, Apple, Strawberry, Blueberry, Pumpkin, Rhubarb – you can always find the right pie for the right season. If you're having a hard time deciding on which flavors to include, get ideas from your baker and think seasonally. Sweet potato pie for autumn, chocolate during the winter months, cherry for spring and just about any berry in the summertime will do.
Of course, there's no need to choose just one. Offer a variety of seasonal pies at your wedding for maximum guest satisfaction. Reach out to a quality Austin baker such as Sugar Shaker, who can give you your best options.
For display, you can choose to have full-sized pies lining a long, wooden table for a truly rustic look. Or, select a display of mini pies for a grab and go guest experience. Using platforms, your baker can also create a tiered look.
Pecan Bars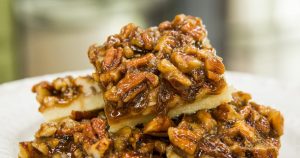 No dessert says Texas more than pecan bars!
Pecan bars are delicious enough to stand on their own as a wedding cake alternative, or added to a larger dessert bar display.
And no matter how you pronounce pecan, we can all agree they are Texas-sized tasty, baked into a variety of bar styles that can be chocolatey, caramely, all with that classic crust.
Kick your display up a notch by adding in additional types of dessert bars. Lemon bars make a nice addition, as do chocolate brownies, vanilla blondies and unique dessert bars such as S'more bars. Head to premium Austin wedding baker, Michelle's Patisserie for ideas.
Cream Puffs
Known in France as Croquenbouche, a towering display of cream puffs is sure to impress at your wedding reception. Croquenbouche can be stacked and decorated in a variety of ways, so don't think you're just stuck with a tower of brown.
Alternatively, you can serve cream puffs on display alongside a display of petit fours, eclairs and chocolate bites. Work with a quality wedding baker such as Sweet Treets bakery to create your own options.
Cream puffs also make a great wedding favor. If you're not ready to replace your wedding cake with a tower of cream puffs, have your baker box them individually. People will love the sweet bite to enjoy on the way home.
Cheese Course
A cheese course is an elegant end to the meal. Bakeries such as Stregare Baking Company create beautiful savory cheese torts that are the perfect closure to a wonderful meal.
Cheese torts can be light such as goat cheese with fig, or deeply savory such as a brisket cheese tort. Put them on display with crackers alongside dried fruits and bites of chocolate truffles.
Still, some guests may want their cheat night to include dessert. Consider adding a sweeter option to your late night snack display such as a cookie bar or S'mores.