You want your wedding day to be perfect.
You have the vision, you've done the planning, you expect it to be flawless. Just like your bridesmaids.
And yet, after this Reddit post went viral about a bride kicking her bridesmaid out of her wedding over a haircut, we got to thinking. 
Exactly what is too much to ask of a bridesmaid?
Read on to hear some of the crazy requests brides have made of their bridesmaids, and some solid advice on getting what you want, without being a Bridezilla. 
She Did What?!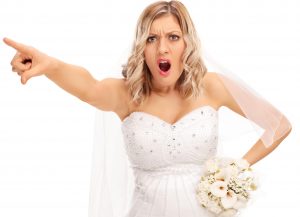 We read through some stories on crazy requests brides make of their bridesmaids and honestly, it left us shocked…and kind of entertained.
For example, this bride who, via text, had her friends compete in a Bridal Party Brawl to be given the honor of being in her wedding party. Now you might be imagining a friendly scavenger hunt or perhaps a jello-shot race to make it interesting, but no. To win the "brawl" you have to agree to demands such as a minimum $500 engagement check for the couple, and sign a legally binding contract wherein you could be sued for wasted time and stress should you not comply. 
And when did $500 wedding contributions from the bridal party become a thing? This bride also requested $500 deposits from her wedding party, in addition to demanding her bridesmaids hit the gym to be at least a size 8, and wear identical, shoulder-length hair, avoid fake tans and have short, non-polished nails. So – the Stepford Bridesmaids if you will.
Size seems to be a recurring theme with these crazy requests. This bride wanted to make sure all her bridesmaids looked good for the wedding, with matching pink manicured nails and wearing their hair down. Ok, makes sense. Until she also demanded those overweight lose 20 – 30 pounds. Oh, and no one was allowed to get pregnant.
Want to avoid being the next Newsweek article? Let's start with communication.
Communicate Expectations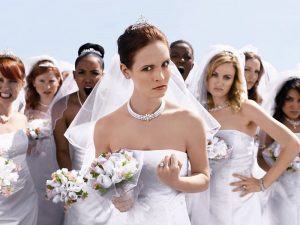 There's a reason couple therapists use this phrase repeatedly. Communicating expectations is the easiest way to minimize resentment and hurt feelings.
Start with understanding your own expectations for your wedding party. Make a list of what you'd like to see happen, or not happen, and what your deal-breakers are. 
Once you have your expectations together, the next step is to communicate them.
We love the idea this bride had about including a letter in her bridesmaid proposal box. The letter included mandatory excursions such as the bachelorette trip and activities the bride would like attendance but not require. 
The letter may sound harsh on the surface, but the bride gave each bridesmaid a gracious out by telling them a "no" is ok. And she made it clear she didn't expect her bridesmaids to postpone family planning or dye their hair to match the wedding. 
Having to clarify that you don't expect your bridesmaid to put a hold on getting pregnant may seem hilarious, but it happens.
And to that end..
Make Expectations Realistic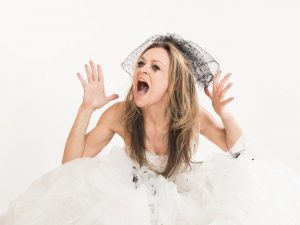 As you write down your expectation list, get specific. 
Picture your wedding day vision. Now imagine a bridesmaid with a baby bump in the mix, or someone with a dramatic weight loss. If you're feeling bothered by the altered image, be real with yourself so you can be real with your bridesmaids.
You may end up writing something down you know is too much to ask of a person to simply be a part of your wedding party. But by being honest with yourself you can address those feelings up front and give yourself some realistic expectations. 
It's human nature to be upset if someone changes their appearance or foregos what you consider an important part of the wedding planning duties. Weddings are expensive, time consuming and bring together so many important people in your life. It's natural to want to control every detail, even your bridesmaids.
Still, you'll be much more relaxed, and less likely to lose friends, by pulling your expectations down to earth. There's so much more happening in their life than being your bridesmaid, 
After all, it may be your wedding. But it's their life.
Which brings us to…
Get Perspective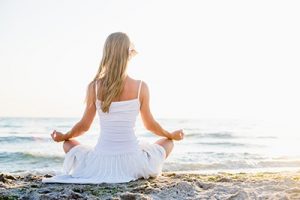 Wedding planning takes a year or more of your life. In addition to the planning for the actual wedding day, there's bridal showers, engagement parties, and bachelorette trips. With all that's going on, it doesn't take long to be consumed by your own wedding. 
You can easily lose perspective when this happens. Entrenched in your wedding activities and plans, you become the star of your own show. Your needs. Your wants. Your wedding day.
And that's the time for a perspective check. 
If a bridesmaid expresses concerns about their feelings, someone utters the word "Bridezilla" around you, or your fiance suggests some time away from wedding planning, take a pause. Think about life a year from now. Two years. Five. Is wanting to fire a friend from your bridal party over a tattoo really worth it? The wedding day is for celebrating with family and friends, not alienating them.
When it comes to the Reddit post, one line in particular stuck out to us in this bride's response; that she wasn't willing to "compromise her vision" to accommodate her friend, or anyone else. 
But compromise is at the heart of every relationship. Before you were Bride and Bridesmaid, you were friends, sisters, cousins. Not willing to compromise is your choice. But it may be one you end up regretting. 
Give yourself some down time during your wedding planning. Head to brunch with the girls with a "no wedding talk" rule, or a weekend away with your fiance that doesn't include making guest lists or visiting wedding venues. That down time will help you enjoy your planning, and help you focus on what's really important.