Picturing rolling vineyards but wanting Texas hospitality? Then Carter Creek Winery Resort & Spa may just be your ideal wedding venue location.
Outdoor Wedding Ceremonies at Carter Creek Winery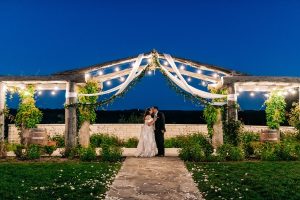 The first image that typically attracts couples to Carter Creek Winery for their wedding is their ceremony site. This outdoor ceremony site overlooks the Texas Hill Country. There is a built-in wooden wedding chuppah adorned with greenery. 
The site features a stone walkway that is perfect for adorning with flower petals or lining lanterns alongside. A half stone wall sits behind the wedding ceremony site and adds to the charm.
Wedding Receptions at Carter Creek Winery
You'll head from the outdoor ceremony site to the indoor ballroom, perfectly equipped for up to 200 guests. 
The large and spacious Rose Arbor and Pavilion Lawn gives you a beautiful indoor/outdoor feel to your wedding reception. The stone pathway leads from the ceremony site right into the covered pavilion. Open on one side, the pavilion leaves your guests comfortable while still being able to enjoy Hill Country views.
Carter Creek has their own in-house catering – and of course a fantastic wine selection to choose from!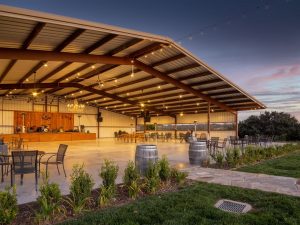 Wedding Weekends at Carter Creek Winery
Weekend Activities at Carter Creek Winery
Your guests will have plenty to do in a fun-filled weekend at Carter Creek Winery. In addition to multiple wine tour options, there is nearby shopping, art galleries and natural beauty. Nearby Luckenbach offers restaurants and live music. 
A robust event calendar at Carter Creek Winery means seasonal opportunities such as music and special experiences at the resort. In addition, their incredible onsite spa is not to be missed!
Overnight Accommodations at Carter Creek Winery
Carter Creek Winery boasts beautiful villas for you and your wedding guests. The villas are spacious enough for your guests to be comfortable throughout the weekend with a separate living area, dining space and even adjoining patios. 
The Premiere King villa boasts a fireplace and 590 square feet of space, and is the perfect selection for the wedding couple. Other villas include Deluxe King or Double Queen options.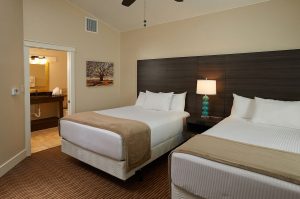 Rehearsal Dinners at Carter Creek Winery
For a special experience, host your rehearsal dinner right onsite at Carter Creek. 
The Old 290 Brewery & Restaurant is an ideal location for your rehearsal dinner. Offering a Texas-inspired cuisine and a large selection of craft beers, your group will enjoy this rustic and refined setting.
In addition to the restaurant, there are multiple beautiful private event spaces to host your rehearsal dinner, catered by the Carter Creek team.
With a beautiful location and plenty of amenities, Carter Creek Winery Resort & Spa is a must-see wedding venue. Learn more about this wedding venue and book a tour today!