Thinking about Easter weddings? We are too!
Spring weddings might just be our favorite and that means garden parties, pastel pallets and of course – Easter! Whether you're getting married the Saturday prior to Easter, or even within a few weeks of the holiday, an Easter wedding theme may just be the perfect way to honor the season.
Read on to hear about our Easter wedding ideas and easy tips to keep in mind when planning an Easter wedding.

Playful Easter Wedding Ideas
When it comes to Easter wedding inspiration we have to start with an egg hunt! No Easter wedding is complete without an egg hunt, whether it's simple or extravagant.
Any young kiddo attending an Easter wedding, even if it's the week prior to the actual holiday will eagerly anticipate an egg hunt. This is the perfect activity to keep young ones busy during the cocktail hour.
In addition to candy filled eggs, we recommend mixing in eggs filled with small toys and activities as well. This is the perfect solution to keep your smallest guests entertained not only during cocktail hour, but through the remainder of the wedding reception as well. Small army men, animal figurines and little finger puppets will surprise and delight.
If you do choose to have an Easter egg hunt during the wedding reception itself, don't plan it too late in the program. The longer children have to sit through an event, the more restless and irritable they can become – and you don't want tears over a stolen egg or two!
Of course, there is more than just an egg hunt activity for your Easter wedding. The pretty Spring weather makes it a great time of year to incorporate lawn games into your wedding.
Lawn games have been booming in wedding receptions. Bocce ball, croquet, giant jenga and a myriad of other outdoor activities are a fun way for guests to cut loose and keep your wedding upbeat and engaging. Have the games available during the cocktail hour or, alternatively, open them up later in the evening after the meal as an activity option besides dancing. Of course if your Austin wedding venue has the right layout, you can always do both!
Besides these engaging Easter wedding activities, we also love the idea of incorporating animals into your Easter wedding.
Spring is a reminder of new beginnings and new life. Perfect for a wedding! Celebrate new life by bringing bunnies, lambs and baby goats to your wedding reception. You can opt for a full petting zoo, or just a few animals for a little interaction and some great photo ops!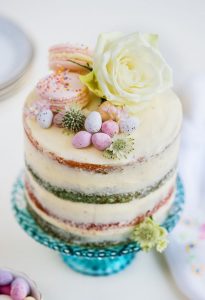 Easter Treats at Your Wedding
Easter isn't complete without the treats! And if you love sweets, Easter is the perfect time of year for your wedding.
In addition to possibly having Easter candy available during an egg hunt, we recommend a grand display of other sweet treats for your wedding. Set up a dessert table festooned with seasonal desserts such as lemon pound cake, carrot cake cupcakes, and strawberry pavlova. This is a great option to get guests mingling after the main meal. Serve the desserts alongside a coffee bar and add some liquors for a special twist.
Of course, you'll want to serve up more than dessert at your wedding. Savory dishes like lamb, mint peas, slow roasted ham and au gratin potatoes are Easter favorites and wedding guest crowd-pleasers.
An Easter wedding is beautiful during the sunny daytime, so a brunch or casual luncheon makes a great choice for your wedding catering. You can set up the meal as a buffet, or utilize stations around the event space to encourage guests to graze while they mingle.

A Garden Wedding Venue
Easter means Spring and Spring means bright and colorful gardens. Nothing beats an Easter wedding in a garden!
There are many Austin wedding venues and San Antonio wedding venues that showcase outdoor ceremony and reception sites. When booking your wedding venue, remember that you'll want to see the wedding venue in the season you are booking. This is one of many reasons to book your wedding venue a year in advance – you'll see the venue in the appropriate season. With the recent hard freezes, many wedding venues will likely change their plants and flowers from previous years. So don't get too stuck on photos from previous weddings.
Spring also means showers! Don't forget to have a rain plan in place and either book a wedding venue with an indoor option or rent a tent to have nearby. For the quick passing shower, we also love the idea of having colorful or clear umbrellas ready for your guests. They won't be enough for a torrential downpour, but for the passing light sprinkle during the ceremony umbrellas are a perfect fix!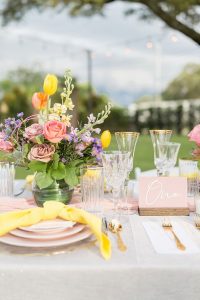 Wedding Color Palette for Your Easter Wedding
Deciding on your wedding color palette may be easier than ever when planning an Easter wedding! Just imagine a basketful of colorful Easter eggs and you're ready to go.
The most popular Easter wedding color palette is likely a myriad of Spring colors all in a pale shade. Light blue, pale pink, muted yellows and greens all work harmoniously together when in the same pastel shade. We love the look of a row of bridesmaids in matching tea-length dresses all in a different pastel color.
Of course, you can always break from the popular and choose a more surprising color scheme for your Easter wedding.
For a more understated look, pull from nature for inspiration. For example, pair robin's egg blue with sweet cream and brown, or embrace a subtle sage green with straw yellow.
When it comes to wedding decor for an Easter themed wedding, you've got plenty of inspiration to draw on!
Focus on wedding floral to really bring your Easter wedding decor to life. You'll have no shortage of options in the Spring when it comes to flowers so use them in your aisleway, ceremony backdrop, centerpieces and photo areas.
This is the perfect time to think about beautiful tableware. Work with your wedding planner or rental company to achieve just the right mixture for a great display. Colorful glassware, bird and flower printed plates, and satin napkins will give you an equally elegant and playful look for your tables.
Keep in mind you want your wedding decor to be inspired by Easter, not drenched in it. Too many bunnies and little chicks on a centerpiece will end up looking like an after-Easter holiday sale rather than a wedding reception! Add touches of Easter and plenty of Spring and you'll get the look just right.