Your photos will preserve your wedding memories, but your wedding gown needs the right wedding gown cleaner to stay beautiful and well-preserved. Enter EcoClean! They are the Austin wedding gown cleaner experts, both with new gowns and heritage wedding gowns.
We recently spoke to Michael with EcoClean about their company, unique services and favorite wedding dress trends!

What services do you provide?
EcoClean offers Premier Wedding Gown Cleaning and Preservation at any of our Austin locations OR you can get started from your couch! We can send you a kit with instructions and materials for mailing us your dress and then the preserved dress would be returned via UPS or FedEx. Choose from our wedding dress cleaning and preservation packages and return your entire trousseau to its original beauty and preserve the memory forever. Great to add to your registry so your wedding dress preservation needs are all taken care of!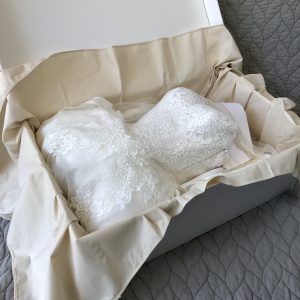 What sets your company apart from similar ones in the same field?
Your wedding gown is priceless. This precious garment deserves the safest and purest cleaning method available. We are revolutionizing wedding dress cleaning and preservation. We guarantee you will be delighted with the service and fresh modern appearance. Our eco-friendly process is the most effective way to remove soil and protect delicate fabrics. Learn more about the process.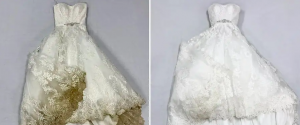 What is one favorite client story and why?
Every dress tells a story. We love to see that our brides had fun and we've heard it all! Our staff's favorite stories include Michelada spills from dancing, dresses covered in sand, hay, or grass, and cake covered flower girl hands. One particular bride's story really stood out though! – After a particularly long stretch of rain, it was hard to escape all the mud surrounding the barn at Ashley's rustic farmhouse wedding. A dress covered in mud splatters, grass stains, and not to mention some red wine too certainly showed the tale of an eventful day!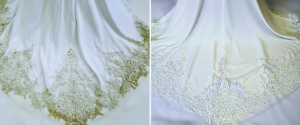 What is your favorite wedding trend right now and why?
Multi-generational gowns! We feel honored to work with gowns passed down from mothers to daughters for their special day. It's always a treat to see something older made new again and brides rocking trends from the past, even those 80's puff sleeves.
What is your best planning advice or tip for couples?
Enjoy your day and leave the stains for us! A big mistake we most often see is brides and grooms trying to scrub out a stain. Unfortunately, the rubbing and abrasion on the delicate fibers of a wedding gown or tuxedo can cause irreversible damage. Champagne, Red Wine, Barbecue Sauce, Mud, and more – we've seen it and we love to clean it! Visit their website to learn more.