Sometimes its the wedding vendors that aren't at the top of your To Do list that are the most important. And that includes event insurance!
We recently spoke with Alyson Locacciato with Front Row Insurance about the importance of wedding insurance and how to have peace of mind on your wedding day.

What services do you provide?
Wedding insurance: Insurance can be arranged quickly through our online program for almost any event. Your event can be insured online with a credit card in six minutes or less.
What sets your company apart from similar ones in the same field?
The wedding insurance policy is buy online, 24/7, on a user friendly online portal. Low cost: starting at $125.00 USD (subject to change). Additional insured certificates for free.

What made you get into the wedding & events industry? How many years have you been in it?
As an insurance brokerage, we wish to help couples protect their "big day" so that in case something goes wrong, they're covered. We provide peace of mind. Company founded in 2009.
What other cities or locations have you worked weddings in?
We have offices in Los Angeles, Nashville and New York.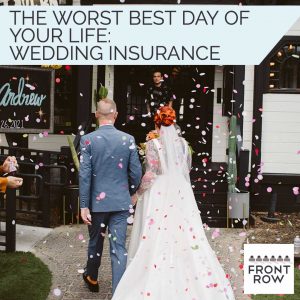 What is one favorite client story and why?
Client testimonial: "Planning an event can be time consuming and frustrating. There are so many different moving parts! Front Row Insurance is my go-to company to cover all of my insurance needs for my local events. Front Row is super easy to work with, prompt to all my messages and needs. I would highly recommend using them for your next event!" Tom Wang CEO, Digital Movement Inc.