Gretchen started Aly Am Paperie Invitations & Gifts with one primary inspiration: Family.
We recently sat down with Gretchen to talk about being a part of couple's Happily Ever After, what type of services her store provides, and how her company is truly unique.
What services do you provide?
You know when you receive an invitation in the mail and it WOWs your socks off and you can't wait to go…we create that! Custom wedding invitations that make guest eager to come and give them all of the details to do it. We also create all of the day-of printed items and signs to match your custom design. This is most likely your first (or first in a long time) wedding and planning it can be daunting. Having a professional that knows the questions to ask, the pros to suggest and the details to include, is just part of our services that are included in your custom wedding stationery. Our most popular "add-on" is the printing of the guest and return addressing on all of the mailing envelopes, which always matches the fonts, design and colors of your custom wedding invitation. Our most important service is walking you thru the process to make this a much happier, easier, and stress-relieving part of your wedding day planning.
What inspired you to start this company?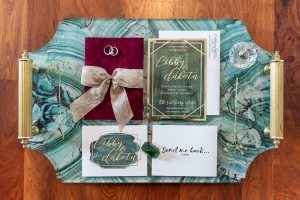 Family, family is what inspired me to do this…writing the stationery that begins your families "happily ever after" is my passion. And we are happy to do it no matter what your family unit looks like, we welcome all couples!
What sets your company apart from similar ones in the same field?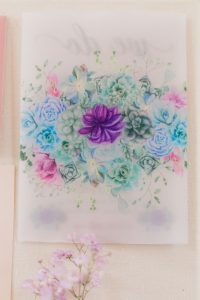 I have a true passion for what I do…from the consultation where I take the time to walk you thru the design process, to creating one printed set (called a mock up) upon your final digital proof approval to see in person to ensure you love it before it's produced, to presenting your wedding stationery in a very unique and helpful way. There are other stationers but none that love this as much as I do and none that do so many little things that make a big difference.
What is your best planning advice or tip for couples?
Do your homework BEFORE so set any appointments or sign any contracts… it all rests on your final guest count. Work on your guest list and know you max before you even look at venues. Then hire a wedding planner. They plan weddings everyday and know the vendors that show up, do what they say they are going to do, will go above and beyond for you, and will answer a planner's call/text…even when it's afterhours because the vendor's value the relationship they have with their planner and will do what they can to help the planner out if needed, which is a plus for you. The main thing for stationery is know your mailing/household count, this is not your guest count. Knowing this will help keep your in budget in check because you won't overorder.
Are you married? Do you have children? Tell us about your family.
I am married to my business partner, best friend and the love of my life and we just celebrated our 25th anniversary. My business is names after my other two loves, my daughters, Alyssa and Amber, that's where the name Aly Am comes from in Aly Am Paperie. I also have a fur baby, Ella…she makes me happy.
Learn more about Aly Am Paperie Invitations & Gifts here!