A destination wedding can be a good idea for couples who come from two different cities, or whose loved ones are spread throughout the country. If the majority of guests already have to travel, why not head to a beautiful and memorable location?
Destination Wedding Planning Tips
The first step to planning a destination wedding is to choose the location. This could be a location a couple hours away, or far overseas. Consider your budget, your guests budget, time of year and how long you are planning to be gone.
Once you have your location decided, think through the schedule. Are you planning activities for your guests for 3 days, 5 days or more? The further guests have to travel, the more days they are likely to want to stay. Your guests will plan around the itinerary you build. Start with a kick off event like a cocktail hour or dinner. Schedule a few activities leading up to the wedding, but allow flexibility for your guests to do their own thing. Also, be sure to plan some down time for you and your fiance alone.
Next, you'll want to send out your invitations. Use a custom wedding stationer such as Aly Am Paperie & Gifts to create beautiful invitations that reflect your destination and style. Gretchen can create unique Save the Dates to send about 12 months out, and wedding invitations to be sent 3 – 4 months prior.
Remember, details matter. You'll want to think about the experience of you and your guests from the moment you head out the door to when you land back home. Add elements such as a welcome amenity for guests. Consider hiring a limousine company such as Lux Limo to luxurious transport you to the airport to kick the trip off right.
Texas Destination Weddings
Many Texas couples choose to have a destination wedding right in their home state. 
They might be from a large city and want to take in beautiful areas such as the Piney Woods region. Or, small town couples might head to destinations like San Antonio that have more wedding venue options. 
Certainly one of the most popular locations for destination weddings in Texas is the Texas Hill Country.
Fredericksburg is an ideal city for a Texas Hill Country destination wedding. Be sure to check out the Fredericksburg Wedding website for a complete list of wedding venues, 
Create a fun and unique experience for your wedding guests by staying at the popular Camp Fimfo.  Located along the Guadalupe River, Camp Fimfo has a variety of cabin rentals and numerous amenities such as pools with a swim-up bar, mini golf and a pickleball. You can easily plan a weekend full of activities for you and your guests. Your ceremony and reception can be hosted at one of the many nearby wedding venues.
Most destination weddings will need to hire a local wedding minister to officiate their wedding. Rely on Texas Wedding Ministers for a complete list of wedding officiants in the Texas destination of your choice. No matter your ceremony location, Texas Wedding Ministers has a vetted list of professional wedding officiants to choose from.
Beach Destination Weddings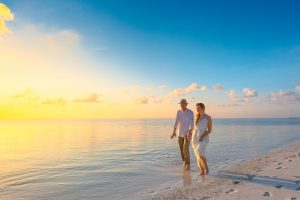 Beach locations are one of the most popular options for destination weddings. 
Because of this, there are many places that include ready-made beach wedding packages. This makes your wedding planning smooth and easy, even when planning remotely. 
For example, Iberostar Hotels & Resorts offer a variety of destination wedding packages. This line of Carribean hotels include a 5 day wedding week package and an offer called "weddings unpackaged." Weddings Unpackaged allows you to create a fully customized wedding with one of their experienced wedding planners. From floral to linens, you'll build your dream wedding with their helpful team members. 
For couples wanting to stay closer to home, Texas beaches are another great option.
Aransas Bay, located at Rockport Beach, is a great option for a Texas destination beach wedding. The Pavilions at Rockport Beach has four different wedding pavilions that make an ideal location. The Pavilions include tables and chairs, and you are able to bring in any additional wedding vendors of your choice. Two of the pavilions have indoor event space as well, which is great for weddings in the summer months.
Exotic Destination Weddings
Though beach destination weddings will always be popular, nothing beats the allure of a far-flung location. Think Tuscany countryside, glamorous Mykonos or naturally beautiful Jamaica.
For locations further away, you'll likely have a smaller guest list. Focus on finding a picturesque ceremony location and keep the reception easy. You may look for a nearby restaurant with a private room or find a resort that offers small destination wedding packages.
Working with an expert such as Patricia Cromwell with Exotic Destinations & Honeymoons will be a huge help. She can assist with the travel arrangements and guide you to the best options for your destination wedding. Whether you're looking for a destination wedding or a memorable honeymoon, be sure to make Patricia your first phone call.