From COVID unit nurse to full time wedding planner, Camille Wolfe knows how to handle stress. And that is just one of many perks of working with her to plan your wedding! We recently spoke with Camille of CW Events about how she got her start, what services she provides and her best planning advice for couples!

What services do you provide?
I provide design and coordination for luxury weddings and events. I am there every step of the way for my clients. I absolutely love bringing my client's vision to life.
What inspired you to start this company?
I have been planning events for family and friends for a very long time. I just love designing and planning events, and it was always a fun hobby of mine. Over the years people would approach me at the events I planned for a friend or family member, asking to hire me and I, of course, explained that I was not a professional event planner so I could not help them. I had several people ask me why I was not doing it professionally since I seemed to love it so much and was told I was good at it. However, at the time I worked as a registered nurse at St. David's and during COVID I was working on the COVID unit and it was one of the most challenging but rewarding times of my life. However, during this time people were not having weddings or events and I began to realize how much I missed planning events. When my husband and I decided to begin the process to foster kiddos I decided this was the perfect opportunity for me to switch careers so I left nursing and started my own business! I have loved every minute of being an event planner and it does not even feel like work! I love helping couples create their dream wedding.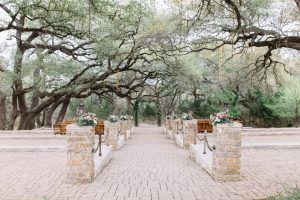 What is your best planning advice or tip for couples?
The best tip I can give any couple when planning a wedding is to be sure you are planning your wedding for yourself and no one else. There have been so many times that I have seen a couple compromise what they really want because a friend or family member did not love the choices they made for their wedding. Remember that your wedding day is about you and your partner, so whatever you both envision for your special day is exactly what you should do.
Are you married? Do you have children? Tell us about your family.
I met my husband in high school. He is my best friend and my greatest supporter. We have been together for 8 years, and we have been married for two years. We got married in March 2020, the weekend before everything shut down due to COVID. We live in Georgetown, TX. We have two dogs and two cats. We have a 2-year-old niece that is sweet and sassy. We are hoping to become foster parents very soon.
What is your favorite part of your work week and why?
My favorite part of my work week is when I have consultations with new clients. I love getting to hear about each couple's love story and what their vision is for their special day. I love that each couple is unique and I love that I get to help them create the wedding of their dreams.