A beautiful wedding all starts with a beautiful wedding venue. The Neill-Cochran House Museum just may be the perfect historical Austin wedding venue for you. This wedding venue features a great location and a lovely setting, but also team members who are truly passionate about what they do.
We recently sat down with Karen Kincaid Brady, Programming Director for the museum. We talked about what makes the Neill-Cochran Musuem special, wedding advice and more.

What sets your company apart from similar ones in the same field?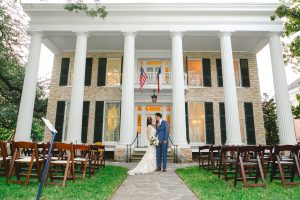 The Neill-Cochran House Museum is unique in that it is an intimate historic venue that operates as a historic house museum. The venue offers a grand and enchanting setting for any event, and allows your guests to not only experience the site, but even interact with our pieces in our double parlors. This offers your guests the exciting opportunity to touch and feel the Austin history around them. By hosting your event at our venue you are not only offering your guests a unique experience, but you are also supporting our ongoing efforts to tell the story of Austin for all Austinites.
What is your favorite part of your work week and why?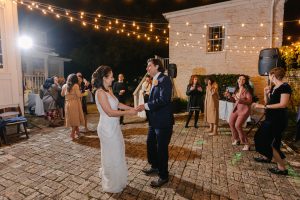 My favorite part of my work week is walking through the gloriously well preserved house that is the Neill-Cochran House Museum. Each day I am able to interact with the physical history of Austin through our site, from the pieces of furniture once owned by the Cochran family, to the serene and private Centennial Courtyard, to the gloriously crafted and well laid stone walls. Every time I want into the house I am able to commune with the previous inhabitants who loved this place as much as I do. Working in the wedding industry through this site means I am able to share the rich history and beauty of the site with new people at these special events.
What services do you provide?
We provide a beautiful and grand venue location for your special event. We offer a variety of packages that allow for a range of different events of all sizes for each unique couple. We are also able to provide tables and chairs for groups of 50 or fewer. Our packages range from ceremony and reception packages for any where from 2-200, and options for rehearsal dinners and bridal showers. We also have the ability to alter packages to make them just right for each couple.
What is your best planning advice or tip for couples?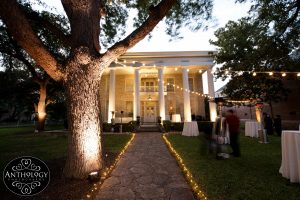 Hire a Wedding Planner or Day of Coordinator, they will truly make your day even more special because they will take the weight off of your shoulders. We do require one at the Neill-Cochran House Museum, as many venues now do, and one of the best reasons to have one is also that they will help you to get your damages deposit back. Here at the Neill-Cochran House Museum, I personally meet with your Planner or Day of Coordinator to walk them through our site and go over all the idiosyncrasies of hosting an event at a historic site and museum. This means they know what to keep an eye out for and what to handle so you don't have to.
Why do you love this company and your job?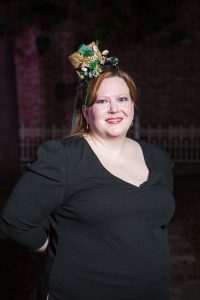 I love this company and by job first and foremost because my background is in history and every day I get to work in this incredible historic site. Every day I get to share this site with the people of Austin and beyond. Telling these important stories that helped to shape this beautiful city. I also love this place because I work with an amazing group of people who just make life fun when coming to work.
Learn more about the Neill-Cochran House Museum here!