Your wedding is dedicated to celebrating you.  Who you are as a couple, how you came together, the true love you share, and the future you'll build.  To showcase that, the event itself should also look like you – from the theme to the attire, but most importantly, the decor.  American Party Rental has everything you need to craft the perfect event and bring your vision to life.

How American Party Rental Began
In 1989, the Dupy family owned a successful tool rental business.  Interested in opening another small family business, they found a location across the street. Partnering with Valerie Elmore, their store manager, the Dupys opened a small event rental store.  Their habit of treating customers like family and offering top-notch customer service allowed American Party Rental to steadily grow, expanding their linen selection and other offerings.  
In 2013, the store had officially outgrown its location and was moved to the current Burnet Road warehouse.  However, despite growing into one of South Texas' most popular event rental options, American Party Rental has never forgotten its core values of honesty and superb client relations.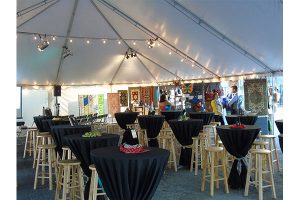 How It Works
As it has since the beginning, American Party Rental is focused on a smooth experience for clients, and their process proves that.  Customers have the option to browse the offerings online or at the warehouse.  A staff coordinator will help to fine-tune your choices to ensure that nothing was missed. They will also ensure that you rent everything needed to look exactly the way you picture it.
At that point, American Party Rental will also build a quote for you. Your coordinator will accept the initial deposit to reserve everything for your date.  You can also arrange delivery and even set-up! That means you don't need to worry about everything being put together at your venue.  Since the coordinator has been working with you from the beginning, they'll know exactly what your wedding looks like in your head and they'll easily recreate it in real life.
When your wedding is over, returning everything is just as easy.  Simply repack everything in the same storage and leave in a neat stack for American Party Rental to pick up.  If you want to focus on starting your honeymoon, you can even arrange to utilize their take-down service. To save you trouble, the staff will take down and pack everything away before returning it to the warehouse.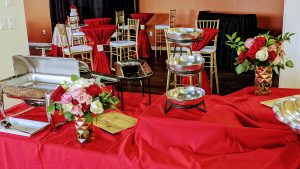 What's Available
American Party Rental strives to offer everything you might need for your event.  This includes large rentals, such as tents, bars, and stages, as well as the smaller details.  Whether you're looking for an airy gazebo-type structure or a more solid tent with sidewalls to protect you from the elements, you'll find it here.
The flooring options are just as flexible, with faux-wood and faux-stone options.  Continue building your backdrop with your selection of a portable bar, staging for entertainment, tables. They also offer the must-have Chiavari chairs!
The most fun, however, comes from the little things – table linens, napkin rings, centerpieces.  These details are what really shape the event aesthetic.  Linens in a range of fabrics and colors can be paired with a nearly endless array of table accents.  
As you plan your wedding, take some of the weight off by contacting American Party Rental.  Their extensive offerings and all-inclusive service options can streamline the planning process and reduce your stress as you coordinate one of the most important days of your life. American Party Rental's reputation after 30 years of experience proves they are dedicated to their clients.