Your wedding day should create unforgettable lasting memories. It's important to choose a wedding and reception venue with care. Even though the site is merely the backdrop for your special day, the setting for your ceremony and reception determines the tone and character of your experience. That is why La Bonne Vie Ranch just might be the wedding venue of your dreams.

BREATHTAKING WEDDING DAY VISTAS
Sitting on 200 pristine acres of prime Texas Hill Country, right outside Fredericksburg, TX, La Bonne Vie Ranch blends rustic charm with elegant luxury. Imagine all the photo opportunities upon this unspoiled pastoral property. Grape vineyards, a babbling stream, and majestic views await you at every turn.
The open-air chapel with gorgeous stained glass windows wrap the wedding party in an unsurpassed atmosphere of lavish elegance and style.
Such a place invites your guests to wander, relax, and enjoy the sophistication and privacy of La Bonne Vie Ranch.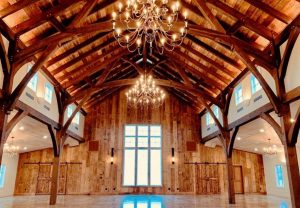 THE VIP EXPERIENCE
Family owned and operated, the staff at La Bonne Vie Ranch find the weddings planned there especially rewarding. They take pride making the experience personally fulfilling and magical for the wedding couple. One of the keys to their success is the caring and generous staff working to make your unique and personalized vision of your wedding come to life.
So many satisfied wedding couples have appreciated the numerous beautiful spots for all their special moments from rehearsal dinners to the wedding night stay. Lavish details adorn the bridal suite as well as the groom's quarters. The Homestead offers a bedroom for the wedding couple that includes all the amenities you can envision including a luxurious spa bathroom, private sauna, kitchen, laundry, and space enough to entertain should you desire. Their various lodging options means some or all of the wedding party and guests can stay as well, so the party doesn't end for anyone. Lodging the night before the ceremony creates a seamless transition and stress-free convenience to greeting your wedding day!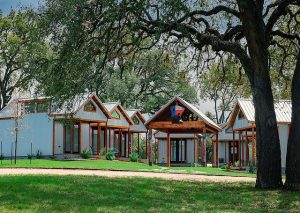 FROM REHEARSAL TO HONEYMOON
Imagine arriving at this beautiful venue with your wedding party for your rehearsal and dinner in one of the scenic indoor or outdoor spaces. Explore the ecological sanctuary that is La Bonne Vie Ranch. Everyone is taken care of with handicap accessibility and multiple lodging options. There's even a Skeet Shooting Range. 
As time allows, you and your guests can enjoy nearby historic Fredericksburg. Next, preparing for the wedding ceremony in the ample bridal suite and groom's quarters is a breeze. Have your ceremony in the unique and stunning open-air chapel. Don't forget to ring the Wedding Chapel Bell!
The barn-style reception hall with catering kitchen and bar holds up to 300 guests in a harmonious blend of rustic charm and sophistication. You and your guests can spend as much time as you desire wandering the gorgeous grounds, taking in the views, and looking for photo opportunities. And finally, relax into your bridal suite bedroom only steps away once the party winds down. 
You can trust the stunning venue that is La Bonne Vie Ranch to deliver a significant, indulgent experience for the wedding couple and all your guests. No need to look further for a perfect wedding venue.