Finding the right Austin wedding venue can take time doing research, making phone calls, compiling info, and going on on-site visits. And when you find a wedding venue that is not only beautiful but has everything you need from catering to linens all in one location – it's like venue gold!
Enter Thistlewood Manor & Gardens. This beautiful Austin wedding venue may just be your ideal wedding location. We recently spoke with owner Ginny Louise on the many amenities and services they provide, planning tips, and what makes this wedding venue truly unique. 

What services do you provide?
In addition to being one of Austin's most popular wedding venues, we offer in-house catering by our Chef, wedding management, event set up, tables and chairs, linens, dinnerware, staff, and cleanup!

What sets your company apart from similar ones in the same field?
We work hard so you don't have to! We understand you have many choices in selecting your venue. Whether it is a reflection of your style or a dream you've had, your wedding will be gorgeous at Thistlewood! We are truly honored when you choose us and will be diligent to earn your trust! Two of the key elements of an Extraordinary event are delicious food and a well-executed plan. That's why we work with you to create a great plan for your day, and then continue to implement it the way you want it. Convenience is just one of the reasons to choose our onsite catering and great wedding management services. Our many raving reviews attest to the passion we put into serving you.
What is your favorite part of your work week and why?
The favorite part of my work week is always Wedding Day. Watching the Bride as she is about to walk down the aisle is such a beautiful thing! Sometimes she is nervous. Sometimes excited. Sometimes with and sometimes without her dad. The one thing that I've loved about every bride I've seen walk down our aisle is how Extraordinarily Elegant she is. She is the reason I do this.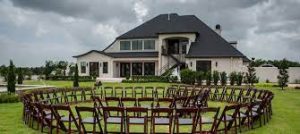 What is your best planning advice or tip for couples?
This is one of the MOST IMPORTANT days of your life! Celebrate it the way that you would like to. Everyone will give you their opinion but the only one which truly matters on that day is yours. Take the time to make informed decisions based on your vision and your budget.
What other cities or locations have you worked weddings in?
I started my journey by opening a catering company in Hutto Texas. My passion was serving good food to great people! I fell in love with the Wedding Industry and everything about it. The company catered throughout all of Central Texas. Thistlewood Manor & Gardens in Kyle is where all of the Magic happens now!