We recently sat down with James and Trelawny Bullock about their company Groove Line Productions to learn about their business, inclusive packages and incredible customer service.
Their story was fascinating and inspiring.
It's August in New York. The heat is not only beating down, but somehow seems to be rising up from the stained, gray concrete. People are gathered on door steps and around food carts, nursing warming bottles of pop and gossiping to pass the long afternoon.
And then…music begins to play.
When DJ owner James Bullock of Groove Line Production talks about old school DJing, this is what he means. Heading outdoors in his New York neighborhood, playing music for friends and passersby. DJing for the love of the art.
Some called his neighborhood the projects. He calls it community.
James Bullock and his wife Trelawny started Groove Line Productions with a love of music and a love of community at its core.
Groove Line sees themselves as a company, not a business. And that makes sense – because being around good company is the heart of Groove Line's success. Their values translate in every aspect of their company, from their inclusive DJ packages to the way they interact with couples.
"Mean people suck," says Trelawny Bullock. Known as Mama Groove, Trelawny is co-owner of Groove Line and event coordinator extraordinaire. Her mindset shows the down to earth, honest vibe you get with Groove Line. They treat their couples with respect and enthusiasm, just like they do their own team.
The Groove Line team believes their interactions with couples should be light and fun, just like the DJ services they provide. Their approach is more like a consultant, working with couples to create the unique environment, emotions and fun needed for their wedding.
Inclusive packages at Groove Line means more than just convenience. The Groove Line mindset is that each couple should be able to understand their costs, and not feel the pressure of additional, unexpected fees. Their packages feature a wide range from pre-ceremony music all the way till last call. Groove Line can add in additional music needs for toasts or glass-breaking. The needs of each couple varies and Groove Line is adept in accommodating different ages, styles, music preferences and event needs.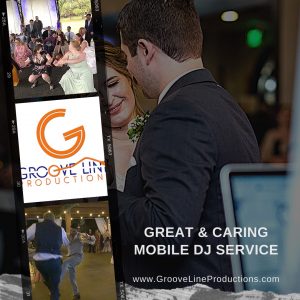 Coordinated dances at weddings don't seem to be slowing down anytime soon. These dances are a great way to show off your style and your moves.
You might have a simple processional with fun music and a short joint dance, a dynamic coordinated first dance as a couple, or a surprise choreographed dance with the bridal party. Whatever your choice, Groove Line will help you get there. As they work on your playlist they'll discuss the timing of your dance within the overall reception. In addition, they'll give you rehearsal time to practice.
The wedding timeline is a crucial part of your event's success, and Groove Line assists their couples and their coordinators to ensure the event runs smoothly and according to plan. Groove Line will work with your wedding planner to ensure the timeline is synced and flows naturally.
As there are always possible changes or unexpected down time, Groove Line will work with your wedding coordinator to ensure the event feels seamless, filling in the gaps with music according to your profile and preferences.
Groove Line understands that convenient communication is important to couples. With so many vendors to juggle, Groove Line makes communication and planning easier with their interactive app. In the app you can plan your playlist along with Groove Line in real time. Create a profile and music preferences to get started. You'll choose between traditional and non-traditional music options and be able to chat with the Groove Line team.
There's no question that 2020 put event professionals to the test, and Groove Line was no different. For a company whose heart is their couples, the challenges were more than financial, they were emotional. Watching couples they've worked with struggle to reschedule multiple times and face hardships of their own took its toll on James and Trelawny.
Enter, DJ Mushu!
Adopted in 2020 at 12 weeks old, this fuzzy bundle brought extra joy into the Groove Line studio. Mushu enjoys hanging out at the studio with mom and dad as well as vibing with all the wedding vendors that stop by.
Mushu has a heart of gold and loves giving back to the community, just like his mom and dad. He recently participated in a dog wedding that was both an adoption event and a charity fundraiser.
If you're looking for a DJ company with a passion for music, expert DJ skills and great to work with, look no further than Groove Line Productions.