Your wedding cake is the sweetest centerpiece of your reception! Plan for this one of a kind wedding element with ease by turning to the people at The Exclusive Cake Shop. They have mastered the art of gorgeous and delicious custom cakes. There are a variety of trends hitting the wedding cake marketplace, but even if your tastes run more traditional, you won't be disappointed with the professional cake makers and cake designers at this family-owned bakery.
 Read further to learn all the options available and what to consider when designing your wedding reception cakes.

Create Your Dream Cake
Let's be honest. There are many layers to the wedding cake planning process. (Yes, we went there!) As the sweet end to the reception food, a wedding couple should carefully consider the types of wedding and groom cakes they want to offer their guests. 
Keep in mind, while a tiered cake is a definite yes for most weddings, it's not your only option. Trendsetters may choose alternative shapes, petit fours, or even cupcakes.. That is where the Exclusive Cake Shop comes in to help. 
Some of the best details for your cake might start with a small idea. It could be a unique flower to put into icing or a tasty cake filling. No matter the inspiration, The Exclusive Cake Shop can bring your dream to life for your big day.
Your cake can softly whisper romance or shout "let's start the party!" It's all up to the wedding partners to let the cake reflect their style. And don't forget you can have the best of both worlds with a blushing elegant wedding cake and a go-all-out groom cake. Whatever your choices, The Exclusive Cake Shop has mastered the art of the most gorgeous-looking custom cakes with a scrumptious taste.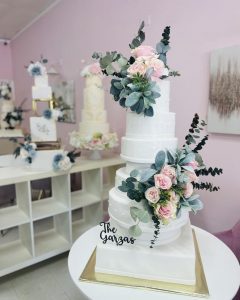 One of the key factors in choosing your style of wedding and groom cake is knowing the bakery you have chosen can execute your vision and provide a dessert that delights not only the wedding couple but all your guests. The dedicated team at Exclusive Cake Shop will work with you to plan every detail. They are passionate about making every detail of your cake presentation, photos, and the perfect finish to your meal everything you desire.
In addition to wanting the cake's appearance to match the tone of your reception, the most important element is to choose flavors and flavor profiles to make your cakes the sensations you want them to be. The Exclusive Cake Shop offers a range of flavors from classic vanilla, chocolate, marble, or strawberry to unique cake flavors and fillings and six types of icings. Their 32 specialty cake flavors will tantalize your taste buds. Not only that, but there are sugar-free and gluten-free options as well. Past wedding couples agree, that their expertise is impeccable and will guide and inspire you to make the right choices for your wedding reception cakes.
Family Owned – Professionally Trained
Since opening their doors in 2002, owner Rosa Ramos has built The Exclusive Cake Shop into one of the most reputable bakeries in San Antonio. Delivering all over the San Antonio area to venues large and small, these cakes have wowed and delighted.
Enjoy a consultation with the team at The Exclusive Cake Shop in the tranquil ambiance of this elegant shop. The bakers and cake designers will share their inspiration and expertise with you, but whatever you can dream, they can make. Express your taste and personality in a custom bespoke wedding cake.
The Exclusive Cake Shop combines both the baking of delicious cake with designs of breathtaking edible art. They have a passion for carefully execute your vision, decorate exquisitely your chosen design, beautifully presenting your cake or cakes at your venue, and put the finishing touch on your wedding reception with a masterpiece wedding and groom cake.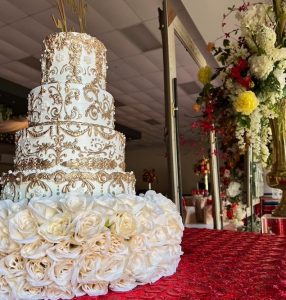 Planning The Wedding Reception Cake Moment
Your wedding cake moment can be the Wow factor at your reception. Style and taste come together in a beautiful marriage of the senses as you focus attention on the cake presentation, cutting, and photos taken at that charming moment.
Think how important your wedding cake photos are to you. You want the cake, from the first cut, first bite, to the final taste to reflect the wedding couple's style and the tone of the reception.
While past tradition called for a wedding cake face smash photo, many couples today plan for a more reserved sweet and sentimental moment of feeding each other the first bites of cake. However you choose to create this iconic photo, you will be making a lasting, telling photo of the personalities of the wedding couple.
Style and flavor come together in a beautiful marriage of the senses for your Big Day. Let the Exclusive Cake Shop help you plan for this big moment.
Your wedding cake is one part reception centerpiece, one part photo op, and only lastly the sweet takeaway for your guests at the end of their meal. Whether on the hunt for a showstopper design, or a simply elegant wedding cake, trust the professionals at The Exclusive Cake Shop to make your wedding and groom cake the delight of your wedding reception.