The Pantone Color of the Year 2022 has been announced – and we're so excited to relate this moody and elegant color to all things weddings!
The color is not quite periwinkle and not quite lilac but some magical cross between the two. It gives off major wedding vibes and works well with a host of other colors from all seasons.
So let's dig into Very Peri and how it can be a great color for your wedding.
The Meaning of Color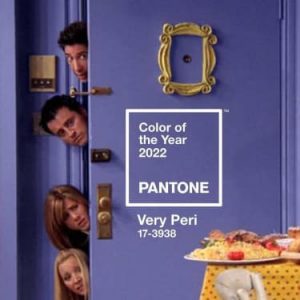 The Color of the Year selection is not a quick or simple process. Pantone employs their experts to scan the globe and consider cultural influences, popular trends, new artists, travel destinations and more.
According to Pantone, the Very Peri color displays "…a carefree confidence and a daring curiosity that animates our creative spirit." And what's more creative than designing a wedding that is not only beautiful, but reflects the spirit and joy of you as a couple.
Let's face it. Times have been hard. But like Pantone, we're ready to look toward brighter days. And nothing signals hope for the future more than a wedding.
Pantone Color of the Year 2022 and Wedding Color Trends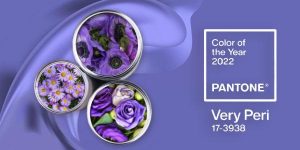 So what does this have to do with your wedding?
Wedding consultants, designers, rental experts and other wedding professionals all take their color trend cues from Pantone. The Color of the Year not only signals a colorful message about where the experts see our society, but is a big signal for designers of all kinds on what colors will be super hot in the coming years.
Fashion designers looking to stay ahead of the trend game will take note of color trends, as will home decor experts. Alongside these designers, event designers look at current color trends, and how fashion and home decor are using these colors in their products. Trends start on the runway, head to your home, then end up walking down the aisle.
Very Peri will no doubt be a top-trending wedding color for a few years. And so will colors that pop and complement this sultry yet sweet shade of blue.
We immediately imagine Very Peri alongside mossy greens, blush pinks and gentle lilacs. The Color of the Year can also pop for summer when paired with flamingo pink or sunny yellows.
This shade of periwinkle may easily evoke spring and summer vibes, but with the right palette it works equally well in the fall and winter.
Evoke autumn vibes by making Very Peri an accent color with deeper tones. Think rich elderberry or forest green. Achieve the winter wonderland theme with posh sophistication with Very Peri. Pair the color with slate gray and rose for a twist on a winter look.
We'll talk more about color pairings for Very Peri in our next post, but let's move on to the other important wedding decor detail – fabrics!
Pantone Color of the Year 2022 and Wedding Fabric Trends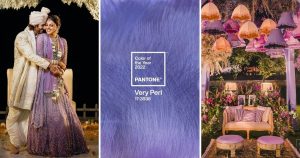 Trending colors also affects what fabrics become popular. Silver tones means sequence will be on the rise. Rich burgundy means velvet alert. Pink shades could indicate lace detailing.
With Very Peri, we see a few options.
The luscious color begs for luxurious silk, perhaps in barely-there bridesmaid silk slip dresses. And considering long, drapey glam wedding gowns and vintage hairstyles are all the rage for bridal wear, these bridesmaids dresses are easily worn alongside the latest in bridal trends.
Classic silk can be a difficult fabric for wedding decor, but if you're sold on the idea consider Shantung silk or the hardier Dupioni silk for table linens.
Very Peri would be a dream with light, fluffy organza. This fabric is great not only for bridal fashion, but for decor draping and table overlays. Organza can be made either from cotton or silk, with the majority of organza available for event rentals being based in cotton. This type of organza is easier to produce, and easier to clean.
The trick with organza is not to overdo it. It's easy to go from a youthful fairytale princess bride to little girl dress up vibes.
Another fabric that would embrace Veri Peri perfectly is taffeta. This is another silk-based fabric that is popular for wedding gowns. But taffeta is also ideal for tables and draping. Think a crinkle crushed taffeta or a fabric embellished with petals or floral buds.
Taffeta is especially beautiful in iridescent colors. Taffeta can be done to show extreme shine, and an iridescent periwinkle blue can showcase subtle hints of other, underlying colors. The look embraces all the vintage vibes trending right now.
We also love Very Peri incorporated in a pattern. Ombre may be out, but patterns are still in. Floral patterns are showing up more and more not only in bridesmaid dresses, but also in menswear. Brides are wearing floral patterned belts or skirts alongside their grooms floral patterned tuxedo vest or tie.
Very Peri Wedding Inspiration
Now for the good stuff!
We've talked about color palettes and fabrics that work well with Very Peri. But the wedding inspiration doesn't stop there.
This particular shade of blue can easily have a far reach or small role for your wedding. The color can take center stage or simply be an extra punch of joy.
If you're embracing Very Peri for your wedding, you've got options.
On the floral front, there are a variety of options that exude this gentle yet powerful color. Hydrangeas, lilacs and blue allium all can come in this beautiful shade. Use them in your bouquet alongside white roses or rich greenery.
Many of the fabrics we love for Very Peri are beautiful for table linens. The color is gentle enough to be displayed in large doses. Consider selecting a satin Very Peri table linen with a creamy white lace overlay. Or dot the table with festive napkins done in a Very Peri floral print.
Because the color does not overwhelm the senses, you can use Very Peri in large decor pieces such as fabric draping. Whether set above an entrance or adding a textural element to the ceilings, fabric draping adds instant visual interest to any wedding decor.
And don't forget the wedding fashion! We love Very Peri best for bridesmaids dresses in silk or satin. The color works well with long, body-hugging gowns or takes a whimsical approach when weaved into a floral pattern for an A-line dress.
However you use Very Peri, we expect to see this color for quite a few years in both wedding decor and wedding fashion.